It's been about a month since we bought our house, and we've spent the past weeks doing project after project to make it look like it's been our own all along.
There still a ton to do (and frankly there probably always will be) but I figured it was time to give it to share a little sneak peek (with slightly blurry cell-phone pics).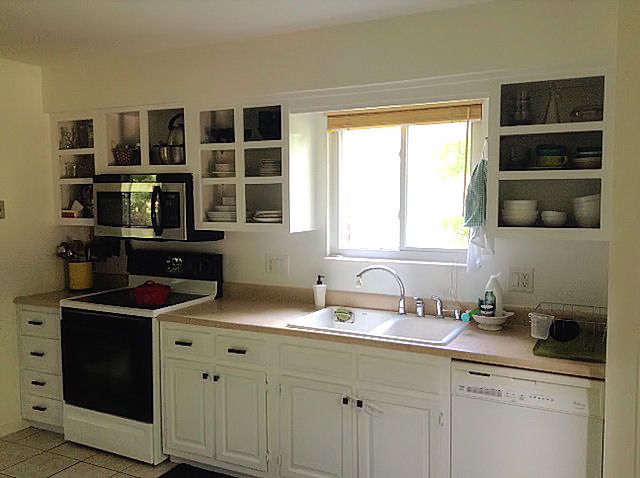 The first thing we did when we bought the house was give the living room, dining room, and kitchen fresh coat of white paint, thanks to a lot of help from friends and family. That change alone did a lot to update the house and make it feel a lot brighter and show off the natural light that streams in from all the windows.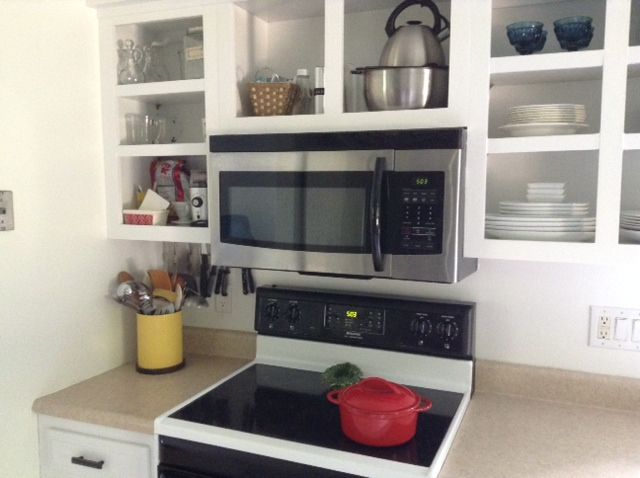 After that were a series of other projects, like repainting the kitchen cabinets, removing the doors to make open shelving and adding new hardware. Previously the owners had given the cabinets a really bad faux bois paint effect, so sanding and painting them white was a huge improvement right there. But I've always had a thing for white kitchens so I was pleased to finally have my own. The one thing I didn't expect however with how much dirt the white would show. That's why I was excited when
Mom's Meet
and Walgreens sent me some of their new cleaning products from their exclusive natural-products brand called
Ology
.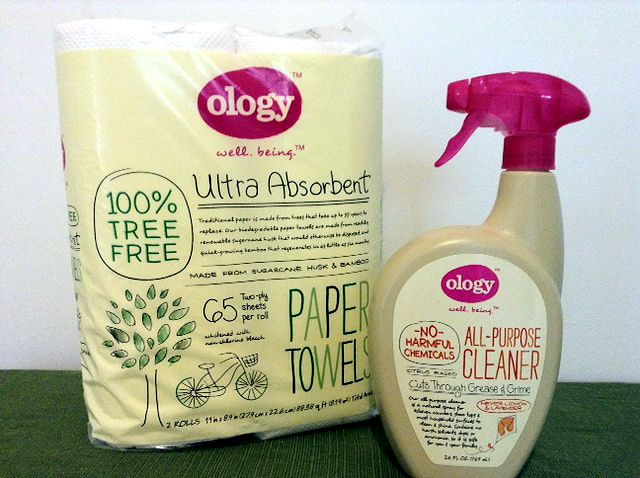 They make cleaning up any of the fingerprints left on the cabinets or food splatters a breeze. Plus, the all-purpose spray has a lovely basil lemon scent that freshens up the kitchen beautifully, and I adore the fun packaging. There are tons of other Ology products, from household cleaners to baby products (which I can't wait to try!), toiletries to toilet paper. I have also been using their free-and-clear laundry detergent, which I've found to be gentle on clothes and our sensitive skin while still fighting stains well. I love that like all the brand's products, they are free of dyes, artificial fragrances, phosphates, harmful chemicals and instead feature natural plant-based and mineral-based ingredients.
The last stop in the kitchen (which I didn't photograph), is a corner nook. I'm searching for a table and chairs to fill it, but for now a tableclothed card table is doing the trick. And I envision a lot of fun, colorful artwork hanging on the walls but those are usually finishing touches for me.
Because we lost a lot of kitchen space compared our old house, I had to get smart about creating storage in other places around the house. For instance, I made a China cabinet fashioned from an old cabinet that was in the garage of our old house by painting it white and adding classic gold cup pulls. Inside you'll find a lot of our plastic Tupperware and extra cups and mugs that don't look pretty with the open shelving. It sits in the dining room that adjoins the kitchen, so everything is still at hand whenever it's needed. (Pretty sure that artwork will hang here but as I mentioned earlier, I like to save art-hanging for last.)
The dining room segues directly into the living room, which features some really great, tall walls with windows at the ceiling that allows for tons of natural light. (And hence, plenty of potted foliage!)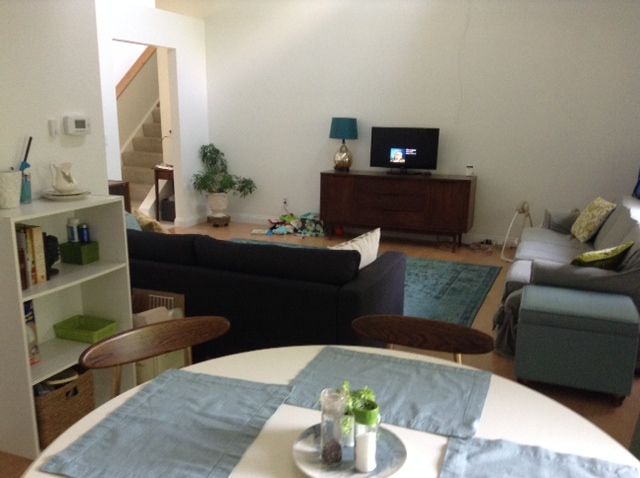 Oh and did you notice anything else? We finally broke down and got a television as our Christmas present to ourselves this past year. We got a Roku and a digital antenna and have been quite pleased! They've made for a great way to rewind after a day spent toiling over project after project.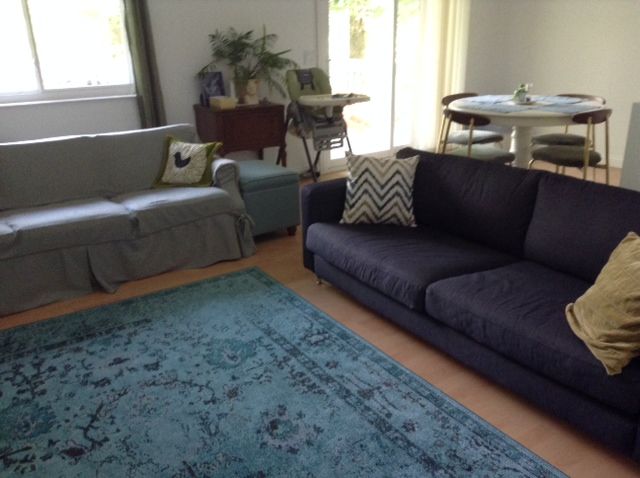 One of the things I was excited about with having wooden floors in nearly every room. Along with that, however meant upgrading to more rugs, and finding ones with personality proved to take some sleuthing but I think we hit the jackpot with the living room one. I love the lived-in feel it adds and the spunky color that ties in with the lampshades I picked up at a thrift store.
That is pretty much the main level, save for the entry way but there's really nothing to showcase there. I'm going to suspend the tour here because this is where most of the work has taken place and the updates are most evident. I'll try to post another update of one of the other floors in another couple weeks. Till then, I'll be keeping myself busy with projects aplenty and a cute little kid running around the place!
(I received the Ology products for free from the sponsor of the Moms MeetSM program, May Media Group LLC, who received it directly from the manufacturer. As a Moms MeetsSM blogger, I agreed to use this product and post my opinion on my blog. My opinions do not necessarily reflect the opinions of May Media Group LLC or the manufacturer of the product.)
READ FULL POST >>