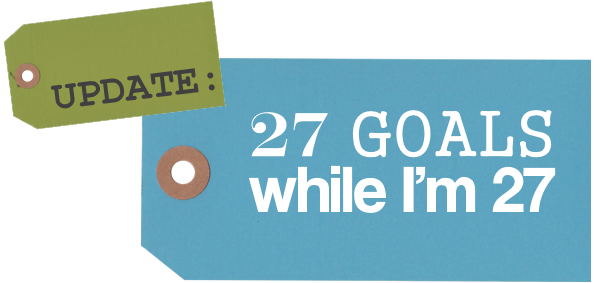 When I turned 27, back in April, I made a list of goals to accomplish this year:
27 things to do while I'm 27
. Since then, I've been keeping track of my progress of the items featured on that list. Some of them are easy, some are meant to help me spread my wings in this new-ish city of mine, some are nigh-on impossible that I'll be chasing after for years to come. But they're all worthy goals to guide this glorious year of 27.
Here's a look back at how I did on whittling down this list during the months of September and October:
Goal #3: Continue trying new recipes and learning to make things from scratch.
This one is a definite success! Over the past couple of months I have attempted to make, among other things, my own bread, pita,
hummus
,
bagels
, pizza dough, tortillas, bread sticks, hamburger buns, chicken pot pie,
corn dogs
, fudgecicles,
chicken stock
, tomato soup, ranch dressing,
granola bars
, carrot-cake cupcakes (from Michael's birthday!) and of course even
my shampoo
from scratch.
There are still quite a few items on my to-make-from-scratch list (including sloppy joe sauce, salsa, ravioli, salad dressing, and cheesy broccoli soup), but I'm quite pleased with the progress I've made so far! It's started to become natural for me to attempt to make things from scratch myself, rather than just pick up a can or box at the grocery store.
Goal #13: Undertake a new craft.
Another success story! First I made the
artwork for our living room wall
. Then I started
watercolor painting
. Then, I crafted
a travel map to showcase all the different places Michael and I have traveled together
. Then, I kicked off a
monthly craft night with some girlfriends
that inspired me to fix up a
variety of clothing items
from my closet. This has turned out to be quite a crafty year...And I've still got
more projects in-waiting
!
Goal #27: Go to a ballgame or other outdoorsy event this summer.
Well, kinda. Even though we live in the home of the Braves, I have yet to make it to any Atlanta-area sports game. Which doesn't really bother me; I don't care for the sports experience itself, but more for trying something new. And when you look at this goal that way, there have definitely been "outdoorsy events" that fall into the "trying something new" category.
For example:
• We've attended two local bird-watching excursion that gets us up early in the morning to explore a nearby park and its avian inhabitants.
• We've gone hiking with my in-laws at Kennesaw Mountain.
• The park near our house hosts concerts every week, and we gather with friends to sit on a hillside and listen to the music while winding down from the weekend or playing a game of bocce ball while the sun sets.
So headway is being made on my list of
27 Things To Do While I'm 27
. I'm now over the halfway point, with just five more months to go!
Related Posts
My List of 27 Things to Do While I'm 27
READ FULL POST >>