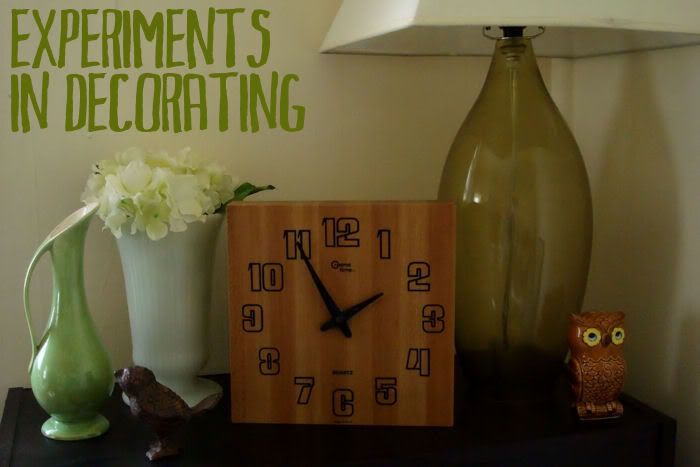 It's been a little over two weeks now that we've been in our new apartment, and most things have found their place into drawers and shelves and closets and even stashed under the couch. (When you've only got one closet in the whole place, a girl's gotta do what a girl's gotta do, right?!)
Since I have the luxury of approaching our unpacking and setting up our new abode with time on my side (an upside of not having a job currently!), I am trying to be thoughtful about where things go and rethinking my decorating.
It's easy to take what we had at our old apartment and just duplicate it here, but I want to examine other possibilities and other ways of fitting our things together in new ways. It takes a bit more effort, but I've been pleasantly surprised at how some of the results have turned out, including this little vignette I pulled together atop our bookcase housing our DVD and CD collections: The clock used to be in our old kitchen, the lamp used to sit on my nightstand, and the knick knacks were collected from various rooms, save the green vase which is from a recent antique shopping spree with my mom.
There are still a couple more boxes to go through, a growing pile of craft projects begging for my attention, and almost all of the hanging of artwork and placing of tchotchkes to be done, but a little home is coming together, slowly, slowly, day by day.
I hope that once everything is pieced together a bit more properly, I can share a bit more of our new little place to call home!