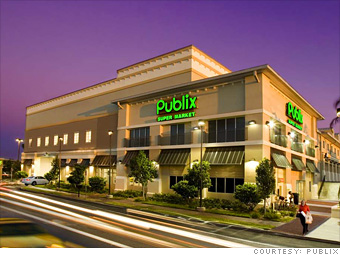 As you well know, there's always some sale going on at Publix, and right now they're hosting one of my favorites: their "
Running Out? Run In
" sales event. Which of course, is exactly what my life feels like right now: No time to spare!
Now through May 22nd, you can pop into Publix to take advantage of great savings on some of your favorite brands from General Mills and Procter & Gamble, like Cascadian Farm, Charmin, Crest—a variety of products for all your household needs to stock up on! Plus, if you buy $30 of participating items, you can mail in to receive a $10 Publix® gift card to use on your next shopping trip! (For more details on this rebate, please visit
www.runningoutrunin.com
.)
And, while you're there, you can also pick up a new product from Yoplait that's on sale: Greek 100 Yogurt. It has 100 calories (a great, slim-down option as we approach summertime and swimsuit season!) and comes in flavors including Black Cherry, Lemon, Mixed Berry, Peach, Tropical, as well as my favorite standbys, Vanilla and Strawberry. Through the end of the month, Yoplait's Greek 100 Yogurt is only $1 each at Publix, so you can add that to your shopping list as well!
The information and a gift card to sample the sales were provided by General Mills and Publix® through MyBlogSpark.