When it comes to deciding how you're going to cloth-diapering, there are lots of factors to take into account, but usually it will come down to one of two: Cost, or Convenience? For my foray into the cloth diapering world, I chose to go by cost, which is why I ended up choosing prefolds and diaper covers.
But if you really want to make cloth-diapering as convenient as possible, then you're probably going to go a different route and select all-in-one diapers. These are about as close to the ease of using disposables as you're going to get: You just put take a clean cloth diaper and put it on your baby, and when it's soiled, you peel it off, drop it in your wet bag until laundry day. There's no tying or wrapping or scraping or pulling apart. You really do just put it on and take it off and then throw it in the wash.
That makes it so easy (which is part of why I clung to disposables for so long), so I was always intrigued by them and wondered if I should have forked out more money to get some all-in-ones for my stash.
Thirsties
is one of the top cloth diapering companies (also the company that makes
the diaper covers
that I used with my prefolds), and they offered to send me one of their
Thirsties Duo All-in-One diapers
to try out.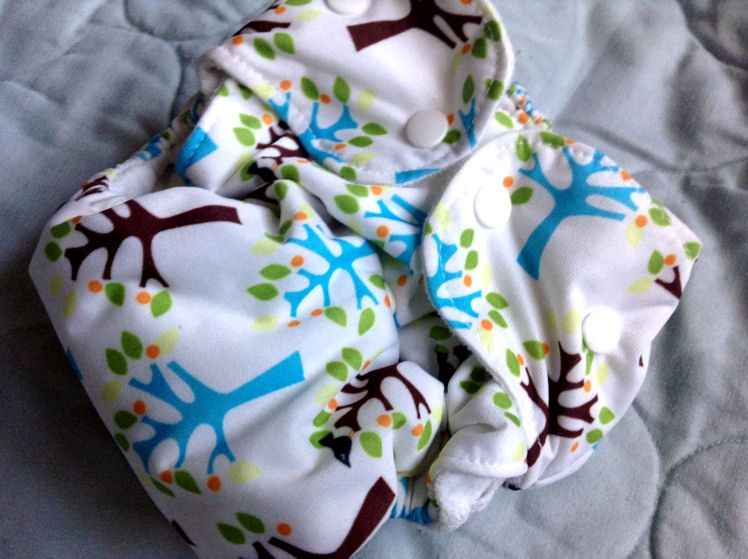 One of my favorite things about Thirsties diapers is that they come in a variety of adorable colors and prints, so for my review diaper, I chose this tree-adorned print, which looks pretty cute on Claire, if I do say so myself: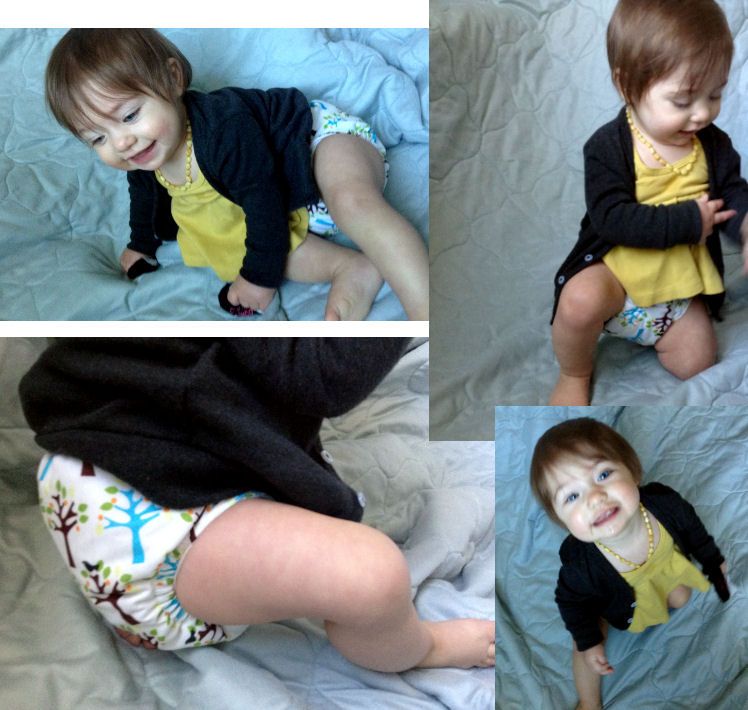 The interior of the diaper is really soft and made of microfiber terry cloth, which is so absorbent that I've had a hard time telling if it's even wet. I like this because this shows it's wicking moisture away from Claire's bottom, which should keep her more comfortable and has helped keep diaper rash away, without having to resort to rash creams. (Which is good, because you can only use cloth diaper-friendly rash creams when you're using cloth diapers, otherwise you can risk voiding your warranty.)
Like Claire's other diapers from Thirsties, these come in two sizes; one for when babies are smaller and this larger size from when they reach 18lbs, which Claire has just graduated into. Since she is at the small end of this diaper range, it still is a bit bulky on her and getting the snaps configured so that they aren't too tight but still tight enough to eliminate leaks has been a bit of trial-and-error. We had leaks while I tried to figure that combo out; oftentimes the diaper would look like it was tight enough but once she wet, we discovered it wasn't!
Once we finally figured that combo out, the diapers have worked quite well. Another feature I have always liked about Thirsties is that they have a double leg gusset, which provides another barrier for eliminating leaks and I think is one of the key reasons why so many people stick with Thirsties and why I've experienced so few leaks when I used their diaper covers with prefolds.
The only other disadvantage I've found is that these take longer to dry, since you're encouraged to let them air dry rather than put them through the dryer. (Compared to the ease of routinely throwing my prefolds into the dryer since there aren't any fancy parts on them.) This is something to consider when you're factoring in how many diapers you'll need to last you between loads and to account for the longer drying times.
Surprisingly, they aren't that much more expensive than the diaper covers. If you're willing to do laundry more frequently so as to buy fewer diapers, the cost difference can get pretty close, which honestly surprised me, as I'd always expected all-in-ones to be quite expensive. These are $16.50 each, compared to my diaper covers that cost $12.75 a piece. (
Find Thirsties Duo All-in-One cloth diapers on Amazon.
)
All in all, I thought these all-in-one diapers are great for convenience, especially now that Claire is getting squirmier and squirmier on the changing table. The faster the better is our mantra these days, and these really do speed up the cloth-diapering process! I also loved the microfiber terry interior that wicks moisture away; I think that's my absolute favorite element of this diaper because it seems so good for her skin, which is one of the main reasons I have continued to cloth diaper. (
Read more about the Duo All-in-One Cloth Diapers from Thirsties here.
)
As I build up my stash for Claire as she continues to outgrow her smaller cloth diapers, I would love to continue adding all-in-ones like these! And, fortunately for you,
Thirsties has offered to give one of these all-in-one diapers away to one Life Blessons reader. To enter to win, please leave a comment on this post sharing which Thirsties diaper you would choose.
I will choose a winner on December 28. (And if you don't win here, make sure to check out
their blog
, where they offer giveaways every Thursday!) You can also keep up to date on the latest with Thirsties by visiting their
website
or following them on
Facebook
and
Twitter
.