When I was building my baby registry while I was pregnant with Claire, I poured over different people's lists to see where I should spend my money as well as where I could skip. (If you want to see what made it onto
my original baby registry list
, check out
this post
.) Even now, I love seeing what other parents recommend for their children.
So, I thought, as I'm looking back over Claire's first year, I'd recap some of the items we got for Claire that have been the best hits. I'll be sharing these favorites (the things I'd buy over and over again) in a series of posts over the next couple of weeks, divided up by category. (You can see all the posts in this series of
my favorite baby items
.)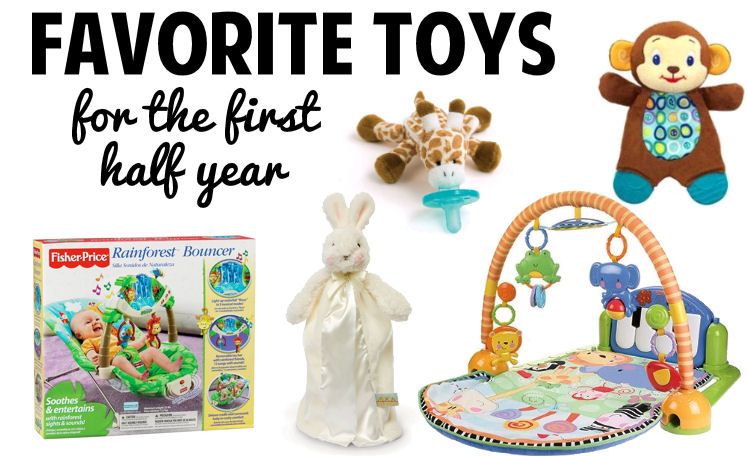 Bright Starts Snuggle & Teethe Monkey Teether:
Claire
loved
this little guy. We hung it on the side of her changing table and it was the first thing that made her smile. She never really played with him (especially not as a teether toy), but the fact that he was the first toy she ever took such an interest in is why he holds a special place in our toy box!
WubbaNub Pacifier:
I don't know that we could have made it through the first couple of months without this. I never had any intention to use a pacifier but now I realize that as a parent, you don't really get to "choose." If your baby wants it and it's the only thing that calms them? Well then, baby gets it. The only thing I didn't like about these was how difficult they were to sanitize. In the haze of newborn-ness, I would often turn the water on to boil, only to forget about the WubbaNub draped over the side. Consequently, the stuffed animals on both her WubbaNubs have burnt tummies. Whoops. (And if you want to know why I included it in toys: Well, it has a stuffed animal attached to it. Claire's eyes would light up whenever she saw it come near!)
Fisher-Price Discover 'n Grow Kick and Play Piano Gym:
This was such a fun play gym! You lay the baby down and they kick and make it play music. Even now, Claire will still sit down sometimes and pound on the keys, even though we long ago took the arch down. I also like you can detach the toys; she still plays with those sometimes, too.
Musical Bouncer:
Claire was always interested in knowing what was going on around her, so using this as a booster seat made her a great deal happier. I'm not sure that she cared about the vibrating option but it was a huge help that she could entertain herself by hitting the musical components so that I could take a few breaks for myself!
Bunnies By The Bay Bye Bye Buddy Blanket:
She always wanted to have something in her hand when she was falling asleep, so we used this blanket. Once she stopped using a pacifier (around 6 months), we stopped using this, too, because all she wanted to was put her thumb in her mouth. But I love how soft and cuddly this was--and it didn't have a rattle in it (surprisingly hard to find, but essential when you're talking about using it for sleep!).