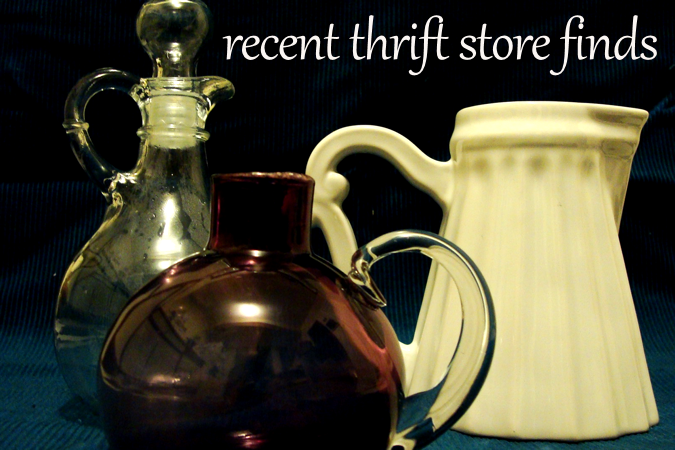 Yesterday, I got together with a few friends and we decided to spend the morning and afternoon scouting out some local second-hand stores, from your regular old thrift shop to beautifully curated antique shops, with yummy Indian fare thrown in for lunch. I haven't really done very much thrift-shopping in Atlanta (hence why it garnered a spot on last year's
27 things for 27 list
), so this was a perfect opportunity to pop into some new places, spend time with lovely women and pick up some new treasures for a bargain.
I'd made a whole big list of ideas and possibilities I hoped to score (particularly regarding kitchen cupboard organization). But as luck would have it, none of those items showed up, but a few unexpected others did! I figured I'd share some of the finds I picked up recently: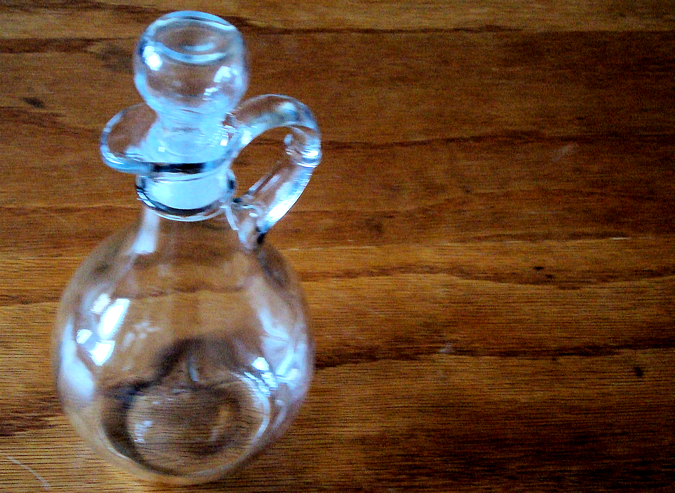 Having recently tried my hand at making my own salad dressing (so far I've only attempted a wonderfully successful raspberry vinaigrette but I do endeavor to try a homemade Italian once my bottled version gets used up), I thought this small bottle with a stopper will be perfect for housing my creations!
I also picked up a little creamer pitcher that has the most beautiful lines on it. I'm still not sure how I'm going to use it, aside from making a pretty vase, but I thought it was too great to pass up for $1.50! (Any ideas or suggestions?!)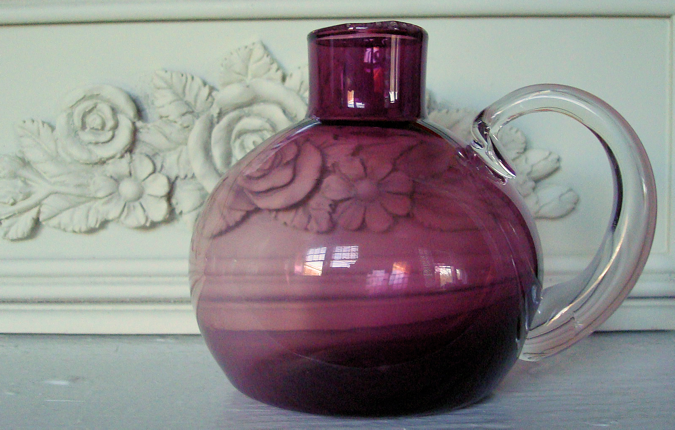 I anticipate that the future for the little purple vase will be as a reed diffuser. The latest issue of Whole Living included a few recipes for making your own home fragrances using essential oils (rather than chemical-y perfumes) that I'd love to try out. Now that I have a container, I need to scout out the reeds and essential oils. I'll let you know how that goes when I finish the project!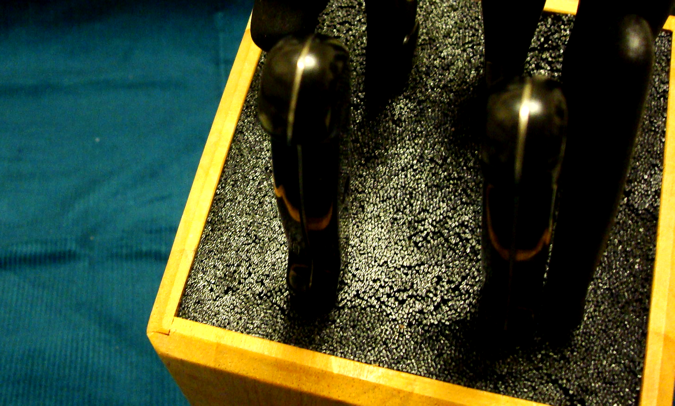 Another recent find that I came across while I was scouting a couple of other thrift store possibilities for our trip included this Japanese-style
Kapoosh knife holder
. I recently upgraded a few of our most-used knives, and they didn't fit into the knife block we already owned. I'd read of homemade crafty versions of the Kapoosh using bamboo skewers to hold knives in place, but when I saw this one already made, I grabbed it up. The great thing is that the plastic spokes inside slide out and you can run it straight through the dishwasher to easily disinfect it! And now my new knives have a home all their own.
Related Posts
What Going Green Looks Like for Me
27 Things to Do While I'm 27