Each day we get closer to being settled, which is a good feeling, let me tell you! There's still a bit more on my to-do list (including finding what to do with all my random tchotchkies that don't have a place here just yet), so here's a few organization projects that have kept me busy the past couple of weeks in our new apartment: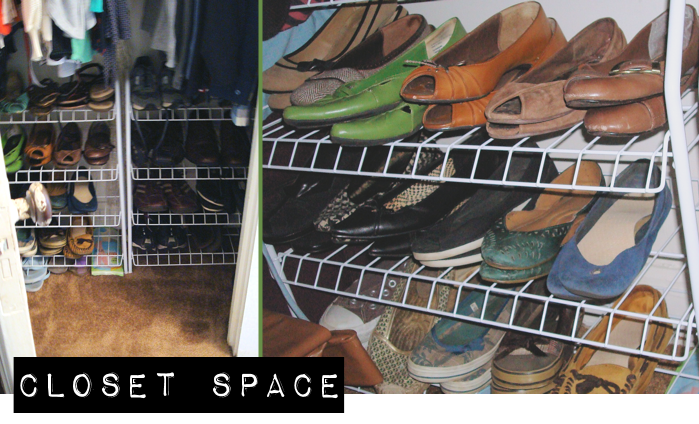 In our old apartment, one entire wall of our bedroom was closet space. But now, we have one small closet to share, which has spurred a lot of wardrobe pruning (more on that soon!) as well as some creative thinking about how to make it all fit. One thing that has significantly helped were the metal shoe racks that I was able to receive from
CSN Stores
to facilitate this review. Up until this point, our shoes have always laid in rows on the floor, but with such a small space, that lazy approach would no longer work. It was time to go vertical!
I looked at a lot of different shoe racks before deciding on getting two of
these
from CSN, which cost just $14.19 each. I wanted racks that were compact, sturdy, and could hold as many shoes as possible. I also was determined to find ones that actually had shelves; most racks just have two rods that run the length, which work fine if you have shoes with heels or grippy soles but can result in an avalanche of shoes if you've got a collection full of flats like I do.
When these arrived, I went to work putting them together single-handedly and was pleased to see that these stood up to all of my expectations—as well as fitting our entire collection of shoes (with a little creative stacking!). After having all my shoes dumped in a huge pile for the first week or so of living here, you can only imagine how happy this orderly display makes me! (If you've never shopped at CSN before, here's some
more handy information
I wrote the first time I reviewed one of their products.)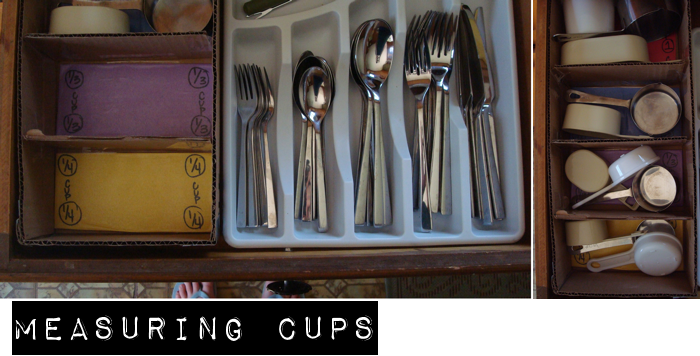 Although we lost some space in our bedroom closet with our new apartment, we gained a lot more storage in our kitchen than we'd had in our old place. What once had been crowded into one pull-out drawer, all of my cooking utensils, gadgets and gizmos now have the chance to actually have a place of their own. Now that I have the space to experiment, one of the projects I've undertaken was to make little boxes for my mismatched sets of measuring cups that divide them by size, rather than by set. It might not be the most attractive of solutions, but I used one of the cardboard moving boxes we had and cut it to size, taping in dividers and then creating color-coded, laminated labels that sit in the bottom of the tray to mark off the 1/4 cups from the 1/3 cups, and so on. I don't know why I'd never thought to divide my measuring cups by size before, but it makes finding the right one so much easier now!
I do have one of those nice spice racks that spins around, but it took up too much countertop and I still ended up having to buy extra spices and find somewhere to store them. So I decided to pack the rack away and pool all the jars individually together and store them in my cabinets (since there's now plenty of room for them!). I used a metal tin that I'd had on hand (previously it had served to corral all my make-up supplies in our old apartment). Then, I printed out some labels (using my latest favorite font,
Jolly
) and taped them to the tops (poor man's laminating!) for easy on-demand retrieval.
We used to use old cups or jars to hold our pens and markers and scissors. But one day, when I was tossing some diced tomato cans into the recycling, I thought to re-use them for my writing utensils. I did a lot of tin-can repurposing when I was younger, but hadn't thought to do any recently until now. So with some spray paint, I was able to make some easy-peasy containers for our desktop that not only look uniform but also make it much easier to find what you're looking for. And boy, do I love me some good, repurposing!
Related Posts
A New Place to Call Home and Lessons in Moving