You might have noticed that I haven't posted a recipe on here since, uh,
November
. More than six months ago!
I guess that's mostly because I haven't been experimenting too much with entire dishes themselves (or I just haven't had too much luck with the new ones I have tried).
Instead, I've been experimenting more with learning how to make a lot more of individual, everyday items in my own kitchen
. Things that typically come in cans or bottles have been on my recipe to-do list over the past few months—not quite the sexiest of food blog posts.
More and more,
I've found myself asking, "How can I make that myself?"
Whether it's
hummus
,
bagels
,
granola bars
or
chicken stock
, I've become much more confident when it comes to making these convenience foods myself, and started walking through my cupboards and fridge shelves wondering what I can recreate next.
Here are some of my latest exploits in this attempt to DIY my menu:
Exhibit A: My homemade hot dog buns.
I have a recipe that I use in conjunction with my breadmaker that makes wonderful hamburger buns, but I was afraid to use it to make hotdog buns because I wasn't sure how they'd turn out size-wise. Surprisingly? They are much easier to make than hamburger buns when it comes to getting them the correct size. Plus, they just
look
better than hot dog buns you can buy!
Exhibit B: My foray into salad dressings
began with a raspberry viniagarette, which my husband loves, shown above. Personally, I'm more of an Italian dressings person. So far, I've mixed up one Italian dressing recipe a couple of times, but have another one I'm eager to use to see if it suits my liking more.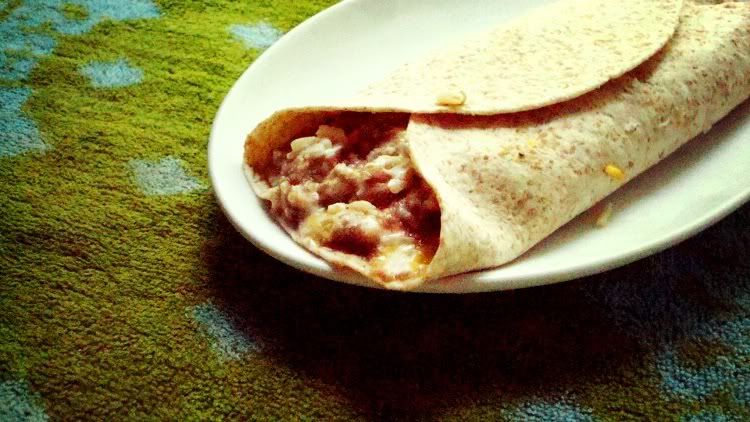 Exhibit C: Using my crock pot to cook up homemade refried beans.
One of my favorite things about eating at a Mexican restaurant is the ubiquitous side of rice-and-beans that comes with your meal. But I hate buying things that come in a can if I can help it, so this recipe was a hit on the very first try! Those are my kind of recipes...
Currently,
my list of Things To Make Myself includes: ranch dressing; bbq sauce; baked beans
(in a crockpot, using dried beans);
salsa; spaghetti sauce
.
This process of testing and trying new recipes has developed slowly over the past few months:
Slowly
, as I think of one product I'd like to remake.
Slowly
, as I buy up the ingredients to make it once my store-bought version runs out.
Slowly
, as I cross my fingers and give it a go.
Slowly
, as I take my first bite.
And through that process, I've learned that there's a lot of things I can make myself
that taste just as good as the store-bought version, but are (more often than not) healthier for you and cheaper to boot.
Plus, let's face it:
You can't put a price tag on the satisfaction of being able to say, "I made it myself!"
Related Posts
Recipe to Make Your Own Chewy Granola Bars
Recipe to Make Your Own Bagels in a Bread Machine