It's been a few weeks now that my husband and I have been living in our new apartment, and I wanted to share what we've done to turn it into a home, room by room. It isn't perfect, and I don't want to portray it as so. But it is real, and that's what I want to showcase—the beauties, blemishes and all. (I explained a little bit about that here.)
This week, I'm going to show you around our bathroom
. Feel free to
browse all the previous posts featuring the apartment tour here
.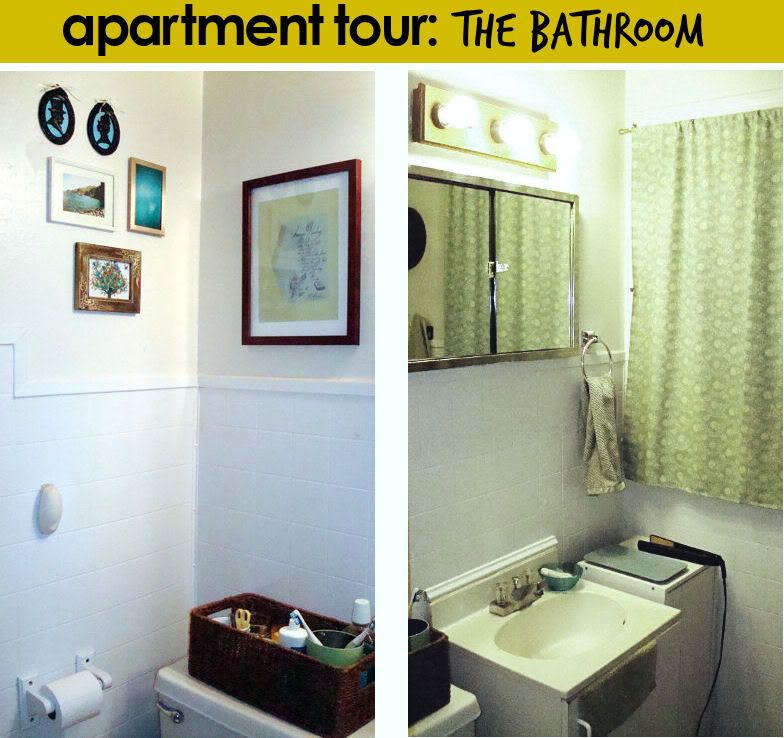 We've now made our way to the last stop in the Apartment Tour series
, the oh-so-exciting bathroom. It's a tiny room, which made getting the photos a little tricky, but here we go...
LEFT:
If you come into our bathroom,
this is probably what you're looking for—the toilet.
On top of the toilet is a wicker basket from Target (
here's a link to it on Amazon
), where I keep toiletries like toothpaste, mouthwash, and contact solution handy.
The art in here is an attempt to weave together the blues-and-green color scheme of our linens.
(I brought green towels into the marriage, my husband brought blue ones.) On the left wall is a collection of framed photographs in mismatched frames and a duo of cast-iron silhouettes. To the right is a framed envelope that is illustrated with Ecclesiastes 3:11, which
used to hang in our former kitchen
. (
Click here for a closer-up look at that piece of art.
)
RIGHT:
To the right of the toilet is our sink, which you can see here. It's noticeably smaller than most other sinks, which causes water to always be splashing out! To the right of it is a small shelving unit that functions as part beauty counter, part toilet-paper hider. We also have a medicine cabinet, which I love. You can surprisingly fit a lot of stuff on those skinny shelves!
Finally, see that window there? I don't really know what purpose it serves, because it looks out into the
back hallway
of our neighbors' part of the house. They walk down that hallway any time they enter or leave. No light would come in anyway, but needless to say, that curtain stays closed! (The curtain, itself, is one I sewed up when
Holly
and I had the pleasure of living together back in our single days!)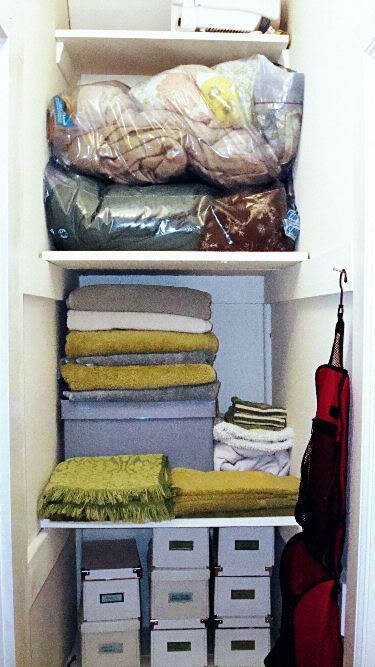 LEFT:
Just beside the "window" is our towel rack and dark-wood wall clock. The shower is beside that. (For perspective, the shower is on the opposite wall from the sink and toilet.) The colors of this photo are a little off, so the shower curtain and towels are more of a dusty-blue than the greyish hue that's shown here.
RIGHT:
Right outside the bathroom door is a built-in linen closet, which you see here. On the top shelf, I store our smallest space heater and
Vornado fan
. The next shelf holds our quilts and blankets, which are stored in some oversized Ziploc bags. Below that are our stacks of bath towels, hand towels, hair towels, and washcloths. The big blue box holds extra toiletries that don't fit anywhere else. The bottom shelf holds my collection of white boxes that organize our smaller toiletries by category (such as "Cosmetics," "Medicine," "Eye-Care," etc.) that I
implemented in our previous apartment
.
P.S. Anyone have any nice point-and-shoot cameras they'd recommend for low-light photographing? I'm getting a little tired of how crummy mine keeps coming out, despite playing with all the settings. Thanks!
Related Posts
A mini-tour of our apartment: Getting creative with bathroom storage
4 Cheap Organization Projects that Have Kept Me Busy
An Epiphany About Reorganizing