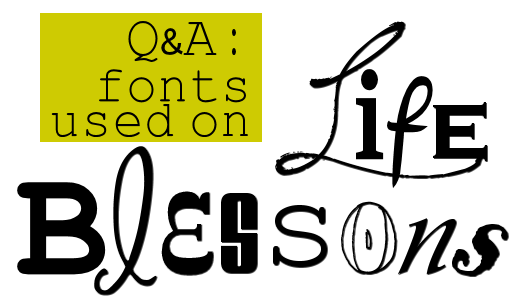 Q: I was wondering how you were able to change your fonts on Blogger? I love the fact that its free, but I can seem to find the right template for me nor any wiggle room for changing the font or making it look nicer.


I mentioned before that
I'm currently using the "Simple" template
that Blogger offers, under the "Template Designer" option from your dashboard. When you get in there, under the Advanced options, you can tweak your fonts, including the size and face of the font for your text, post titles, date, widgets, etc. Now, there isn't a huge variety of font choices to choose from, mostly just your standard Arial, Georgia, Courier, Trebuchet, Times New Roman, etc. While that does limit some creativity, you can't really go crazy with your fonts because not every computer has the same fonts loaded on it, which can cause even more design problems! So in most cases, it's better to stick to the tried-and-true fonts that are standard on nearly every computer out there.
One way around this, though, is to follow the
tutorial posted on Kevin and Amanda
, which my blog friend
Emma
tipped me off about! I used this tutorial to get the cool, curlicue font that shows up in the title for each post on my blog. (She also offers a tutorial to change the fonts in your entire blog, but I was happy just bringing some life to the titles!) Make sure you follow the tutorial very closely (I went through it super slowly to make sure I did each step correctly!), because if you leave any step out or mess up just a little, it won't work. But the directions are solid and give you the ability to bring a bit more customization to your fonts. Amanda creates tons of unique fonts, which she posts for free, and for my titles, I'm using the font she created called,
Pea Aimee
.
The final way that I bring customization to my fonts is to create them in my design program on my computer and save and upload them onto my blog as an image. (Scan through my sidebar, and you'll see this is what I did for the links in my sidebar that fall under "Topics of Conversation" and "Some of My Favorite Posts.") This makes them static and can slow down my loading time, but it's an easy way to play with your fonts and guarantee that your reader will be able to see them! If all else fails, try this! (I gave some more detailed
instructions in last week's Q&A
regarding this, which you can read
here
.)

Q: I also want to know about the fonts! I really like the corkboard travel map you made, and I think some of the fonts you used there are your blog's fonts.


Yes—you have a great eye! Two of the fonts I used in making
my corkboard travel map
are mainstays in my blog design. My aesthetics often carry over from one project to another, whether that's decorating my kitchen, picking out a new sweater or designing my blog!
The fonts that I used for the map, in particular, are: Honey Script (the type used for "our" on the map), Simon Script ("adventures") and Gungsuh ("together"). Gungsuh is a font that came standard with my laptop. The other two, however, are ones I downloaded from
Dafont.com
, a
resource I recommended last week
. You can
download Honey Script font here
, and you can
download Simon Script font here
.
What Other Questions Do You Have For Me?
Recently, I invited you to ask me any questions you might have that I could answer in upcoming posts, whether it's follow-up regarding anything I've written about in the past, curiosities regarding any of my personal experiences, or your general blogging questions.
In the following weeks I will continue to respond to your questions, so please feel free to ask any that come to mind in the comments below or send me an email. I have some questions in the queue regarding my holiday decorations, thoughts on faith and how my baking soda shampoo is doing, so those and more to come!
(If you missed last week's Q&A, they were in regards to tweaking out your blog's design.)