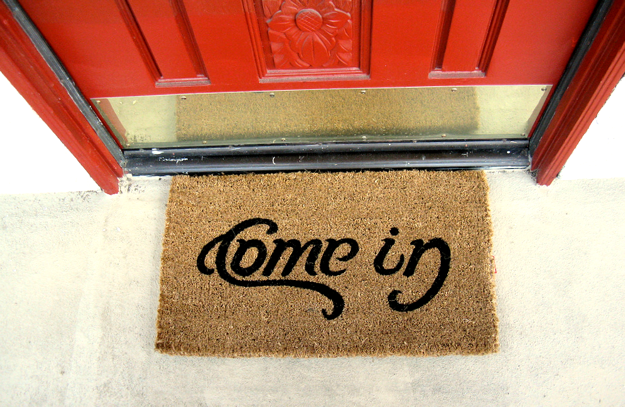 I get incredibly intimdated and self-conscious when it comes to cooking for a crowd—even when that's only another couple. It's a bit like trying to figure out what to wear on school picture day: You stand in front of the pantry (or your closet) and the myriad of possibilities stare back at you. Overwhelmed, you head off to your collection of cookbooks (or fashion magazines) and decide maybe you'll get some inspiration in those pages. After flipping for awhile, you feel no less informed to make the decision that you imagine everyone will remember, critique and judge you on for years to come.
I know it's ridiculous, especially when you take into account who makes up the "crowd" I'm talking about: Folks who are so gracious that they'd be content with bread and butter and call it gourmet! I suppose it's because I'm still relatively new at this whole "cooking" thing and still finding my confidence in the kitchen. Throw some strangers into the mix, and any confidence that I've mustered up over the past year melts into a puddle and washes away.
Yet, for the past couple of years, I've grown aware that this is a hindrance when it comes to opportunities to serve or reach out to others. There have been multiple times when this insecurity of mine has caused me to clam up when I could have invited someone over, and stayed silent when I could have volunteered to help someone else in need. Not because my heart wasn't there, but because fear got the best of me. "What will I make? What do they like? Nothing will be good enough!" The questions paralyzed me from action.
And as one of my favorite bloggers, Kristen of
The Frugal Girl
,
once said
, "When I'm overcome by the 'I'm not good enough at this and why am I even bothering!' blues, here's what I remind myself of: It doesn't have to be perfect to bless other people. It's so easy to give up if we can't do something perfectly, but odds are, we'll manage to bless more people by doing something imperfectly than by doing nothing at all."
So, in an effort to push my insecurities aside, I've started working on a hospitality journal. I'm pulling together recipes and small gift ideas that are ripe for serving others. Meals that serve a crowd. One-dish wonders that transport easily. Potluck-ready side dishes and casseroles. Pantry items to keep on hand for whipping up go-to spreads for surprise guests. I know that when I'm prepared, I'm less stressed and overwhelmed. So I'm hoping that having a guide to go by, I'll be more likely to step in and step up in the future.
I'll share some more about my journal when it's more complete, but I'm still in the early stages of pulling together recipes and ideas. If you have any to pass along or favorites you turn to, I would love to have them! Obviously, I can use all the help I can get!