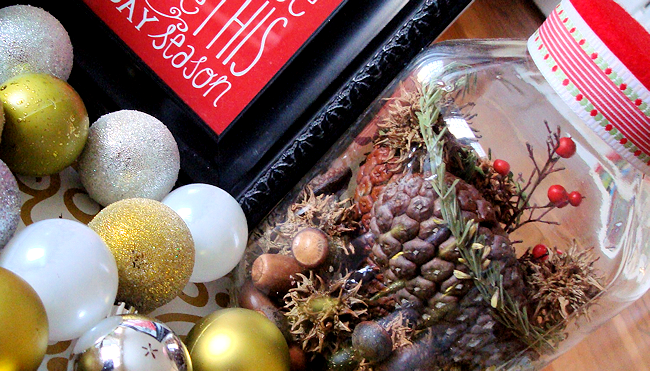 In my search for a nature-inspired tableau to ring in the holiday season, I walked down to the park and collected handfuls of pinecones and acorns and holly berries. I brought the stash home and went to work creating what I've come to call my "Christmas Jar." I gingerly tucked each fallen foliage into the jar so that it looked intentional and festive. I got out the craft supplies and cut out some red felt and glued on some retro red-and-green ribbon to camouflage the jar's previous life as the bearer of applesauce, as trumpeted on the lid.
I got out my box of decorations, combed through everything in our home that's red and green and even ivory and brown. I found a tray festooned with gold swirls. I framed one of our Christmas cards and scattered some green and silver ornaments among the display, like I've seen in magazines. I dug out some Christmas stockings that I'd made, adorned with snowflakes and silvery puffy-painted hearts and all.
And then I realized that I really don't have any place to put these things. We have no mantel, no
corner TV stand
, no bare bookshelves on which to show off the souvenirs of the season. Almost every table-top is already crammed with useful items or other purposefully-placed décor. Of course I could take the lamp off the side-table by our couch to make room for our miniature tinsel tree or I could stash away the artwork my friend made for me to make room for some sort of crafty garland. But that just doesn't seem worth the exchange to me.
So for now, my holiday decorations are limited to the one spare space I could find: our coffee table. Strewn with the baubles and the small splash of red-and-green and nature's mementos, this small tablescape becomes the one festive outlet in our home: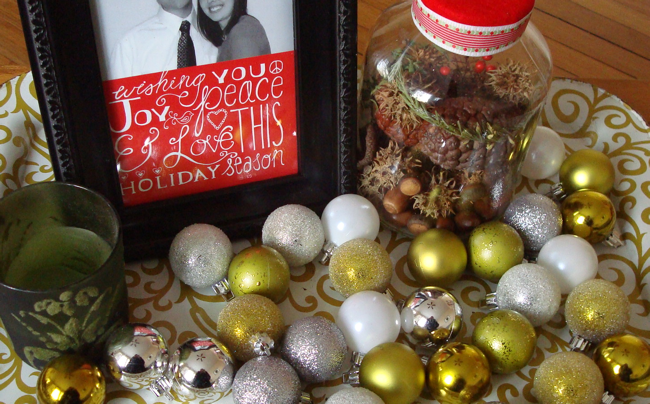 Related Posts
Last Year's Christmas Decorations
Crafty and Nature-Inspired Christmas Decorating Inspirations