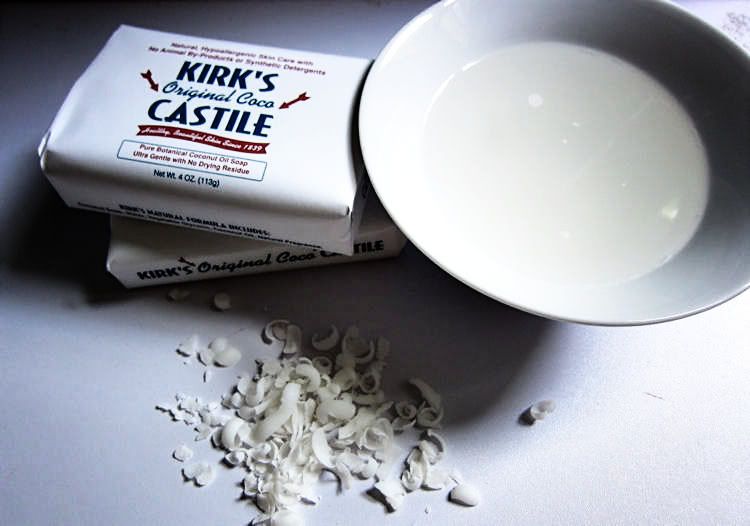 This project is almost too easy. So easy that I can't believe I never thought of it before.
Having already dabbled in
homemade shampoo
, I'd wondered a few times whether I could DIY my bodywash myself, since we like to use
Dr. Bronner's Liquid Castile Soap
. I couldn't find anything online, but then I got to thinking...
If you look at the back of any liquid soap bottle, you'll see that the first ingredient in there is water. Now, many soaps add other stuff in to make the soap thicker and more like a gel. But at its essence, it's just a soap and water mixture.
Another thing you'll likely also notice is that liquid soap costs more than a bar of the regular stuff. The cost of convenience, right?
Not necessarily. Because as I discovered, it's quite easy to make your own simple, natural bodywash for a fraction of the price...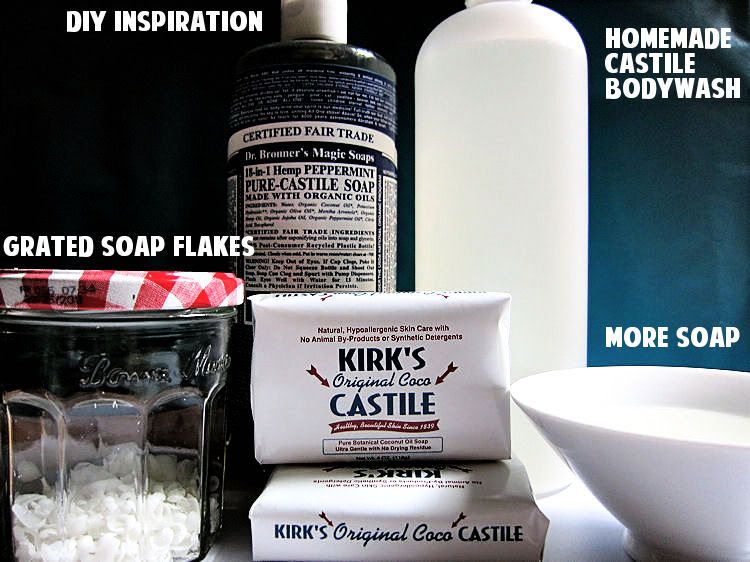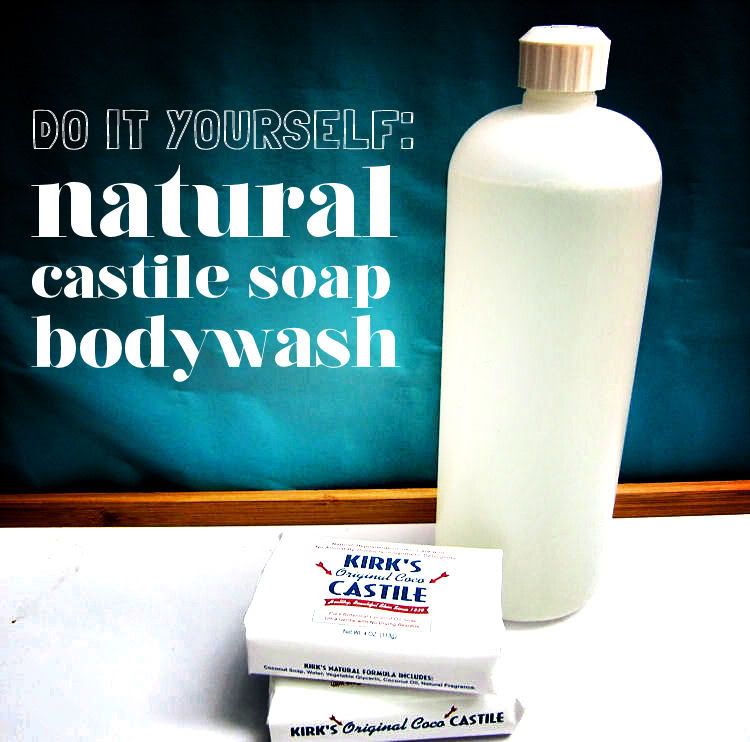 How to Make Your Own Natural Bodywash
Ingredients:
1 bar of castile soap
6 cups of water
Other Equipment You'll Need:
vegetable grater
large sauce pan or stock pot
Instructions:
Take your bar of soap, and shred it using the vegetable grater. I selected a bar of Kirk's plain castile soap, but if you're committed to the peppermint-or lavender-scented Dr. Bronner's soaps, they make those in a bar form, too. (Alternatively, you could probably add essential oils to the plain one when it's melted down, but I haven't tried that.)


Heat up 6 cups of water on the stove until it's almost boiling. Add two cups of soap flakes. (I shredded one bar of soap, measured out 2 cups, and still had a handful of flakes left over that I'll use next time I make a batch. If you want to make a bigger or smaller batch, you can easily do that. Just keep the soap to water as a 1:3 ratio.)


Stir the mixture, and the soap flakes should start melting. Turn off the heat and let the mixture sit there for an hour or so. By this time, all the flakes should be melted.


Now you're done. Just let it cool, and then pour it into containers. This amount filled up one large 32-ounce bottle and I still had two more cups of bodywash left over that I poured into another lidded container.
A Note About the Bodywash:
If you're familiar with Dr. Bronner's soap, you'll know that it's pretty liquid-y to begin with, since there aren't any additives to make the soap thicker. You'll find that's true with this recipe, as well. If you don't like a runny consistency, another option is for you to pour it into an empty foaming hand-soap container (like
this
). Fill it about halfway with the castile soap mixture, then add water to fill it up the rest of the way. Screw the foaming lid on, and you'll have yourself some soap-sudsy foaming bodywash!
P.S. If you are new to this blog, thank you so much for stopping by! You can feel free to browse all my other posts about my journey toward a lifestyle of simplicity and DIY, as well as some of the ways my husband and I are learning to save money. I also write about my faith, my marriage and everything in between, which you can explore in the archives.
Plus, if you like this tutorial, click here to pin it to Pinterest. You can also follow me on Pinterest here.
Related Posts
Recipe for Making Your Own Shampoo
Why I Started Making My Own Shampoo