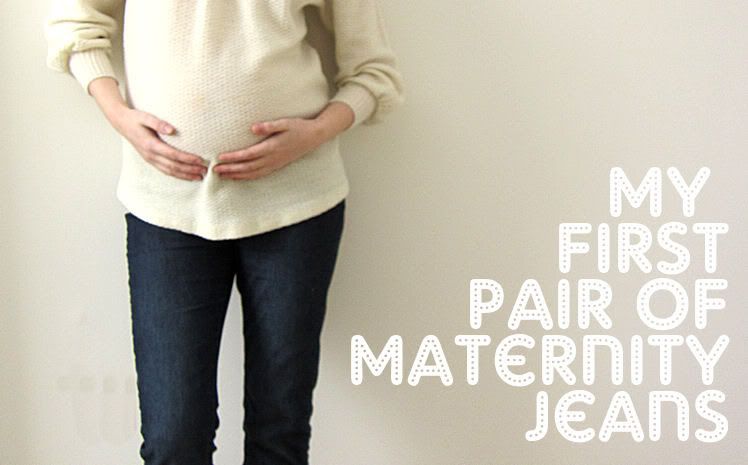 I'd put off getting any maternity clothes as long as possible.
Mostly because whenever I did peruse the maternity sections at different shops, everything felt too frumpy or boring for my tastes. So, I pulled out all my tunic-style or empire-wasted shirts, added long tank tops for extra coverage, and wore my regular jeans with the zipper unzipped.
It worked for the first few months, but once I rounded the corner on my fifth month of pregnancy and gained an undeniable pooch, I knew it was time to upgrade to some real maternity pants.
I'd mentioned before that
I really wanted to find some cute skinny jeans
, which have always been a wardrobe staple of mine and seemed especially suited to off-setting the boxy and flowy tops of pregnancy. But that is easier said than done; I soon discovered that it can be awfully hard to track down clothes that don't scream "maternity!"
Fortunately, though, I came across
Séraphine
, an apparel company that specializes in trendy maternity clothes that are hip enough that
plenty of pregnant celebrities keep their garments in heavy rotation
. They carry a ton of options to get you through your entire pregnancy in style—from bright, candy-colored maternity skinnies to elegant, nursing-friendly tops. Their maternity-friendly options take you from pajamas to work clothes even to fancy evening-wear. Basically whatever you're looking for, they've got something to offer.
And, much to my pleasure, they carry
the perfect skinny jean for pregnant women
! I was able to receive a pair of their
Indigo Slim Fit Maternity Skinny Jeans
to review, and as soon as I pulled the dark-wash denim on, my husband was even impressed: "You wouldn't know those were maternity pants at all!"
See for yourself: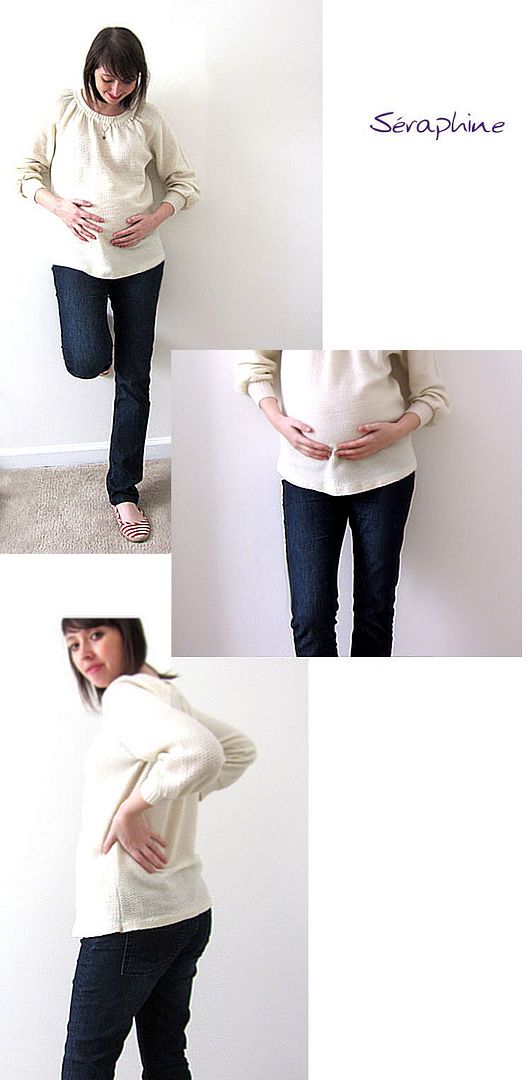 Here are some of my favorite aspects about these jeans:
They are made of a stretchy (but not spandex-y) lighter-weight jean material, in a nice, midnight-y blue hue.
The material means they hug my legs in the right spots (without making them look like they're encased sausages) while the color makes them incredibly versatile—a great everyday pair that can be dressed up or down depending on the occasion. And because the fabric isn't too heavy, they tuck easily into boots for the winter (as you can see in the photo to the right).
The sizing is right-on.
I am always a little weary of buying clothes of any sort online without trying them on first, since I can wear any number of sizes, depending on the brand. But I used the sizing guide on Séraphine's website, measured my hips, and crossed my fingers that they'd be an okay fit. They were perfect! Plus, I love the length of the leg: not too long (like most designer jeans tend to be) but just long enough that they bunch up ever-so-slightly at the cuff.
They hold up well to daily wear.
I typically try to get a few days' wear out of any given pair of jeans (and sometimes more!). So I was pleased that these jeans didn't lose their shape or stretch-out after being worn a few days in a row. Plus, when I washed them, they didn't bleed, despite their dark hue. I air-dried them and there was no awkward "break-in" period afterward; I pulled them on and they fit as good as new!
They have a really sturdy, stretchy elastic waistband
, which means you don't have to worry about tugging them up at all—they stay put and don't show under your clothes. The band sits under-the-bump, as opposed to most maternity jeans that stretch up over your belly (you can see a photo of it in the slideshow
here
). The great thing about that is that it makes it so that these pants don't have to just be relegated solely to pregnancy—I fully expect that they'll make for a super comfy (and fashionable) fit even after our little one has arrived!
Needless to say, my foray into maternity wear couldn't have been better. And if you're looking for clothes to get you through your pregnancy (or beyond), make sure to check out
Séraphine's line of maternity and nursing clothing
—especially
my new favorite skinny jeans
!
Related Posts
How to Pare Down Your Closet and Be Happy With It
Make the Most of Your Wardrobe Series