(In case you didn't know it, I'm currently pregnant and am documenting the pregnancy each month. See last month's update here.)
THE BABY.
Saturday (9/22) I'll be 18 weeks pregnant, so, according to various pregnancy apps I've downloaded, the baby is currently the length of a bell pepper, measuring about 5.5 inches long and weighing 7 ounces. As the baby has continued growing, I finally have been able to feel his movements, starting the past couple of days. I know some people say it feels like butterflies or gas or tickles, but I'd describe it as a little bubble bursting or a slight flick against the inside of my stomach. The other night I felt it and had my husband put his hand in the spot and he was able to feel it, too, which was pretty exciting!
HOW I'M FEELING.
It comes and goes. During weeks 12-15, I had the surge of energy that they comes with your second trimester and my nausea abated considerably, compared with
my first trimester
. Around week 16, though, I started getting bombarded with fatigue and the nausea came back, not as bad as it had been but it did cause me to vomit for the first time this pregnancy. I think I figured out that it was because my body needed more food. That's been something that's been hard to adjust to, having to eat a lot and not necessarily when I feel hungry. I've realized that when I start to feel icky, it's likely because my blood sugar is dropping, so when that hits, I go get something to eat and usually that perks me up, which has been a godsend of a realization, let me tell you! Speaking of food…
EATING.
My eating habits have changed considerably since my pre-pregnancy days. I'm now eating about every couple hours, usually carrying a snack or two with me when we head out for errands or to church. There are still things that occasionally make me gag, but not nearly as often as they were in
the first trimester
. No cravings to note as of yet, though I still do have some aversions (most notably: raisins). I have noticed that my desire to try any experiments in the kitchen has seriously nose-dived, which has caused me to take a break from my
Adventures in Trying New Foods
monthly challenge. The idea of okra and figs the past two months just didn't do anything for me, so I took the initiative and skipped 'em. Hopefully that will bounce back soon!
SLEEP.
Around this point in pregnancy, they recommend that you stop sleeping on your back and stomach and start sleeping on your left side. This has been really cumbersome for me (typically a back sleeper) and has made sleep more restless while I try to stay comfortable. And I also usually end up getting up once during the night (usually between 4-5am) to go to the bathroom, have a drink, and sometimes get a snack. I'm actually getting used to it, so it isn't too bed. Plus, I know it's something I'm going to have to get used to, either now or once the baby's here, so I'm learning to just go with the flow and take naps later if need be.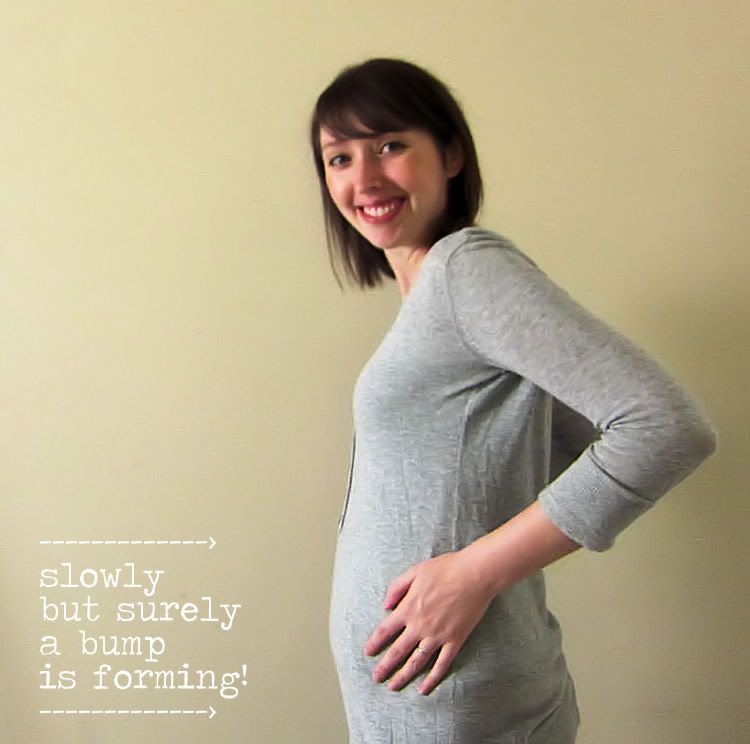 PHYSICAL CHANGES.
A bump is definitely starting to form and is particularly noticeable later in the day or when I wear shirts tighter around my stomach. I've also been quite aware of my body as it is growing, being able to feel my stomach and hips stretching out to accommodate the baby. It's pretty interesting how all these different elements fit and work together to give the baby the room he needs. I've also noticed my skin and hair is drier than usual, so I've had to adjust to that.
CLOTHES.
Thanks to that stretching and moving, my belly is indeed growing and I become aware of it every time I try to put on certain pairs of pants. By 10 or 12 weeks, a lot of my pants were already complete no-gos. Now, at almost 18 weeks, there are about half a dozen non-pajama pants that I can still comfortably wear (most accomplished by employing the snazzy rubber band-through-the-buttonhole trick!). As far as tops go, I'm pretty lucky that a lot of the clothes I already gravitate toward are maternity friendly with empire waists or tunics that flare out at the bottom. So far, I've avoided buying any maternity wear, but I would eventually like to pick up a good-fitting pair of maternity skinny jeans and some heavy-knit cardigans to get me through the winter (and that I can hopefully keep wearing in the future, too!). But that's all that's on my radar for now.
COMING UP NEXT.
On October 11, we'll get to have an ultrasound where we might be able to find out the sex of the baby. Currently, we do intend to find out, but I know that sometimes the baby doesn't always cooperate with those things so if it ends up that the doctors aren't able to be certain, I'll be fine with that, too.
Related Posts
My First Three Months of Pregnancy