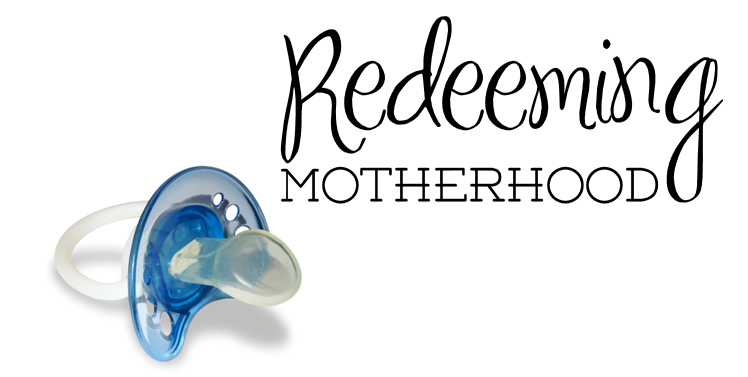 Redeeming Motherhood
is a series of posts where women open up about some of the struggles they've faced as mothers and how the Lord has redeemed those situations and brought beauty from them. Check out
all the posts in the Redeeming Motherhood series
here. (And if you want to share your own story of hope and healing, please check out the bottom of the post for instructions!)
Many thanks to Jordy of
Jordy Liz Blogs
for sharing her insights in today's Q&A! (And check out her son, who's the same age as Claire!)
Describe one of the hardships you've faced as a mother. What made this time so difficult?
One of the hardships I noticed right off the bat was the shift of priorities and losing myself.
The early days were long and monotonous, and the lack of sleep left me feeling blue. We had our round of visitors over the first few weeks, but after that time, it all slowed down. Around 4 to 6 weeks post-delivery, I was starting to feel like myself again and was so desperate to get out of the house with friends. But unfortunately, no one was calling. No one was checking in. No one was inviting me places. I realized that I had officially entered this new stage and friends thought I was too busy to get out. Busy, yes, but desperate for girl time, even moreso.
I started back at work about three months after Liam was born, and the overwhelming feelings came to a head. I realized I officially couldn't do it all. With working full-time, keeping up with housework, handling dinner, taking care of Liam, balancing appointments and schedules, I have had many moments of feeling shut down. And unfortunately, I get put on the backburner. I didn't have time for myself, my friendships or just the minute tasks on my to do list. The wants and needs I had kept building until I realized that it wasn't going to change itself.
What were some of the emotions you were feeling during this time?
Besides lonely, I felt abandoned and overwhelmed by this new stage of life. I was longing for acceptance again with my friends; I was longing for them to see that just because I was a new mom didn't mean I couldn't leave the house or get together like we used to; I was longing for an hour to do something I enjoyed - a hobby, a pedicure, anything.
How did the Lord speak to you during this time? How did he bring redemption or healing to you?
God is continuing to show me to how to rely on Him and be more intentional with myself and my relationships. I can't just sit back and expect people to come to me; I also need to let them know how much I need their friendship and time together.
He also showed me who I am in Him, and not necessarily as a wife, mother or employee. If I focus on who He created me to be, I still am myself.
Is there a Bible verse that you think speaks poignantly to this experience? It can be one you clung to during that time or that, looking back, seems particularly fitting.
There is a sign I have on the wall that quotes Psalm 46:10: "Be still and know that I am God." As simple as this is, it just reminded me to stay in the moment, to be still in God, and to trust His plan and will for my life.
ABOUT THE WRITER: Jordy is a born-and-raised Texan living in the desert of Arizona. She blogs about marriage, faith and life as a new mother over at Jordy Liz Blogs.
If you are interested in contributing to the Redeeming Motherhood series,
contact me
with your responses to the questions in this post. Include a short bio and a photograph, if you like. It's not necessary to have your own blog, just a heart and a story to share!
{ photo source }