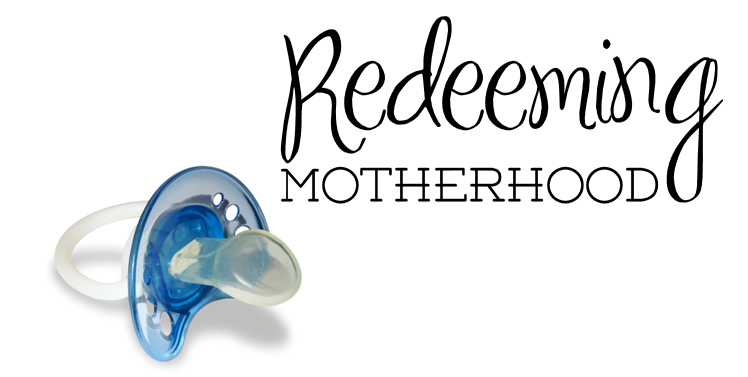 Redeeming Motherhood
is a series of posts where women open up about some of the struggles they've faced as mothers and how the Lord has redeemed those situations and brought beauty from them. Check out
all the posts in the Redeeming Motherhood series
here. (And if you want to share your own story of hope and healing, please check out the bottom of the post for instructions!)
Many thanks to Andrea Cooley of
Ever After Blueprint
for sharing her experiences in today's Q&A! (And, boy, does her story resonate with me. Particularly the impulse to beat yourself up over a baby not cooperating with schedules and napping and all that stuff that is such a rude awakening to motherhood!)
Describe one of the hardships you've faced as a mother. What made this time so difficult?
A
ndrea and Emerson
Everyone talks about being tired the first year and to sleep while you can. And that is true, but for me harder than losing sleep and
not going back to work
was managing my expectations. I am a first-born girl who likes to be in control. I have always considered my type-A personality to be a blessing. I set a plan, make a goal, and get things done. So imagine my surprise when my sweet and cuddly baby boy Emerson had other things in mind. Maybe he has a bit of my persistence in him!
Without even realizing it, I had high expectations of what his schedule would be. I figured we would have lots of play dates during the week and the weekends would be time to relax and play with dad home from work. In reality, there were several months (that also happened to be in the middle of winter) when it felt like every day was a never-ending battle with naps. There was such a small window of time each day when he was awake and happy that it was nearly impossible to ever get out of the house.
What were some of the emotions you were feeling during this time?
I spent a lot of time feeling discouraged and generally sorry for myself. Why wasn't my baby like everyone else's? Why didn't he sleep better? Was it too much to ask to have a full night's sleep?
Looking back, there were several weeks where I wish I could tell myself to stop worrying and obsessing over his schedule and feeling like it was impossible to get out of the house. One thing I've learned time and time again this year is that everything is a phase. Whether it's a good phase or a bad phase, nothing lasts forever!
How did the Lord speak to you during this time? How did he bring redemption or healing to you?
Even before being a mom, I have always been highly critical of myself. I have high expectations for myself and even if they are unrealistic, I feel the need to meet them. When I feel like I have failed, I tend to beat up on myself. I know that the Lord loves and accepts me right where I am and isn't keeping track of my achievements or failures, but it's something I struggle to believe in my heart. So as I begin to lower or change my expectations as a mom, I am also learning that it is OK to do this with myself, too.
Is there a Bible verse that you think speaks poignantly to this experience?
At the end of a day of fighting naps following a night where more time was spent rocking and singing and feeding and shushing than sleeping, one of the truths I held on to was Lamentations 3:22-23:
"Because of the Lord's great love we are not consumed,
for his compassions never fail.
They are new every morning;
great is your faithfulness."
Even when I could only hope for more than two consecutive hours of a sleep and an uninterrupted shower was a distant memory, I clung to the knowledge that every day was a new beginning. And not only was it a new chance to work on naps and nursing and laundry and tummy time, more importantly, it was a new day full of the Lord's love and blessings. I learned to count the blessings of baby coos and giggles, and thanked God that I had a healthy baby, even if he didn't sleep when I thought he should and sometimes made getting out of the house harder than it was worth.
Slowly, the days got easier, the nights got quieter, and instead of counting down the days and weeks until this phase was over, I started giving myself (and Emerson) grace. We were both figuring out this mommy/baby thing together. Some days are still hard, I'm not gonna lie! There are days when number of outfits we go through before 9am is more than I used to go through in a week. And we have both shed our fair share of tears, but as any mom knows, it is so worth it!
ABOUT ANDREA: In a few short weeks our firstborn son, Emerson, will be one year old. I've learned a lot this year and while there were some weeks that I thought would never end, looking back, it's been an amazing year. So even though I've lost track of how many times I put away the dishes that he pulls out of the cupboard and how many Cheerios I've picked up off the kitchen floor, I can't imagine life without his sweet smiles and little giggles! You can read more from Andrea at Ever After Blueprint.
If you are interested in contributing to the Redeeming Motherhood series,
contact me
with your responses to the questions in this post. Include a short bio and a photograph, if you like. It's not necessary to have your own blog, just a heart and a story to share!