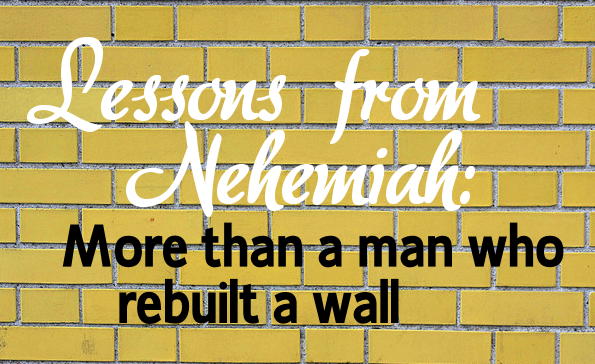 I recently finished reading my way through the book of Nehemiah in
my daily Bible reading plan
.
It was the first time I'd read Nehemiah's full story, beyond just rebuilding the wall but also rebuilding the people of Israel back into a God-glorifying nation. He saw the need of his people, left a life of luxury and prestige, and took up the hard task to restore his people.
As I've been reading through the Bible, I've noticed how few real "heroes" there are, despite the conventional ones we look to. Abraham was a liar. David was an adulterer. Noah got drunk and angry. Yet these are the heroes we hold up, being the first Jew, a man after God's own heart, the only righteous person on earth.
But when I read Nehemiah's story, it's almost refreshing to read a story of someone who really was able to live out their faith in a God-honoring way. It offers a glimpse that this way of life we're racing after
is
possible, by the grace of God.
I was also struck by his faith and the way he continually turned to God throughout the book: Throughout his story it tells how he continually prayed to God for strength and wisdom and blessing when he was about to embark on a difficult or life-threatening task. Later he tells of how "my God gave me the idea" to register all the people of Israel, making it obvious of how in tune he was with his God and able to recognize his voice. And when they find the Book of Law of Moses and everyone weeps because they realize all the evil they've been committing unknowingly, he tells them to stop crying and start celebrating, because he recognized that it is a day of joy when the Law has been rediscovered and reestablished.
And so, in this man who isn't one of the usual Sunday School superstars or Bible "heroes" everyone names their children after, I found a new appreciation and example to be commended.
Related Posts
Unexpected Insights from a Boring Old Testament List
What It Looks Like When We Take Things Into Our Own Hands: A Story of Two Brothers