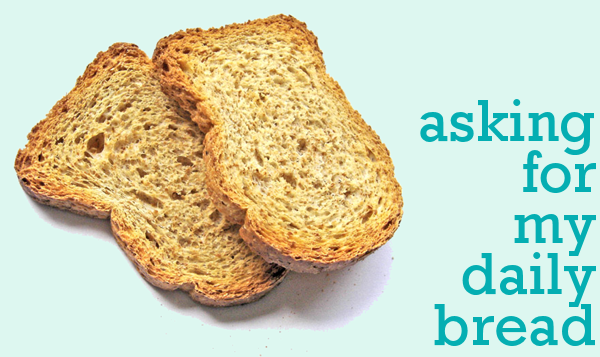 Sometimes I feel guilty about how the fact that my husband and I both are
still
searching for full-time jobs always seems to creep into conversations. And that it's been creeping into conversations for over a year now. It must get awfully boring to hear me say, yet again, "I don't know where we'll be," or updates about how the latest job news is going.
But honestly that is what is at the forefront of our reality right now. And I think we all have those things; for me (and too many others) it's employment, perhaps for someone else it's relationships or infertility or moving or health. It seems that we're never given much of a reprieve before something "else" crops up to captivate our attention.
For now, in my life, it's a job, my daily bread.
But, surprisingly, I'm not discouraged by that, though. For some beautiful, merciful reason, the Lord has given me an incredible sense of peace regarding this season of our life when everything seems up in the air and we still seem to be fumbling through the fog. As each month passes, I continue (for the most part) to grow in my confidence that the Lord is at work here. I have a comforting sense of peace about the fact that he does indeed go before us and prepare the way for us. So, rather than worry, I continue to wait on him to answer.
It's an interesting thing that even though God tells us that he knows all our needs and will deliver us, he also commands us to ask him—persistently: "God will always give what is right to his people who cry to him night and day, and he will not be slow to answer them. I tell you, God will help his people quickly." (Luke 18:7)
In
The Magician's Nephew
by C.S. Lewis, Digory has to go on a mission and finds that he needs food and complains about it, noting that Aslan must have known that he'd need to eat and get hungry on the trip. His companion speaks words of wisdom as he responds to the ilk of, "Yes, I'm sure he did know you'd get hungry and need food. But you didn't ask. I have the feeling that sometimes he just likes to be asked, even if he knows you need it anyway."
So, my prayers right now are for provision.
As the time ticks and my job draws closer to a close (nothing set in stone just yet) and no opportunities arise, I wonder, "What will happen next?" for us. All I know to do is pray. Keep praying. Keep asking. Keep trusting.
But those who wait on the LORD will find new strength.
They will fly high on wings like eagles.
They will run and not grow weary.
They will walk and not faint.
Isaiah 40:31
Related Posts
Update on the Job Search
Cupcake Reminders That Life Is Sweet...Even When It Doesn't Feel Like It