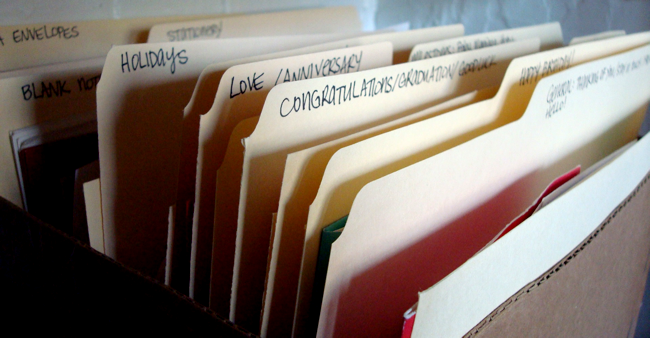 I'm not sure where she got it, but for quite some time, my mother has kept a big teal box filled with greeting cards for every occasion. It was always so handy to have that card box there at a moment's notice to thumb through, without having to make a special trip to the store. I can remember running off to a friend's birthday or preparing for a bridal shower, and her asking me if I needed a card for the occasion. "Look in the card box!"
For quite some time, I've had an assortment of stationery and a handful of greeting cards that I'd bought and never used, stored in an empty shoebox. But it was not the same as my mom's well-stocked collection.
So, I decided to create a card box of my own. It's not as pretty and polished as my mom's, but for the materials I had on hand, it works. Cutting the flaps off a cardboard box we'd recently received in the mail, I filled it with filing folders arranged by topic: "Congratulations," "Birthday," "Milestones," "Thank You," "Holidays."
And then I went to work stocking up my collection. This way, I can slowly build up my collection when it's most convenient and then, when the occasion calls for the perfect card, it's ready and waiting.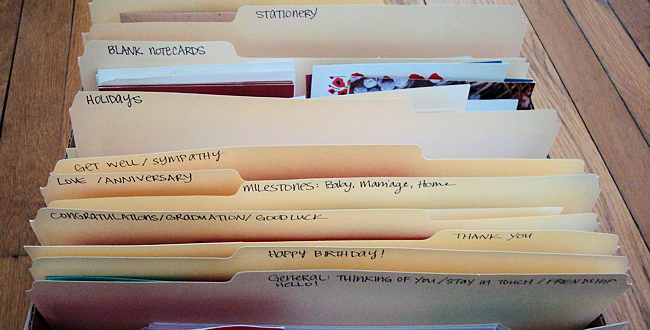 In my pursuit of growing more of a spirit of hospitality, I feel like taking the inconvenience out of it and having these simple-but-thoughtful papers on hand is an opportunity to make this desire more effortless in my life. It becomes that much easier to incorporate small gifts of love like this into my routine.
Related Posts
Steps Toward Hospitality: Creating a Hospitality Journal