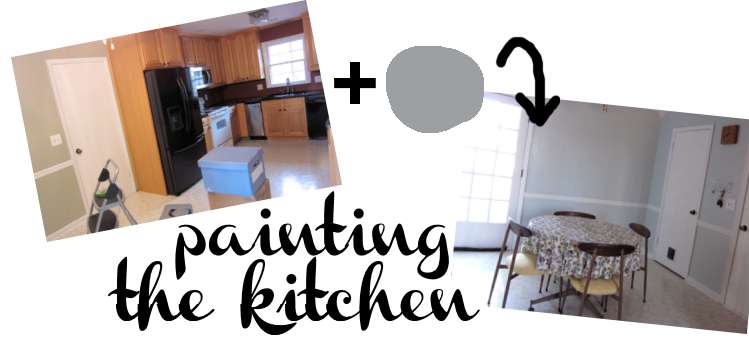 Once we had signed the papers and officially owned our house, one of the first things we wanted to do was get some paint up on the walls, starting with our kitchen which was festooned with a couple green walls and a couple red ones. On their own, neither color was bad, but neither was the color I would have picked for the room where I expect to spend a huge chunk of each day.
Want proof? Here are some "before" pictures to refresh your memory: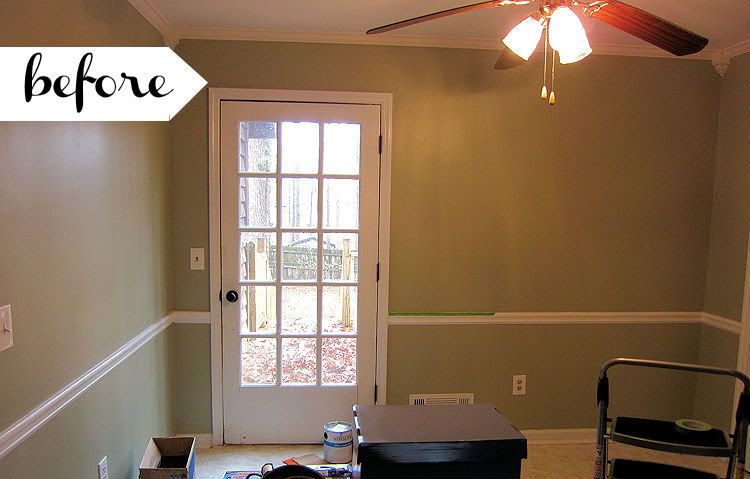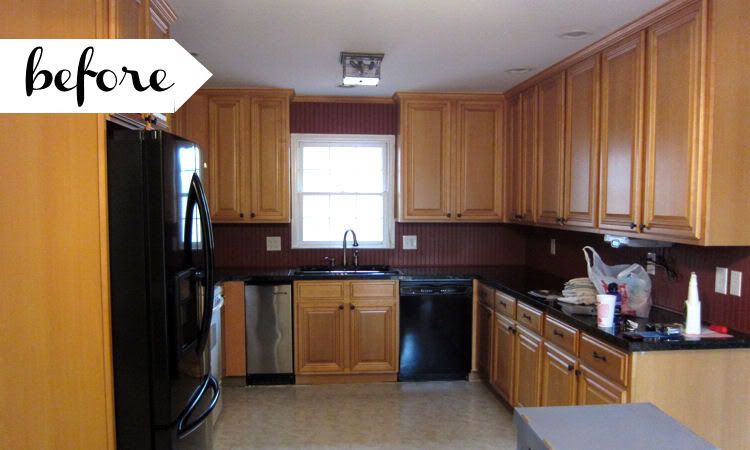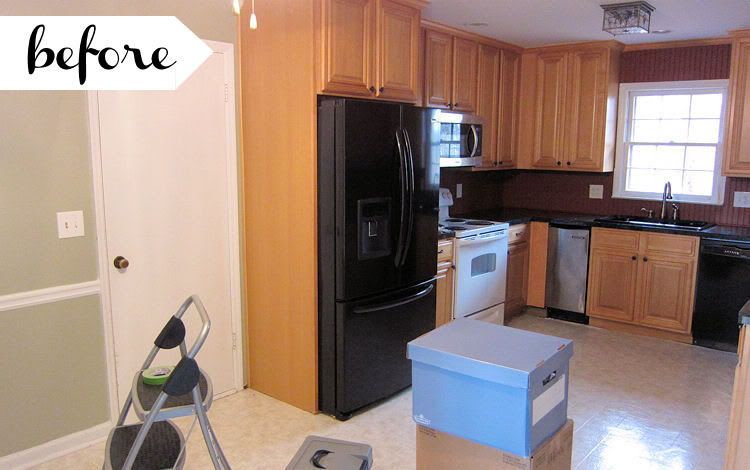 (
You can see more "before" pictures from when we first purchased the house here.
)
For the first time since living at home with my parents, I was able to pick the color that would adorn the walls, to pick a color that reflected my tastes and personality. After so many years living in apartments with white and cream and beige and khaki walls, that freedom seemed like such a luxury!
When we had first started entertaining putting an offer in on the house, I'd had a vision of seeing those Christmas-colored walls turn to a pale blue hue. So, to the paint store I went, collecting fistfuls of swatches and comparing every variance and shade and back again.
I was looking for something specific: Not too blue, so as to look like a nursery. Not too bright so as to seem garish but not too light so as to seem lifeless.
The answer was "Woodlawn Sterling Blue," a blue-gray hue from Valspar's line of paints, which you can find at Lowes. With hopes of selecting a shade that I'd enjoy decorating with for years, I liked that this color was part of an exclusive palette that Valspar has created in conjunction with the National Trust for Historic Preservation. The 200-some colors that make up this palette are the same colors that have been documented in historic homes and architectural sites all across the country; for instance, the color I chose originates from the
Woodlawn house
overlooking the Potomac that George Washington purchased for his nephew. Quite the testament to the fact that these colors have already stood the test of time!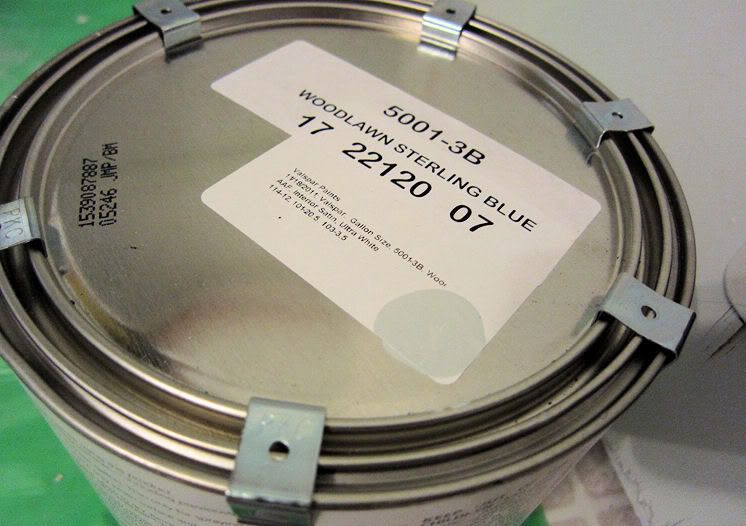 That was the kind of longevity I was looking for in my color choice, but I also needed something that would be practical for me in the everyday. Which is why we went with
Valspar's new Valspar+ line
(also available at Lowes), which not only dries to an antimicrobial finish that makes it resistant to mold and mildew (perfect for our kitchen setting) but its zero-VOC formula is also certified asthma and allergy friendly. My husband is incredibly sensitive to smells and chemicals, so it was imperative that our paint choice be one he could live—and breathe—with.
Armed with a couple gallons of our paint, courtesy of Valspar, we went to work, transforming our kitchen.
It was only after we'd been painting for an hour or so that I realized there was not even the
slightest
paint smell at all. My husband did a lot of the painting himself and didn't suffer from a single headache, which he can get even from spending the night in a hotel room where they use chemical-laden cleaning supplies. So I was pleased that the paint lived up to its breathing-friendly claims!
Within a couple hours, the paint dried to a shade that was a complex combination of blue and gray that shifted slightly with the changing light. My husband and I both agreed that the azure also really helped lighten up the wall of blonde cabinets that had previously felt a little dark and cavernous against the dark red.
Here's what it looks like now: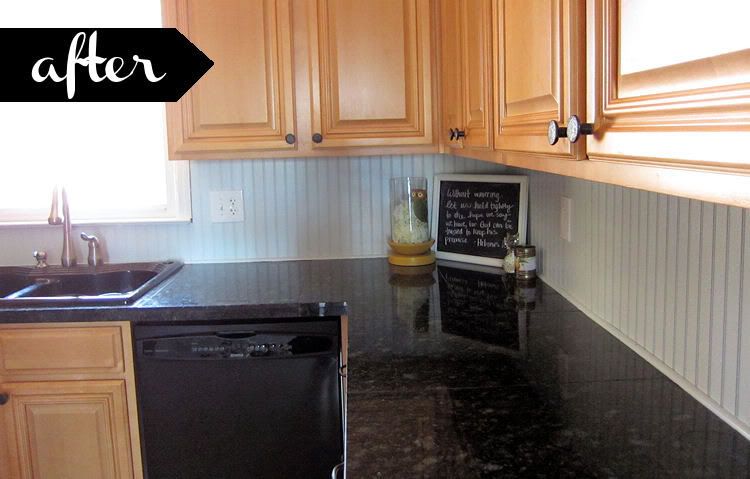 Plus, because the paint is water-based, it was a cinch to clean up, which we took care of right in our kitchen sink! Just use a little soap and water, and the paint washes away from brushes and bristles and bare hands. That also made it really forgiving around our granite countertops, so I was able to easily scrape away any excess paint. (Once the paint has had time to fully cure, though, it is durable and you can wipe it down without a worry.)
While there still are more decorating details I expect to attend to in the room, updating the backdrop for them with my new true-blue color has made a world of difference, turning it from a culinary cave into something of a soothing oasis. Ahh....
Find out more about all of Valspar's paints, as well as information about Valspar+, which you can find at Lowes. They also offer plenty of tips and how-to videos on painting, picking out colors and more on their website. For more, follow them on Twitter or like them on Facebook.
Related Posts
We're On the Move…
My Latest Endeavor: Watercolor Painting
Make Your Own Fancy Chalkboard with a Picture Frame