If you know me well, you know that one of my favorite meals is the sandwich. There's something about stuffing your meat and veggies between two pieces of well-made bread and adding some zippy condiments that takes the combination to a new level.
And a good hamburger bun—whether it's for putting together a burger or dressing up a sandwich—is an essential part of that equation. That's why I make homemade hamburger buns; you just can't beat fresh-baked breads. Plus, you can store these in a freezer bag and freeze them until you're ready to use them. They still taste great!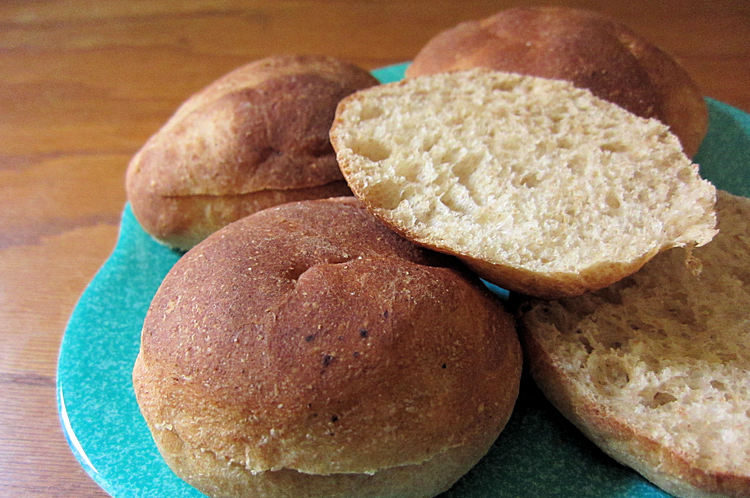 This whole wheat hamburger bun is another that takes advantage of my already-established favorite kitchen:
my bread maker
. I use it to mix together the dough, and once that cycle's completed, I can come back and shape the dough into the buns to bake in the oven. (If you're looking for some other recipes to take advantage of using a bread maker, some of my favorites include making
whole wheat sandwich bread
,
pizza dough
,
soft pretzels
, and
bagels
.)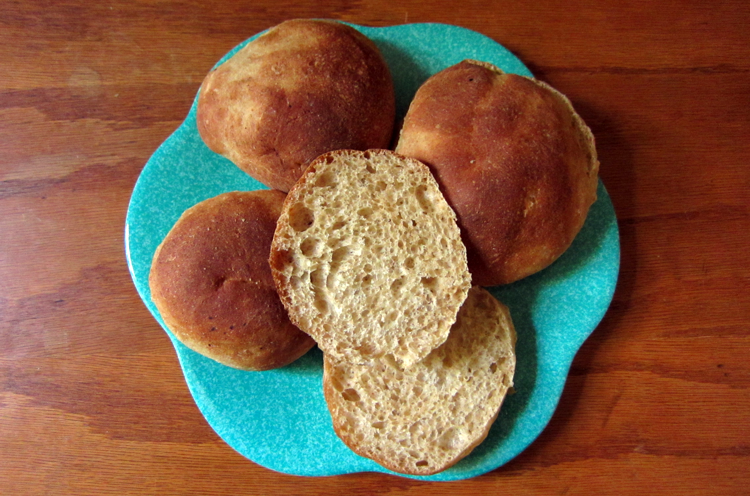 1 cup warm-ish water
1 egg
¾ tsp. salt
¼ cup butter, melted
¼ cup sugar
2 cups unbleached all-purpose flour
1 cup whole wheat flour
3 tsp. bread machine yeast
In your bread machine (
mine is similar to this one
), add ingredients from the water to the flours, in the order given in the recipe. (So, you'll add the water first and the whole wheat flour last.)
Once you've added the last of the flour, use a spoon to hollow out a little dent in the middle of the flour. Into this, add your yeast. Program your bread machine on the "Dough" cycle. Press Start.
Let the bread machine mix the dough and go through the rising cycle. At the end, it will beep. Remove the ball of dough from the bread machine's pan, and turn dough out onto a lightly floured countertop. Using a dough scraper (or a sharp knife), divide dough into 12 equal pieces. (Make this easy by rolling dough into a rope, and then divide it into four equal sections. Then cut each of those sections into three equal pieces.)
Form each piece into a ball. Place on a lightly greased baking stone (here's
the baking stone I use
) or cookie sheet, leaving about two inches of space between buns. Cover dough with a cotton dish towel or cloth napkin, and set in a warm place to rise for about 45 minutes. (
For an easy way to let your bread rise, read my breadmaking tips and tricks article
.)
Turn your oven on to bake at 400-degrees. Remove the dish towel from the dough, and let it bake in the oven for about 12 to 15 minutes, until golden. Remove from oven and let cool.
Once cool, split buns in half horizontally. Store slices in a sealed bag or airtight container for up to a week, preferably in the fridge or freezer if you aren't planning on using them right away. Makes 12 hamburger buns.
If you like this recipe,
click here to pin it to Pinterest
. You can also
follow me on Pinterest here
.
(Plus, take a peek at
my breadmaking tips and trick article
, which will provide some good insights about how to overcome common problems, easy substitutions you can make if you run out of some ingredients, and some of my favorite breadmaking essentials.
Read the article here.
)
P.S. If you are new to this blog, thank you so much for stopping by! You can feel free to browse all my other posts about my journey toward a lifestyle of simplicity and DIY, as well as some of the ways my husband and I are learning to save money. I also write about my faith, my marriage and everything in between, which you can explore in the archives.
Related Posts
A Love-Hate Relationship with my Bread Maker
Homemade Black Bean Burgers Recipe
Chicken burgers: Recipe for the weekend