When Claire was just a month or two old, she was content to just lie still and marvel at the world around her—no toys necessary. I could lay her on the ground and go about my business: Making breakfast, showering, dressing, and didn't have to worry about her whining or complaining. The world was just that interesting to her!
These days, though, the novelty has worn off and toys have become her best friends. The key is finding one that holds her attention before she tries to scamper off in hot pursuit of a pet or a stray magazine.
I was able to receive and review
Cora the Smart Cub from VTech
to let Claire play with and share about here—as well as host a giveaway for one of you to win one for the kiddo in your life, too! Read on for that…
When we first received Cora, I started looking through the manual and realized that you can program Cora (by hooking her up via USB cable to your computer) and personalize her specifically for your own kid—including programming her to say your child's name, remember her birthday, provide daily greetings that are synced up to your time zone, sing songs that you get to pick out, even integrate your child's favorite toys/foods/colors/friends/family members into story time. (Oh, and you can select your favorite story-time prompts, as well.)
Once I realized all those hidden aspects possible with the toy, I really started to get excited about Cora! I love that when I turn her on she says, "Good morning, Claire!" and "You're my best friend, Claire." Isn't technology so incredible?!
One of the other biggest things I like about Cora is that she is really intuitive to play with: The icons clearly mark which appendage prompts what. For instance, if Claire wants to listen to music (which I programmed in from a long list), then she can hit Cora's feet. Oh yeah, and she doesn't just keep going and going and going—if you don't play with Cora within 40 seconds, she can take a hint and automatically turns off.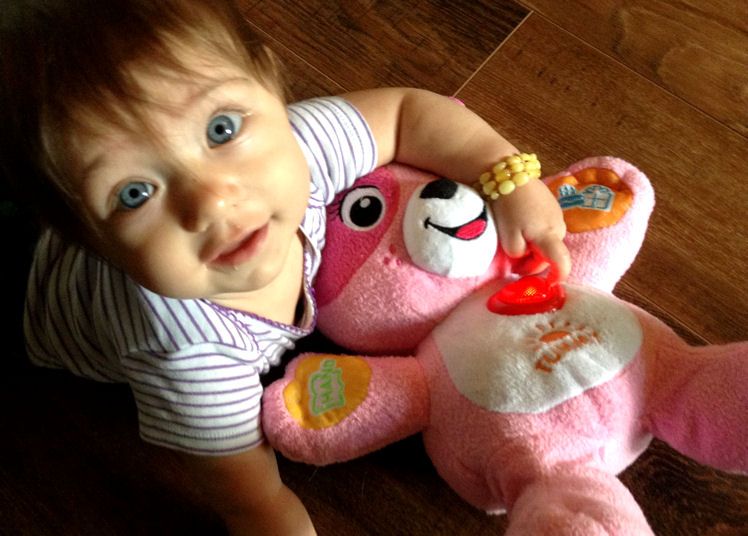 Cora is intended for kids six months to three years, so Claire is just at the cusp for playing with this. She still hasn't learned her own name, so the novelty of that hasn't hit her yet, but she loves the light-up heart, how soft Cora is (cozy like fleece), cuddly (great for chewing on and wrestling with!), and listening to the sounds and songs she makes. I let Claire take her in the car and it readily keeps her entertained!
If you'd like to enter to win your own Cora the Smart Cub, please take a moment to let me know in the comments and what you think is the best thing about Cora the Smart Cub.
Please submit your responses (and include a way to contact you if it isn't visible in your profile) by Wednesday, September 18, when I'll select and contact a winner. (The VTech product, information, and additional gift pack have been provided by VTech.)
You can also find Cora the Smart Cub on Amazon.