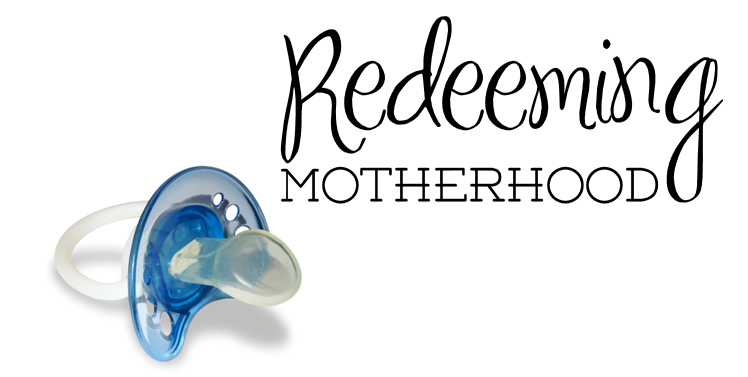 Motherhood can be tough. That's
a lesson I learned early on when I had my daughter
. Sometimes you don't know how you're going to get through it, whether you can get through it, or where God is in the midst of it. Ugh. But I also learned another lesson: That
God is in the midst of it
. Sometimes you just have to look hard, maybe harder than you ever have before. And that's what this series,
Redeeming Motherhood
, is about: Sharing our stories about how God has met us during some of those tough times of motherhood and the work he's done to redeem them. Because he always redeems. If you find yourself in one of those similar seasons of struggle, I hope these posts encourage you in that, too. Check out
all the posts in the Redeeming Motherhood series
here. (And if you want to share your own story of hope and healing, please check out the bottom of the post for instructions!)
To kick the series off, I wanted to go ahead and share part of my own story: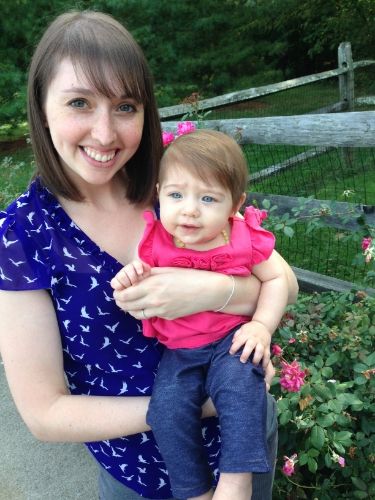 Me and Claire, much more well-rested,
at seven months old
Describe one of the hardships you've faced as a mother. What made this time so difficult?
When my daughter Claire was first born she struggled to sleep. We all struggled to help her sleep and nothing, save time, seemed to help. We could be seen pacing the floors, bouncing, rocking, shushing, swaddling, nursing, singing to try to help her settle down. We'd lay her down, pick her up, pat her back, turn on water, run the vacuum—anything to try to help. It rarely did. One night, my husband took to jogging with her around the kitchen to finally get her to succumb to sleep. Surprisingly that worked—for that night.
What were some of the emotions you were feeling during this time?
The thing that made this time so difficult was beyond just the obvious of utter exhaustion. What really made it difficult was that I felt abandoned by God during this time. I prayed and prayed that Claire would fall to sleep. Prayed that when we got her asleep, she would stay asleep. I prayed so many prayers over her, over myself. And then she'd never fail to wake up, screaming, and it would all start all over again.
It seemed God wasn't listening to my prayers, wasn't concerned with aiding me through them. I tried praying scripture over her sleep, quoting the Psalms as I prayed, "God gives rest to his loved ones." I turned that verse into a lullaby I sang over Claire and sang it over and over again. The more I sang it and didn't see fruit from it, the less and less I felt as though I was one of those "loved ones."
In my head I knew that God did hear and I knew that he would prevail. I forced myself to praise him during those arduous days and nights. But I didn't feel it. Honestly, I didn't feel like God had answered my prayers until my husband started to get the call-backs for the job in Ohio. Not coincidentally, it was around that time that Claire finally started succumbing to sleep and taking naps all on her own.
How did the Lord speak to you during this time? How did he bring redemption or healing to you?
Although I felt like he was distancing himself from me, I knew that he was not. So I continued to seek after him, continued to pray even when it felt a waste. At the time, I didn't feel hope or see how all this was going to get better or get easier. Still, I pressed on. I think that is the takeaway I have from the experience: A willingness to seek after God, even when it feels he's stepping away. To chase after him, as the woman in Song of Songs does when her lover comes to the door and then she goes searching for him through the streets.
Because the truth is, if we seek after him, we will find him. That truth has never failed me. It took awhile, but after a couple of hard months, it felt like the floodgates of heaven opened and the Lord's love rained down on me. Such blessing we received when he did start answering my prayers: Claire started napping, my husband got selected from 231 applicants for a single position, we sold our house in three days. Boom, boom, boom. Miracle after miracle. The Psalms also says, "Show me your unfailing love in wonderful ways." That was exactly how I felt during that time.
While I don't think I'd ever willingly go back and live those days over again, I can say I'm grateful for them. I'm grateful that during a time when I felt so low, that I had the strength and the courage to cling to the Lord. I am proud of myself during that time, even when that strength was weak and wavering. It was still there. He was still there. And I know there will be more trials and tribulations to come, and so I know I have this stake in the ground to look back on, my own pile of stones that recall a time of hardship—but also God's inevitable sweet and divine deliverance.
Is there a Bible verse that you think speaks poignantly to this experience?
I am praying to you because I know you will answer, O God.
Bend down and listen as I pray.
Show me your unfailing love in wonderful ways…. – Psalm 17:6-7
If you are interested in contributing to the Redeeming Motherhood series,
contact me
with your responses to the questions in this post. Include a short bio and a photograph, if you like. It's not necessary to have your own blog, just a heart and a story to share!