It's no secret that I like to make my own artwork
(
exhibit A
and
exhibit B
, for instance). In
my recent showcase of my bedroom
, there's
another little piece of artwork that I whipped up, which hangs over my bed.
After my husband and I got married, I knew I wanted to frame a copy of our vows and keep them somewhere visible, as a constant reminder of what it means to us to be married.
I finally got around to doing that about a year into our marriage and finally hung them when we moved in here!
All I did was whip up a document in
Corel Paintshop Pro
, downloaded a copy of the typeface
Ma Sexy
, and typed in the wording of our vows.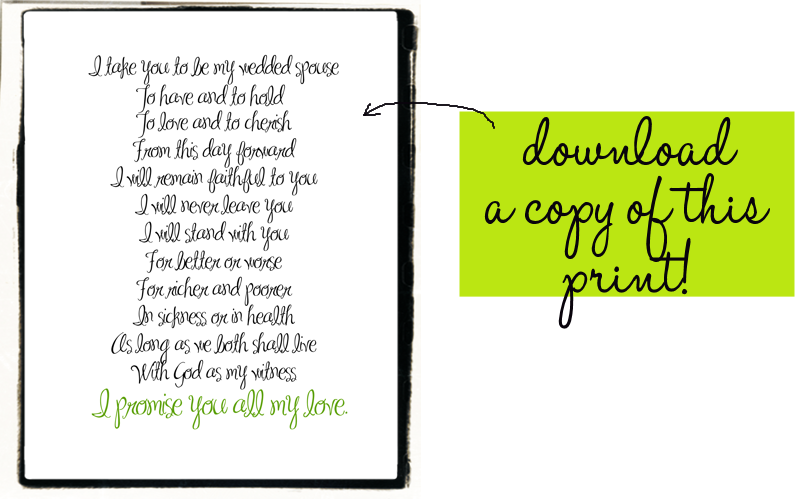 And just in case you aren't in the mood to make your own, I thought
I'd offer a copy of my production here for anyone who's interested. You can download it (for free!) from this link.
Once it loads in your window, just right click and save the image onto your computer. Then just upload and print it. It's sized to be printed up as an 8x10 image, so you can print it at home or using whatever photo printing service you like to make it look a little nicer.
Feel free to download it and put it to use it in your home.
If you do end up using it, I'd love to see a photo of the finished piece!
(And this should go without saying but please be kind and don't try to sell it or use it for anything other than personal use. Thanks for understanding!)
Related Posts
Tutorial for Making Your Own Travel Map Corkboard
Creating Framed Nest Artwork for My Living Room