It's been a few weeks now that my husband and I have been living in our new apartment, and I wanted to share what we've done to turn it into a home, room by room. It isn't perfect, and I don't want to portray it as so. But it is real, and that's what I want to showcase—the beauties, blemishes and all. (I explained a little bit about that here.)
This week, I'm going to show you around our bedroom
. Feel free to
browse all the previous posts featuring the apartment tour here
.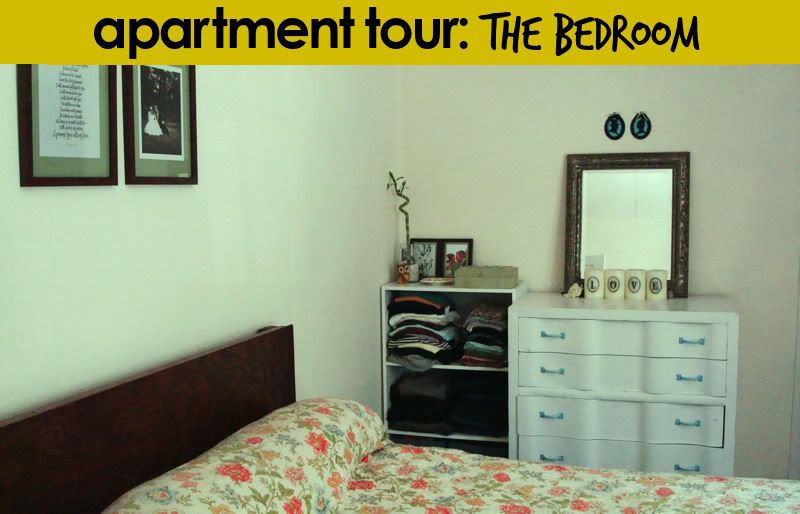 And here, my friends, we are at my bedroom, which is (and has always been) my favorite room to decorate.
I imagine that it has something to do with the fact that it's here that I've found a combination of furniture and linens that all seem to match and make me smile.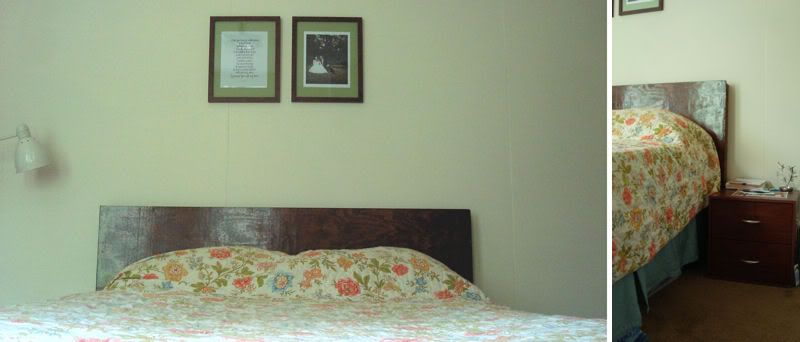 Here's a more direct look at
my bed, which is covered with a hand-me-down quilted coverlet and sits against a dark wood headboard that my dad and I made together
a couple of years ago for my first grown-up (meaning, post-college) apartment. The photo on the right gives a better look at our bedside tables, which I would love to (someday!) add some nice legs to so that they have a bit more stature. Right now they look a little stunted beside our bed! I'd also like to get some wall lamps (like
these
) to aid bedtime reading, but let's not get ahead of ourselves...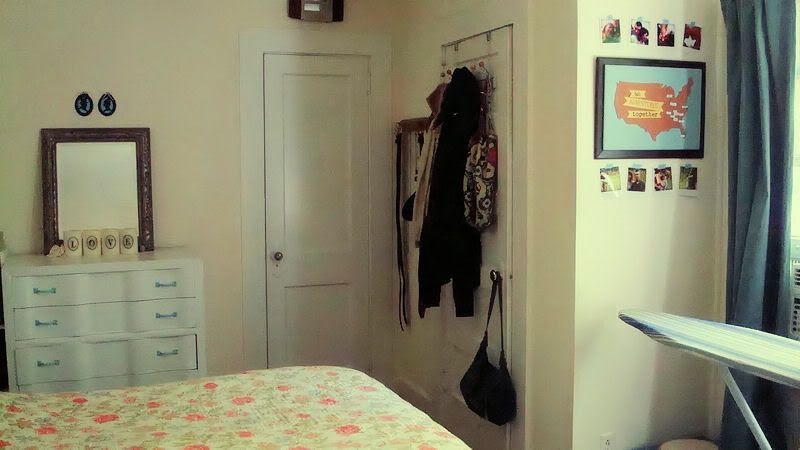 Step back a bit and you can see
one of our dressers, topped with a vintage-looking mirror.
(Don't let it fool you though. It's really from Old Time Pottery.) To the left of the dresser (which you can't see in this photo) is a bookshelf that I'm using for my folded items. The door on the left will take you to our bathroom and laundry area, and the door on the right is our closet. I got one of those over-the-door hooks, as well.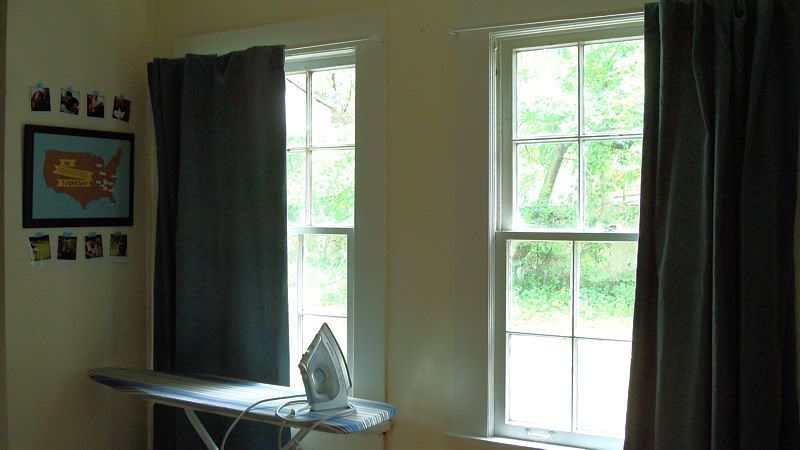 Turn a bit more to your right and you can see
our windows that look out into the backyard.
We get a lot of sunlight through those, which I love! The teal-ish curtains were a pair I picked up for our previous apartment when we needed something thick to block the sunlight. These have a sort of velour texture, so they do a great job! You can also see this is where we have our ironing board set up and
the travel corkboard map that I made
!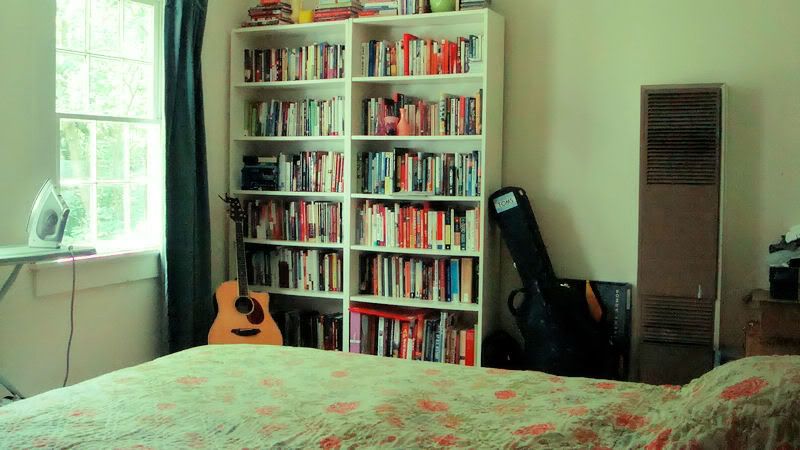 (Please excuse the funky photo editing. Definitely not my forte!)
Beyond that is
our set of IKEA bookshelves that hold our (slightly) staggering collection of books.
It's also where my husband stores his guitar. That big grated box is our space heater (there's another in
our kitchen
), and beside that (which you can just barely see in this picture) is a tower of boxes that we have yet to find space for!
Here's a little montage of some various photos, including
another look at the bookshelves, where I've decided to stow some of my colored glassware and ceramics.
Here's another look at
the travel map
and some fake polaroid pictures I taped up with colored masking tape.
Be on the lookout later this week for a fun little download, courtesy of this room! Any guesses what it might be?
Go here to see!
Related Posts
Apartment Tour: The Kitchen
Apartment Tour: The Office
Apartment Tour: The Living Room