I briefly mentioned a couple of weeks ago, that I was
in the process of gathering supplies to kickstart my veggie garden
, now that I
finally have room for one
.
Well, it's now officially planted and, sure enough, the seeds are sprouting up. So far, so good!
I figured that before I showcase the fruits (ahem) of my labor, it might be best to give a little introduction to my DIY-style of container gardening, in case anyone else is tempted to start their own.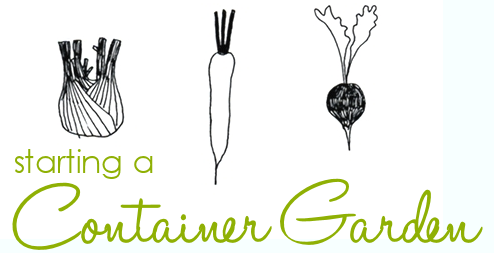 Getting Started
The first thing I would recommend is to do your research. I started by buying a dirt-cheap copy of
Container Gardening for Dummies
and reading through it. This was a great resource because it helped me determine what kind of soil and fertilizer to buy, when to plant my seeds, as well as what varieties of seeds to choose. (It included a helpful list of container-friendly buzzwords to look for on seed packets like "compact" or "small" that really helped me make my seed choices.)
Selecting a Container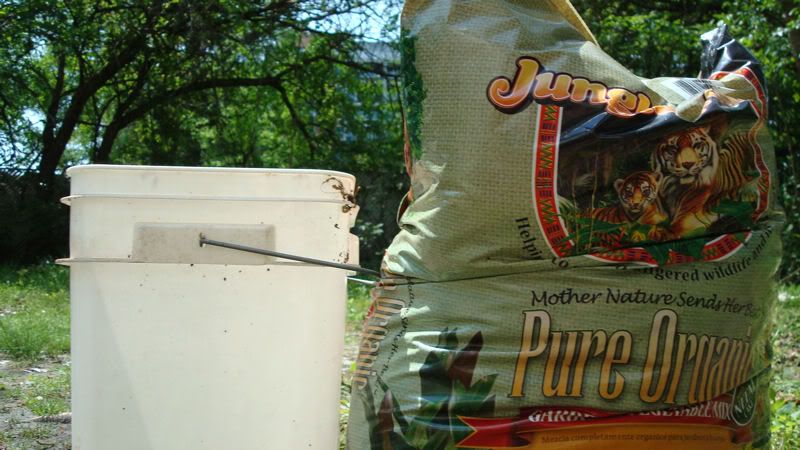 Probably one of the biggest factors that matters is selecting a container--namely, making sure it's big enough for the seeds you've selected. A good rule of thumb is that it should be at least a cubic foot in size. I knew I wanted to plant mine in buckets with handles that I can move around the yard, if need be.
To that end, I got a hold of some empty kitty-litter buckets and then drilled a dozen or so holes (using the largest drill bit I had) in the bottom of the bucket for drainage. One of the perks about this solution is that it was absolutely free and the buckets come with lids, which allowed me to cover the buckets up when a huge downpour hit and I wanted to protect the seedlings from the elements.
Gathering Your Planting Supplies
The other necessities you'll need include:
Soil:
I chose to go with an organic general soil mix, and added some seed-starter soil as a thin top layer
Fertilizer:
I chose a slow-release organic version, which I mixed into the soil
Seeds:
From the
Container Gardening for Dummies
book, I copied down some of the varieties of veggies that they recommended as well as their list of keywords. Then when I browsed the offerings at the garden shop, I ended up picking varieties of lettuce, spinach, carrots, cucumbers and green beans that I think will work well for my containers.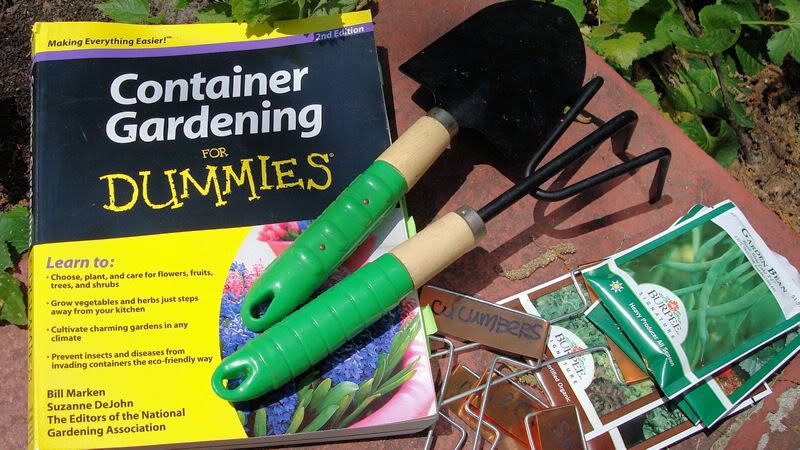 Now, Get Planting!
At this point, it's time to plant. I watched the weather and tried to pick a day that would give my seeds a couple days of sunshine before any predicted rain. I'm not sure if this matters or not, but I figured it couldn't hurt.
I sat out on my back steps and shoveled handfuls of soil into each container, making sure to mix in some fertilizer about halfway, so that it's well interspersed. I also watered mid-way, to get the soil nice and moist for the seeds.
I added about a foot or so of soil before sprinkling on a layer of the seed-starter soil, a few seeds (my packets came with enough seeds to plant what looks like an entire field!), and a top layer of the seed-starter soil.
The packets should have directions about how far apart to plant your seeds as well as how much soil to add over top. I didn't measure the depth, but just guesstimated. (Everything has sprouted, so I don't think it has to be perfect!)
Once each container is planted, give it a good watering that will soak the soil. Find a good place in the sun and let your plants bask in the glow.
Now it's time to get ready to practice patience while you wait for them to sprout! I'll keep you updated once there's more growth to showcase. They're looking good so far, so we'll see how they fare over the long-term. I hope to get at least a salad out of all this hard work.
Related Posts
Garden Daydreams
An Introduction to Canning and Preserving