It's been a few weeks now that my husband and I have been living in our new apartment, and I wanted to share what we've done to turn it into a home, room by room. It isn't perfect, and I don't want to portray it as so. But it is real, and that's what I want to showcase—the beauties, blemishes and all. (I explained a little bit about that here.)
This week, I'm going to show you around our kitchen
. Feel free to
browse all the previous posts featuring the apartment tour here
.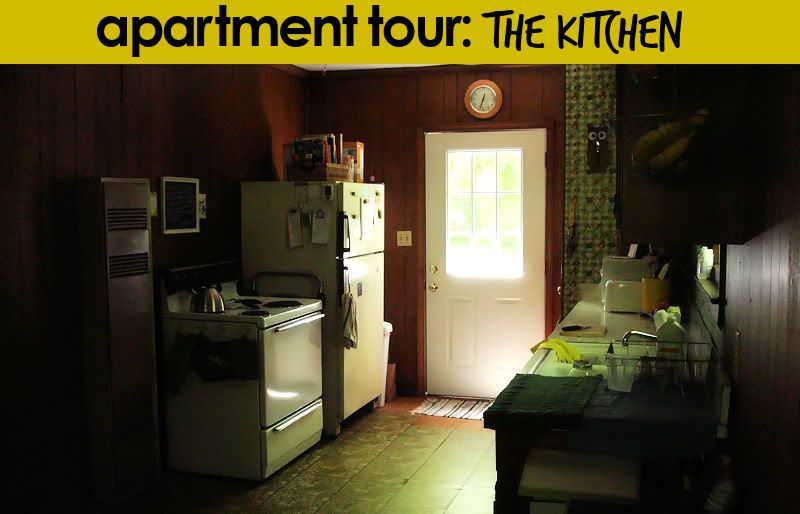 This, my friends, is our kitchen.
Honestly, it's not my favorite room in the house. (You'll see that next week!) But, it works for what we need, so I'm trying to appreciate it for what it is! That big tan box to the left of the stove is our space heater, and there's another one in our bedroom. I have no clue how efficiently they heat up the place, but fortunately we have a few more months before we have to test that out.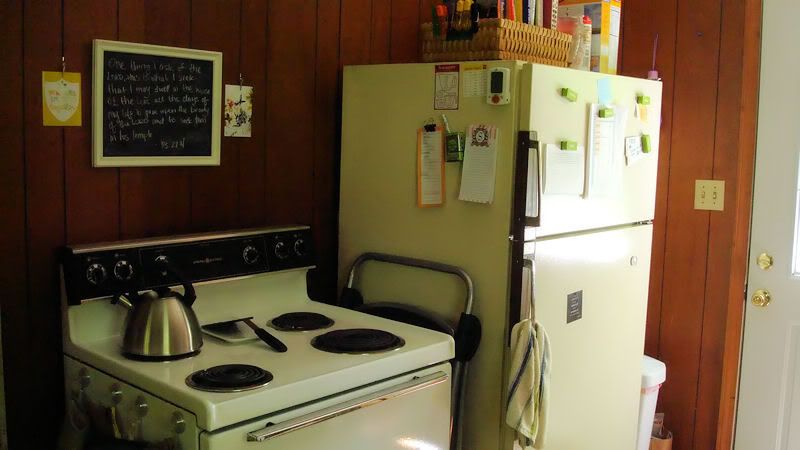 Here's a closer look at
the stove and fridge area.
As you can see, I've moved
my homemade chalkboard
from
the office
into the kitchen, where I think I like it better. I also nailed some alligator clips to either side, where I can easily swap out different pictures from magazines or wherever. On the side of the stove, I used some of those "power lock" suction cups to keep my hot pads at hand for easy cooking accessibility. On top of the fridge, I've corralled all my cookbooks in a basket.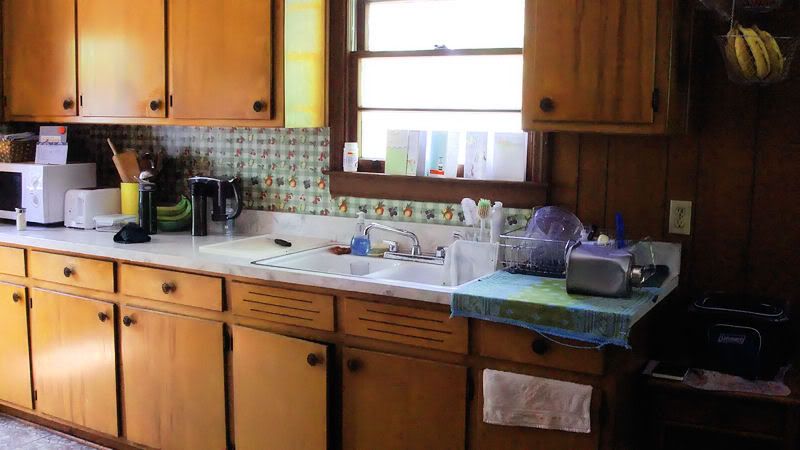 Our cabinets run most of the length of one side of the room
, which has been lovely in giving everything a proper place. I ended up storing all of our food items in those bottom shelves, and it makes me feel like I'm at a grocery store instead of my pantry shelves. (You can also see the fruits of my handwashing here on display!)
Here's a
closer-up photo of the countertop
, where you can see: the fruit wallpaper (not my style, but way better than the wood paneling it's covering up); our mini-microwave, which also serves as where I stow all my recipes; plus a cute little owl cutting board and cheese knife that one of my dear friends got me a couple years ago!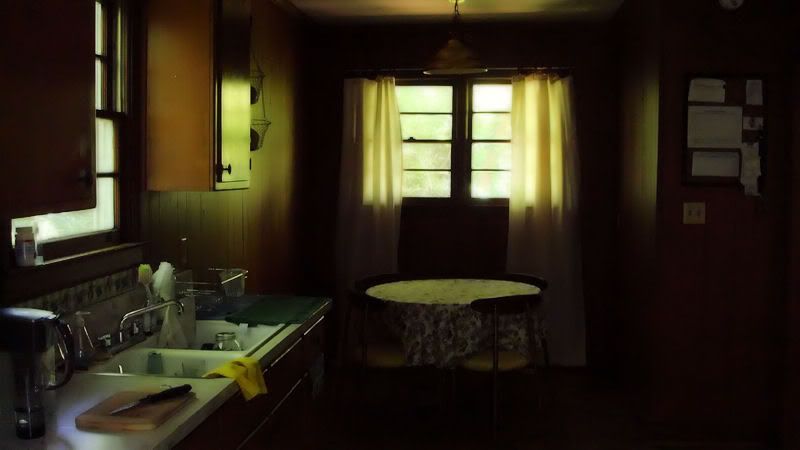 At the other end of the room is a (really dark*)
little nook where our dining room table is nestled
quite perfectly, with our
four chairs that I recently recovered
fitting around it without a hitch.
(* It really doesn't look quite that dark, but my old point-and-shoot is not too fond of low lights. The photo below is a better representation, but at least from this one you get a general feel for how the room fits together.)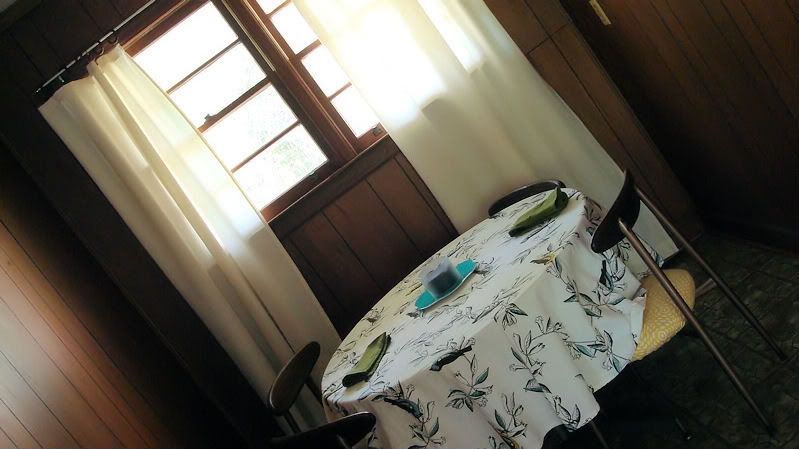 Here's a closer-up look at
the table, chairs and curtains
. The table itself is also a dark wood, so we have opted to keep it covered with table cloths so that the corner doesn't feel drenched in darkness. That has been something we've had to work at avoiding, thanks to all the wood paneling in here. I also added some big white curtains to try to lighten that corner up a bit.
Related Posts
Apartment Tour: The Living Room
Apartment Tour: The Office