It's been a few weeks now that my husband and I have been living in our new apartment, and I wanted to share what we've done to turn it into a home, room by room. It isn't perfect, and I don't want to portray it as so. But it is real, and that's what I want to showcase—the beauties, blemishes and all. (I explained a little bit about that here.)
This week, I'm going to show you around our office
. Feel free to
browse all the previous posts featuring the apartment tour here
.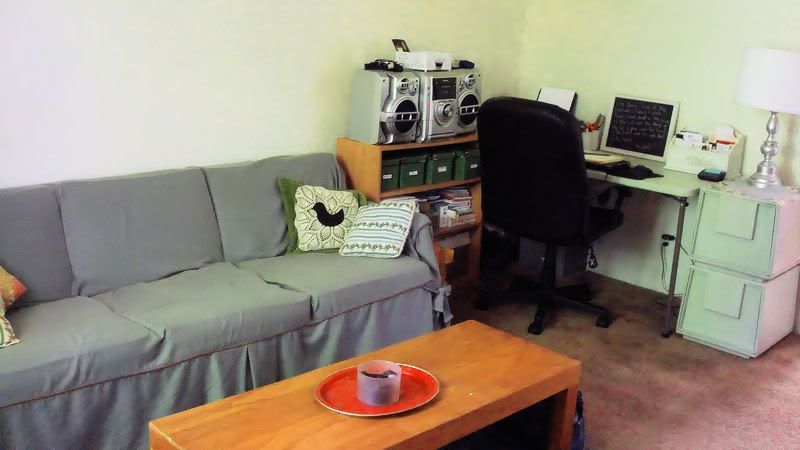 Our office is actually just a corner in our living room, which this photo shows pretty well. Last week,
I showed what the rest of the living room looks like
. As you can tell, everything is pretty crammed into that corner, including our filing cabinets, office supplies, printer, stereo and a makeshift desk. It's not ideal, but with a one-bedroom apartment, you have to work with what you've got!
This snapshot gives a bit more detail, especially regarding the bookshelf where we are storing our office supplies and massive stereo. (This is the
same bookshelf that used to organize all our towels and toiletries
in our previous apartment. You can also see what we used as
the storage solution for our office supplies there
, too.) (Psst...you can see
my card box
on the right side of the bottom shelf!)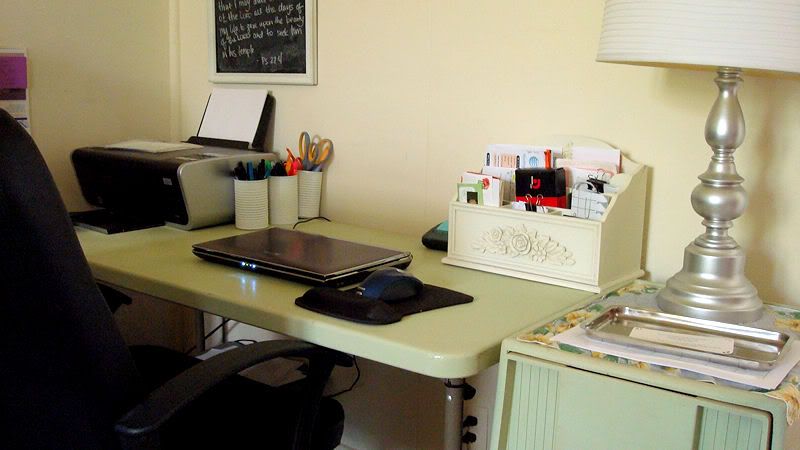 Here's a bit closer of the desk itself, which is actually just a card table that I spray-painted to a light green, as well as the vintage filing cabinets (which you can kind of see on the right). I picked the white paper organizer up from TJ Maxx last year, and use it to hold our bills, stamps, etc. My utensil holders were a recent
craft of spray-painted tin cans
. And just over the printer is
the chalkboard I made
, on which I like to keep a Scripture scrawled so that it's always easily in sight.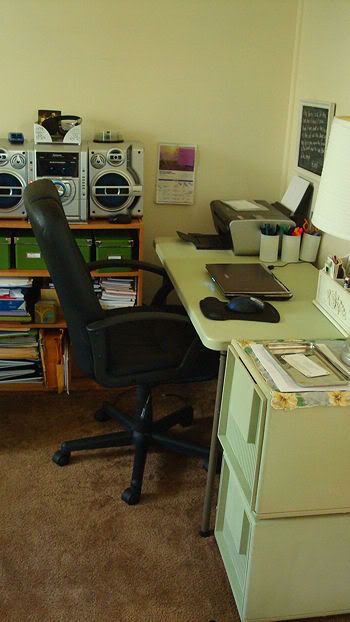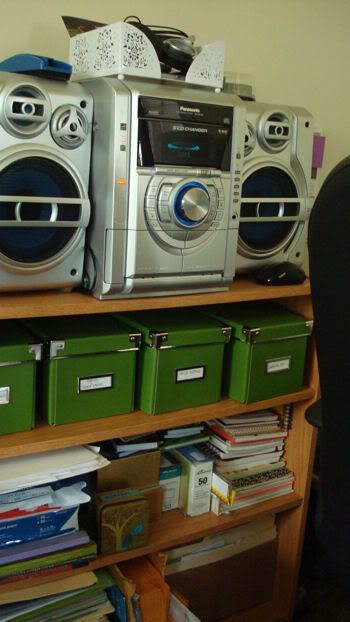 LEFT:
A side-shot of the desk area. While it probably would be more aesthetic to use a "cuter" desk chair, I prefer comfort, so we're sticking with this hulk-of-a-chair. We do have to be careful about twirling around in it, though, because it sits so close to the stereo that we often end up knocking into it accidentally.
RIGHT:
As you can see, we have a lot of notebooks and envelopes that are just really unruly on the shelves. But I stocked up on some olive-green cd boxes from IKEA that have been a great way to corral all of our pens, paper clips, post-it notes, computer gadgets and other desk-appropriate doo-dads, a bit more aesthetically. More or less, everything has a place of its own.
Related Posts
Apartment Tour: The Living Room
The Process of Turning a House into a Home