It's a weekly ritual around here that we sit down to a homemade pizza every Friday night. If I'm going to eat the same meal that frequently, you better believe I'm going to see to it that it tastes that good, too.
Which is why, each week, I whip up a pie using pizza dough, sauce and seasonings that I've made myself and that taste oh so good, every time. Now that I've gone homemade, no other kind of pizza can quite compare.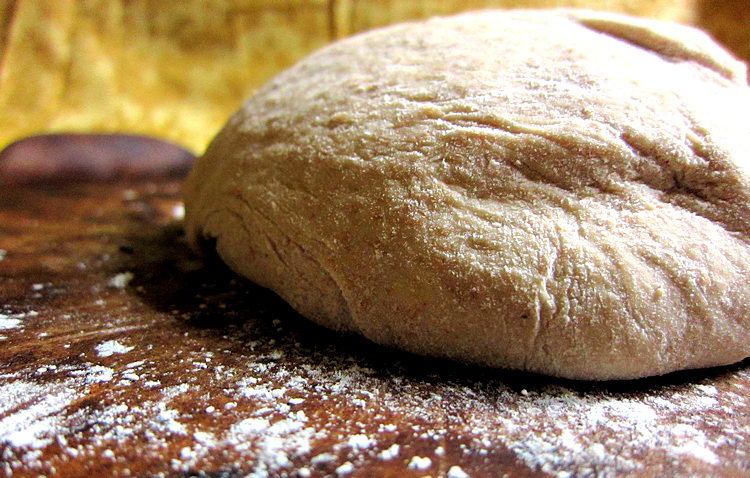 So, over the next couple days, I'm going to be sharing the recipes for each of these pizza-making staples, which make for a great way to kickoff the weekend—no greasy cardboard box or delivery-guy necessary.
First up:
How to make your own pizza dough.
When I first got my bread machine, pizza dough was one of the first things I tried in it. While most breadmaking recipes are quite easy, this is a great one for beginners. I've never had a batch go wrong with it yet, and it makes a nice, hearty crust that's not too thin, not too thick.
Recipe to Make Your Own Pizza Dough Using a Breadmaker
1 cup water
2 Tbsp. olive oil
1 tsp. salt
1 Tbsp. sugar
3 cups flour
(Note: At least 2 cups should be unbleached all-purpose flour; for the remaining cup, you can use whole wheat flour, wheat germ, ground flaxseed or any other alternative to healthify it. For this particular batch, I used ½ cup wheat flour and ½ cup wheat germ.)
2 tsp. bread machine yeast
Combine all ingredients in the bread machine in the order listed (meaning, add the water first and add the yeast last). For the yeast, make a shallow well in the middle of the flour and add the yeast there.
Select "Dough" setting on bread machine, and press "Start."
When the dough has risen long enough, the machine will beep. Turn off bread machine, remove bread pan, and turn out dough onto a lightly floured surface. (I like to use my trusty baking stone for this.)
Use rolling pin to flatten dough into a disk. (It should make one 12-inch pizza, or you can divide the dough in half to make two smaller pizzas.)
Add your favorite sauce, cheese and toppings to pizza dough.
Bake in oven at 350 degrees for about 20 to 25 minutes, or until cheese is starting to turn golden. Remove from oven, and let cool for about 5 minutes before serving.
Related Posts
Our Friday morning tradition: Breakfast with all the fixings
Your Questions Answered: Cooking Tips and Recipes