Ever since I decorated our apartment, there's been something that was nagging at me. It was in our bathroom where I'd created a small little gallery-style wall of blue-and-green-hued artwork. The thing that nagged me about it was that it was visually uneven; the left side was begging for something more. (
Click here
to see a "Before" picture from
the apartment tour
I featured when we first moved in.)
But I'm not one to jump into decorating distress and just throw any old thing up there. I'd prefer to take my time and find the right thing for the right place. I've found that kind of patience and intentionality makes me enjoy whatever I do select that much more.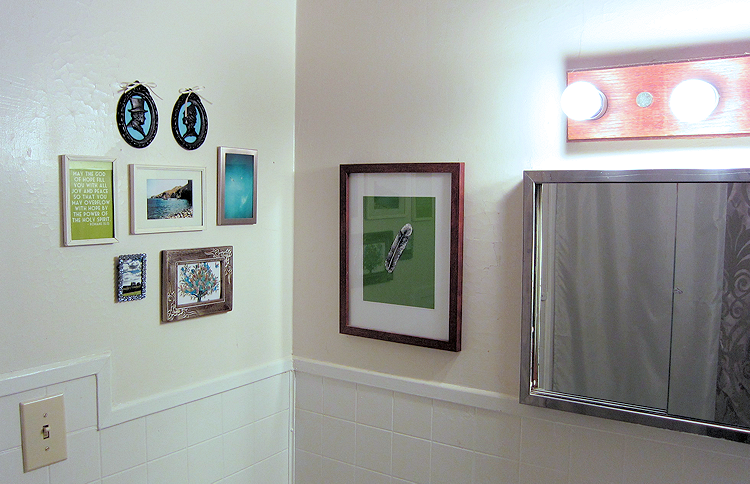 It's been about six months that we've been living in this little apartment of ours. And an idea finally came to me about how to properly fill this space. If I can, I love to make my own artwork (as evidenced by
my travel map
that's in our bedroom and
the framed robin's egg nest
that sits on the mantle in
our current living room
).
So it was only natural that for this project, I turned on my laptop, opened up
my favorite photo editing program
, and starting getting creative.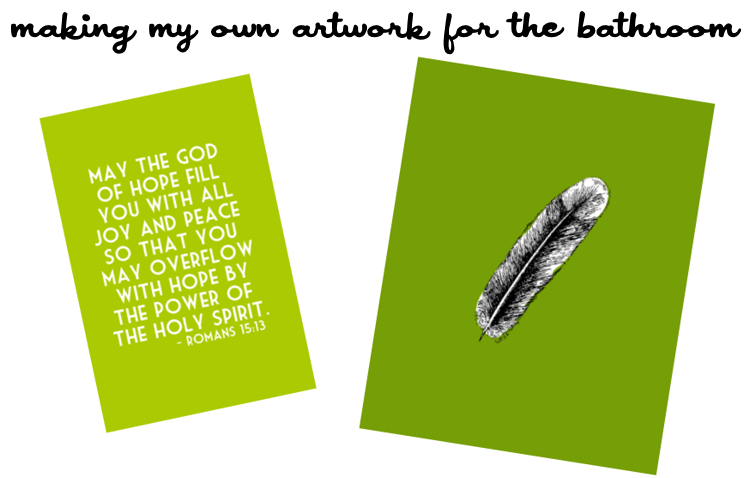 First up was typing up a favorite Bible verse. (When in doubt, I think Scripture always makes for beautiful artwork.) Our bathroom linens are a variety of blues, greens, and whites, which is just a result of my husband and I cobbling our collections together when we got married. I wanted to make this spectrum of colors seem more intentional, so I've been using blue-and-green artwork to ground the palette. I felt like it needed some more greens, so I filled the background of this piece with an olive green.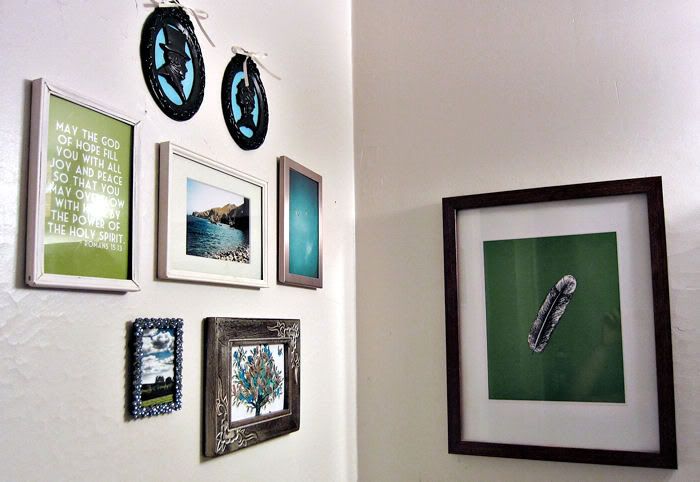 Then I got the idea to play with clip art. With an avian theme already evident in the existing artwork, I decided to play off that. I downloaded a free clip art picture of a bird's feather, pulled it into my editing program and added a deeper green background, which I made ooze over some of the feather lines to give it more of a rough-around-the-edges look.
Pop them into frames that I already had on-hand, and there you have it. A collection complete!
Related Posts
My decorating dilemma: The search for the perfect artwork
Creating the Artwork for Our Living Room