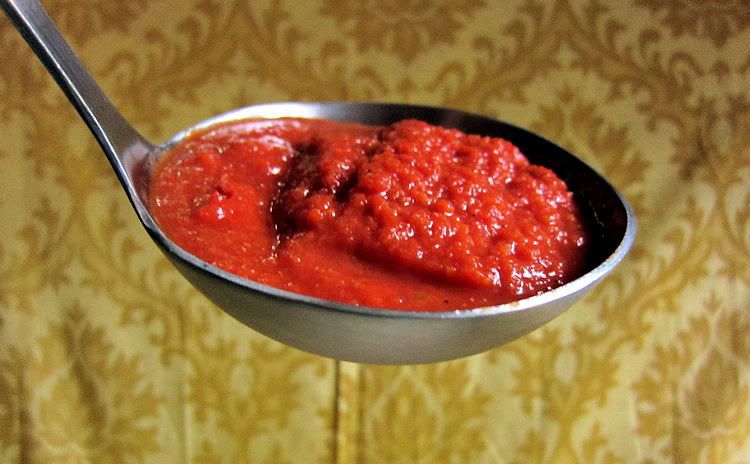 It's a weekly ritual around here that we sit down to a homemade pizza pie. If I'm going to eat the same meal that frequently, you better believe I'm going to see to it that it tastes that good, too. Which is why, each week I make
my own pizza dough
(which I shared
the recipe
for yesterday) as well as my own pizza sauce.
I'd been making our pizzas with storebought sauce for quite awhile before I got the guts to try this recipe. Last year, I tried my hand at making tomato soup which turned out so poorly that I was nervous about attempting anything else that was tomato-based.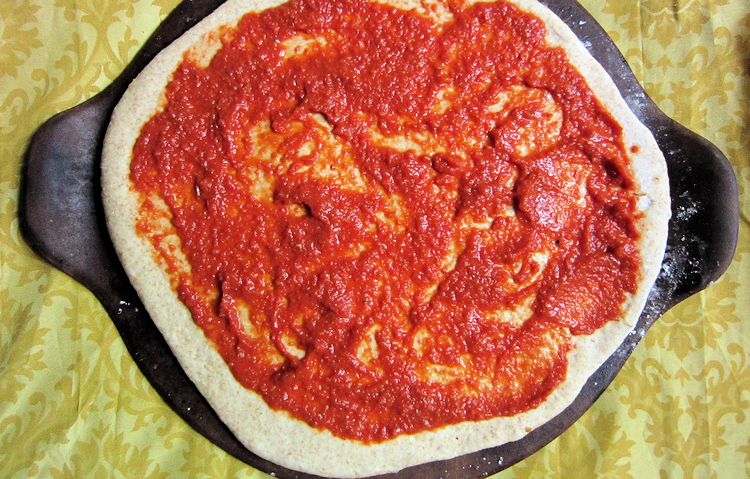 But of course, my curiosity got the best of me.
I figured I'd just go on and give it a shot. So I picked up a can of tomatoes at the store, crossed my fingers and went to work, simmering and stirring.
I was surprised at how easy the recipe was and how good the results were! My fear of cooking with tomatoes was soon overcome, and I've been whipping up this sauce ever since.
Homemade Pizza & Pasta Sauce Recipe
¼ cup extra-virgin olive oil
1 cup onion, diced
1 garlic clove, minced
1 celery stalk, diced
1 carrot, peeled and diced
¼ tsp. sea salt
¼ tsp. freshly ground pepper
1 28-ounce can of crushed tomatoes
1 dried bay leaf
In a stock pot, heat the olive oil over medium-high flame. Add the onion and garlic and saute until the onions are translucent, about 5 to 10 minutes.
Add the celery, carrots, salt and pepper. Saute until they are soft, about 5 to 10 minutes.
Add the tomatoes and bay leaf. Simmer uncovered over low heat for about an hour until the sauce has thickened. Be sure to stir often to keep the sauce from burning.
Remove from heat, and discard the bay leaf.
Depending on how chunky you like your sauce, you can use an immersion blender to smooth out the veggies. (Here's the immersion blender I use.) This will make enough sauce to fill one 28-ounce pasta-sauce jar. Store in fridge.
Related Posts
How to Make Your Own Pizza Dough
A Few of My Favorite Things: Cooking & Baking Edition
Crafts, Cooking from Scratch & Getting Outdoors