(This is the story of how my husband and I met and fell in love. If you are just now jumping in, you can catch up on last week's post or start back at the beginning.)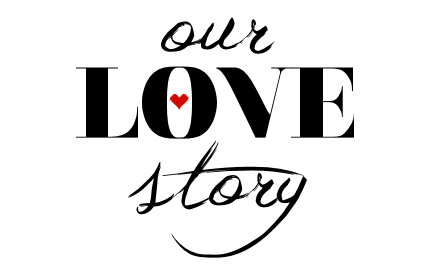 One of the things that I learned during
that three-hour-long phone marathon
with my husband-to-be was that he was only going to be in town for two more weeks before moving back to Georgia when fall semester started back up because he was still in college.
Two weeks isn't very long at all, but I'd already become so enamored with him that I felt—and he did, too—that it was worth it to take a chance on the relationship and see where it would lead. Even though the circumstances might make it seem like there was no hope for the relationship to flourish, there was something in me that knew that wasn't the case.
I had been praying boldly for a godly husband for a couple of months at this point and so I had to trust what God was doing—and that God was, in fact, doing
this
. That he was the one working all of this out right now, and that he would continue to work it all out in the future, when we'd live more than a 16-hour car drive apart from one another.
So, we decided to take full advantage of the two weeks we had remaining and spend much of it together, going on dates, meeting one another's families, getting to know one another better and better. And in that time, my husband was always aware of what we were doing—we were not biding time but we were exploring a relationship.
So he brought up things like our intentions and what we expected from the relationship and what we hoped for in the future. It was the first time that I was with someone who was so intentional, who cared about guarding my heart just as much as I did. It was a breath of fresh air for me—and made me attracted to him even more.
It was a whirlwind two weeks, to be sure, but it was clear by the time that he had left that we were falling for one another, and we decided to continue exploring this budding relationship of ours as a long-distance one and decided to officially make ours an exclusive ("boyfriend-and-girlfriend") one. That night, upon determining that this relationship was to be an exclusive one, we also had our first kiss, and I swear I saw a shooting star overhead.
The thing was, I wasn't afraid of having a long-distance relationship. In my mind, I figured that if that was the way that God was going to write my love story, then it must be that it's for the best. God could have brought us together earlier in the summer, but we spent almost that entire time avoiding each other or thinking the other person hated us. It wasn't until time was dwindling that we actually overcame all those thoughts and fears and questions and discovered that there really might be something here.
And so I just simply trusted that that must be what was for the best—for us to live far away from each other, at least for now, and get to know one another via near-daily phone calls and the occasional weekend visit. As it turns out, of course, that was the case—God did know best.
We both look back on those times now and know that while long-distance dating is not for everyone, it was for us. It gave us an incredible chance to get to know one another's hearts without the distractions or temptations that come with in-person dating. Much of those things were filtered out so that all we had was time to talk and learn and work through getting to know one another. We read books and discussed them together via our phone dates, talked about our days, about our dreams, about what God was doing in our lives, about everything.
It's funny to look back on it and see how simple my faith was during this time. I so simply trusted. Sometimes it baffles me to see how I responded to situations, to see the faith God gave me to traverse what would have otherwise been trying and heart-wrenching decisions. I mean, dating across the country is not a task without its cost (emotionally, relationally but also financially). Instead, he gave us both a deep peace that seemed to melt the miles and fold away the distance.
Click here to read the next part in Our Love Story. Plus, you can catch up on all the posts I've shared in Our Love Story so far!
Related Posts
Telling My Husband I Love Him, in Three Words
23 Things I Love About My Husband