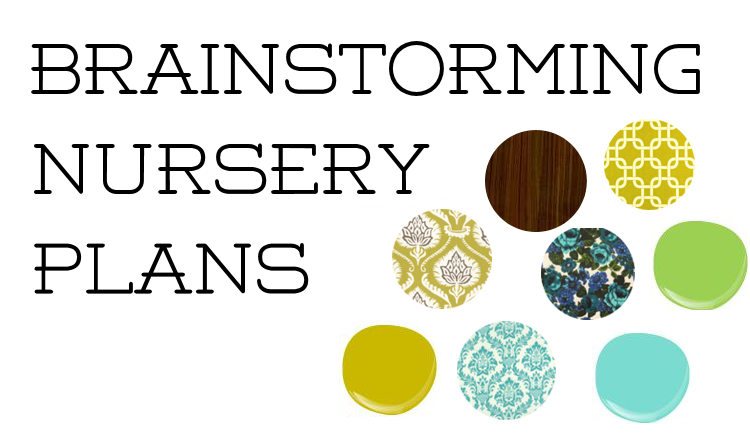 Originally, I wasn't expecting to do anything about setting up a nursery for the baby until later in my pregnancy, maybe January. But while talking to a few different people, they suggested getting it done before I hit the 6-month mark, because there's a good chance I won't feel up to it around then. After talking it over with my husband, we decided to play it safe and he's taking a few days off work so that we can hammer out the nursery projects by then.
We'll be doing the nursery revamp the last week of October, and in anticipation of that, I wanted to share some of my plans for setting up and decorating what will soon become the nursery.
First up, we'll be converting what's currently
our office
into the nursery. (
You can check out a full sneak peek of our current office set-up in this post here.
) This gives you something of a glimpse of what the room currently looks like, as our home office: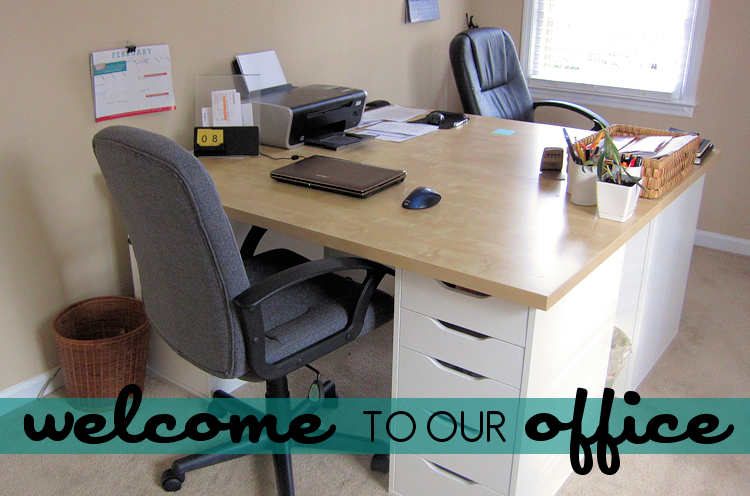 To make room for the baby, we'll move our desks into what we've set up as our "library," which is technically the house's small dining room. But since we have a nice-sized
eat-in kitchen
(you can check that out
here
), we didn't have any need for an extra set of tables and chairs, which works out perfectly for accommodating this switcheroo of ours. With one full wall of bookshelves, the library is quite a bit smaller than our current office set-up, so arranging our desks and chairs and office equipment might be something of a challenge. But isn't that part of the fun of
living in a small space
?
With the desks cleared out, then we can start working on the nursery itself.
First up, we're going to give the room a fresh coat of (no-VOC) paint. I actually am planning on going a little anti-nursery with my paint choice because I am going to paint the walls cream (currently, they're a khaki color). My thinking here is that I want to be able to play with really bright accessories throughout the rest of the room without worrying about there being too much going on. Plus, I like the idea that cream is always in and can easily grow with our child. So if he or she goes into a red phase, we can update the room by swapping out pillowcases and painting the picture frames. I think it'll offer a good deal of flexibility for future decorating possibilities.
As for the accent colors, I'm planning on mixing earthy, jewel-toned hues like aqua, pistachio green, mustard yellow and maybe some dashes of peacock blue. I've already decorated with those colors for years, so it makes sense to keep that theme going here. I also like the idea that this combination of colors is really gender-neutral so that if future kids are different genders, the stuff in here would still work just fine. I have in mind quite a few objects I want to paint these colors (a lamp, fish book ends, picture frames, etc.), so I'm looking forward to playing around with this color scheme!
Here's a color chart for the hues I'm planning to choose from, as well as the dark-wood grain that I'd like for the furniture and fabric ideas I'd love to pull in for things like the crib skirt: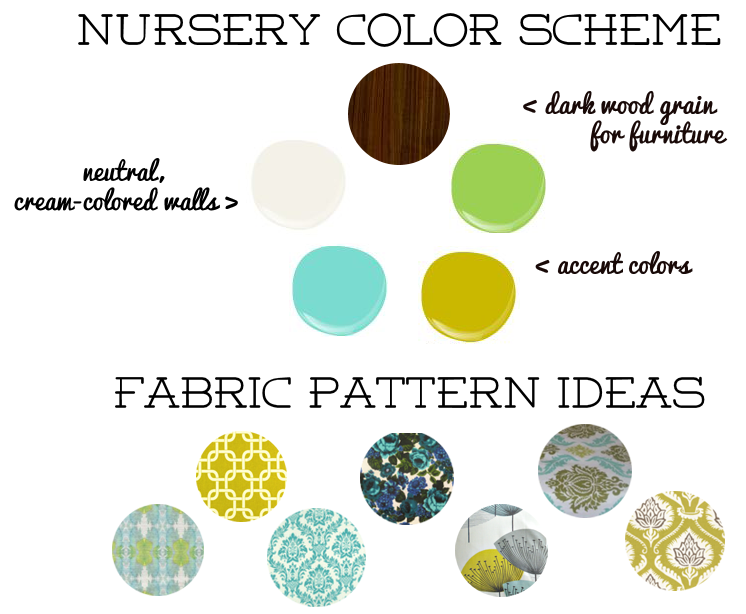 I've actually already started a couple of projects in there, including hanging some black-out curtains that I already owned. I have plans to freshen them up by painting them one of the fun, accent colors; probably the aqua. I've never tried painting fabric before, so fingers crossed it works!
Another project I've already started on is re-organizing the room's closet, which is pretty large but I wanted more shelving in it and I wanted to move the closet rod lower, so that hanging clothes are more accessible for shorter arms once the baby's older. So with measurements in hand, I went to the hardware store and picked up some planks of wood (which barely fit in our car!) that I brought home and cut to size using
my super-affordable hand saw
. I've primed them and filled in various holes in the closet walls, but have yet to hang the shelves.
Other than that, most of the real work will be happening later this month. Stay tuned, because I'll be sure to update with more photos of the progress then!
Related Posts
On Buying a Small House
My Secret Weapon to Decorating My House