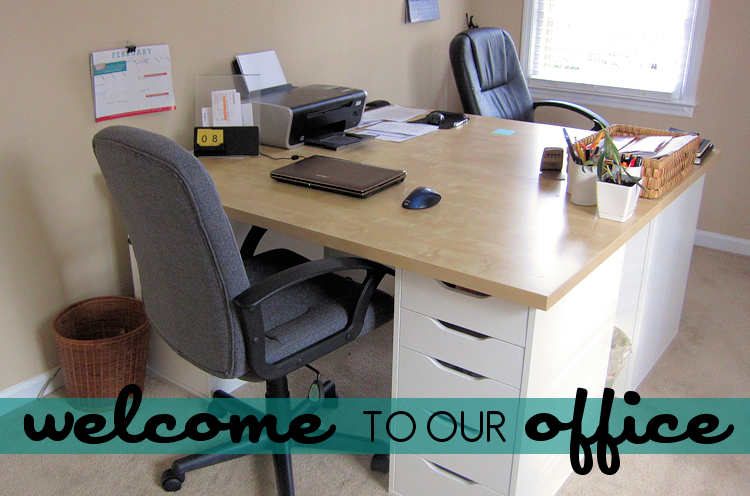 Since
my official occupation is that of a freelance writer
, I was so excited to finally get to have a dedicated office when we bought this house.
For the past two and a half years, while I've been a full-time freelancer, I had worked with my laptop propped up on a sturdy card table that I'd spraypainted a light pistachio color. That was eight years ago, when I took an internship in Birmingham, Alabama and needed to fit all my furniture in my parents' van.
Needless to say, it was time for an upgrade.
Here's what my "office" looked like in our last apartment: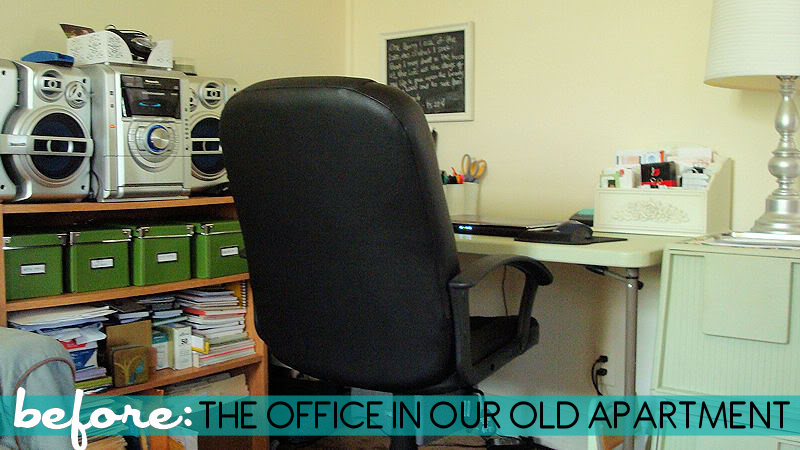 It was squished into a corner of our living room, where you had be to careful as you turned around because my chair would sometimes hit against the stereo that teetered just behind the set-up and turn it off or on. (
You can see more pictures of that old office set-up here.
)
With our new house, though, came two extra bedrooms. One of which we are using as a guest bedroom (can't wait to show you that one soon!) and the other as an office.
This, my friends, is where I spend way too much time:
We looked at a lot of different options for building our desks and I had a few qualifications it had to meet:
1. I wanted me and my husband to have our own desks. While sharing has worked for the past couple of years, it was time for my husband to have his own spot so that he didn't have to worry about me always moving and "organizing" his piles. I think he's much happier about this setup!
2. With that, I was adamant that our desks match. My husband didn't think this was all that important but for some reason, it was a biggie for me.
3. I also wanted to get away from the desks-facing-the-walls setup that I've always had. Who wants to stare at a wall, when you can look out a window? Or even across the table at your spouse? That's more my kind of scenery!
4. Storage. I wanted as much as I could get. No more wasted space below the tabletop. Give me drawers!
After doing a ton of research and setting aside a pretty big budget for our desks, we ended up going with this build-your-own setup from IKEA, which cost less than half of what we were prepared to spend. Don't you love when that happens?!
They had
two different options
you could choose for the storage components and we decided to pick one of each, to allow ourselves some room to mix things up. We also went with
a larger tabletop
that gives us plenty of room to spread out, make piles and still have space leftover. Welcome to the lap of luxury!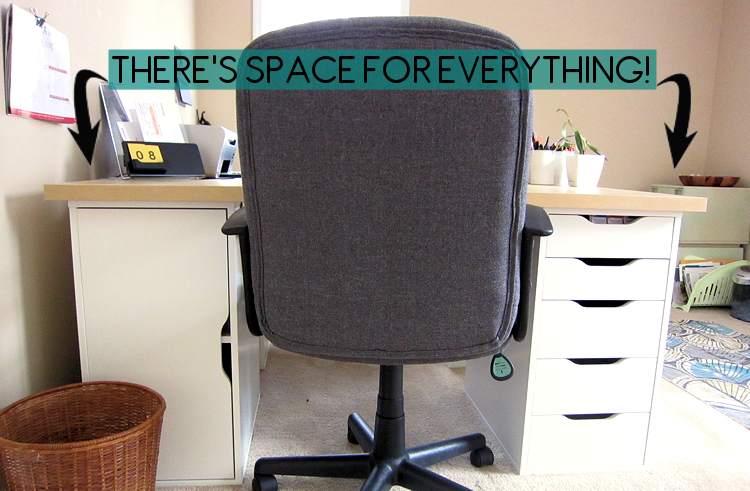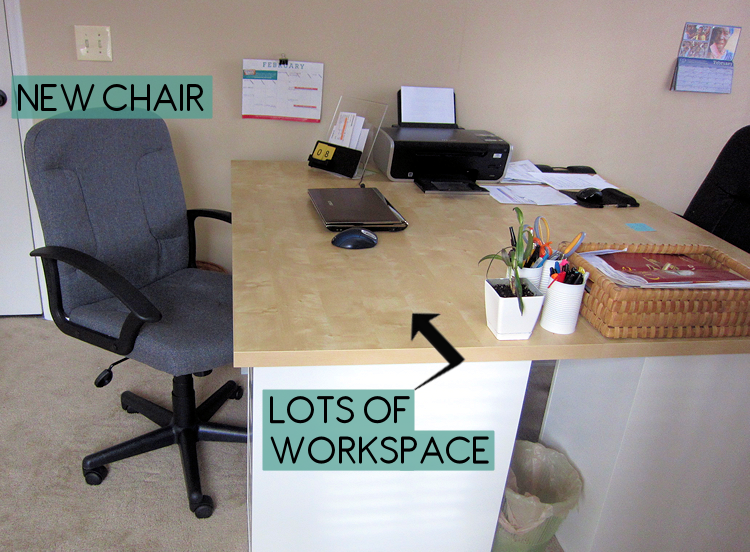 The last piece of the puzzle was finding a new comfy desk chair, since the old one we'd been using had not been very good for my back. (Since my husband isn't at his desk near as much as I am, he's using the old one and hasn't had any problems.) I ended up getting the opportunity to pick out anything from Wayfair.com's extensive selection of items for the home and found
this ergonomic chair
that comes in a handful of colors, of which I chose the charcoal gray.
And I love it! I love that it's not your standard issue black and the heathered gray lends a sophisticated feel. Plus, you can adjust the chair's height and tilt. I haven't had any back or neck issues since switching chairs! I'd love to upgrade and get another one for my husband, too. (Matching, of course!)
I still haven't done much wall decorating (save for tacking up calendars, hanging a clock and our budgeting corkboard), but for now, I couldn't be happier with this workspace of mine!
(Plus, if you're looking to set up your office, you can also use
Lenovo promotional codes
to help save on computers and components.)
Related Posts
An Epiphany About Reorganizing
Thoughts on Having Too Many Ideas for My Own Good