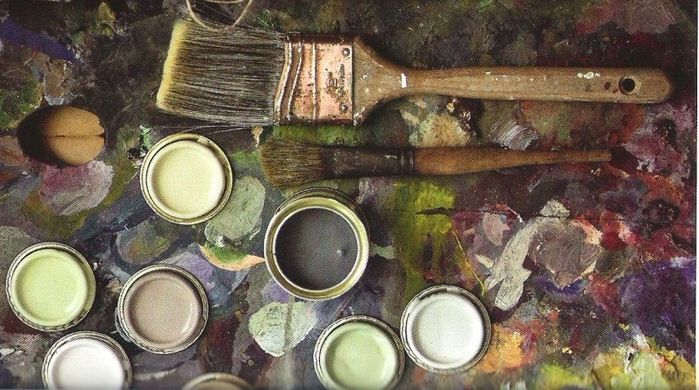 I think it's no surprise to anyone who reads my blog that I love crafts. I've documented
recovering my kitchen chairs
,
turning a media console into a mirrored cabinet
,
hemming my jeans
, even
baking my own sandwich bread
. There's something about making things with my hands that pulses through my blood.
It's even one of the things I'm excited about most about having a daughter and getting to share those experiences with.
And the fact is that one of the reasons why I love crafting so much is because, honestly, they usually work. Before taking on any project, I usually do enough research or preparation and planning so that the end result is at least close to what I'd imagined in my head. Plus, I typically try to use resources I already have on hand so that even if the project does go awry, it didn't cost me anything.
Recently, though, all that changed and I was confronted with one big epic craft fail. Disappointing to say the least.
But, I figured that all of you might appreciate seeing the other side of the crafting life, where things don't always go as expected and sometimes a project that you had big plans for and great expectations of just doesn't pan out. At all.
So it was with one of my nursery projects. I had a set of black-out curtains that I wanted to use in the room, to hopefully help our little one want to sleep longer by blocking out the sunlight in the early hours. The only problem was that they didn't match
my color scheme
and I've never had much luck finding black-out curtains in any shade but brown and black.
I'd seen plenty of projects on Pinterest and elsewhere of people painting fabric of all sorts—curtains, rugs, couches even. And they all seemed pleased with the results.
After doing my research, I picked up my supplies: a can of 100% acrylic paint (no-VOC) in a pretty teal color and some fabric medium. I mixed the two together according to the directions and started painting. I soon realized, though, that the fabric sucked up a ton of paint, so that it took a lot longer than it would have for the same-sized portion of a wall. I sat hunched over a single curtain panel for an hour and a half, just applying a single coat and getting into all the fabrics' nooks and crannies.
After letting it dry for an hour or two, there were obvious markings of where one section had dried before I'd gotten to painting the area next to it. I decided to do a second coat, since that's pretty standard for painting walls. Another hour and a half later, the second coat had evened out a lot of the marks, but it still dried splotchy and, even worse, stiff. Plus, after three hours hunched over painting, my (pregnant) back was pretty stiff itself. I had to then go take an hour or so nap just to recover.
I hung the curtain just to see if it was really as bad as I thought. I let it hang there for a day, opening and closing the panel and having to crunch it into place. It did great at blocking out but as I looked at the other three panels that awaited, I knew that I couldn't invest 9 hours into creating something I didn't love. Plus, I'd used almost a whole quart of paint on that single panel so I'd have to go buy a lot more of the supplies.
Like a weary but realistic fighter, I knew when to the throw in the towel and wave the flag of defeat. Fortunately, I ended up finding some black-out curtains in a lovely dark, teal hue on sale that couldn't be more perfect: (I seriously could not believe my luck!) They block out light, they aren't splotchy, they aren't stiff, the color is a great fit, and it only took me about an hour to hang them in place, from start to finish.
I'm glad I tried the project, though, because in my head I was certain it would work. But in the end, things aren't always as they appear—especially on Pinterest.
Related Posts
(Finally!) Introducing the Baby's Nursery
A Few of My Favorite Things: Craft Supplies Edition