These are A Few of My Favorite Things, an on-going, once-a-month series that sheds some light on, well, my favorite items throughout my home.
(
To read through all posts in the series, click here.
)
In this Craft Supplies Edition, I'll be looking at five of the essential items that I turn to most in my various craft projects. As we work our way through the Make the Most of Your Wardrobe series that I kicked off a couple of weeks ago, I thought sharing these would be particularly fitting! Read on to find out more about these crafting, ahem, staples, as well as some of the projects where I've put them to good use.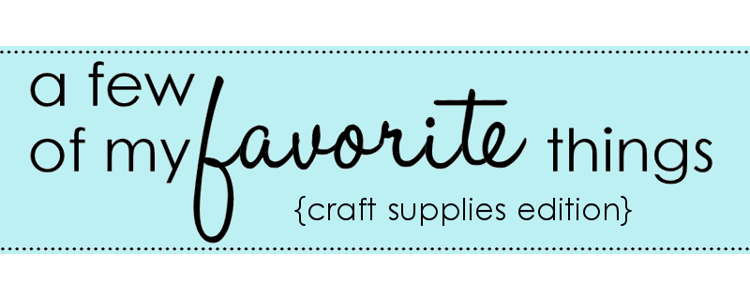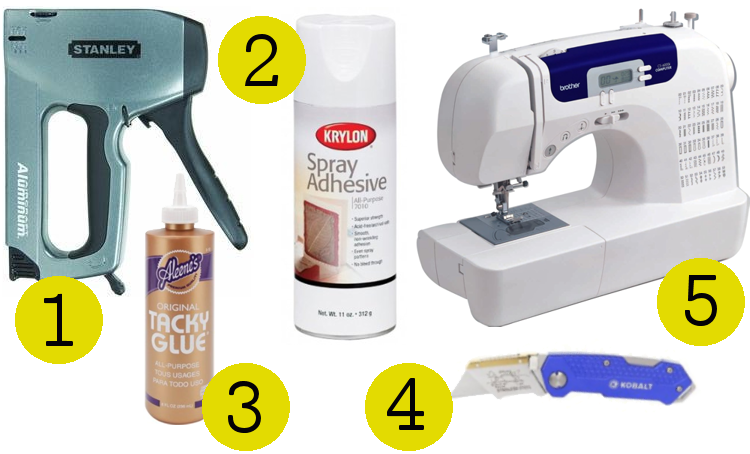 1. Staple gun:
My parents got me this staple gun a couple of years ago when I wanted to
reupholster my kitchen chairs
. After a short safety lesson from my dad on how to use it, I got to work using it--and haven't really stopped since. It's such a great tool to have around especially for securing fabric, cardboard or paper. I love using it for framing artwork!
2. Spray adhesive:
You'll see that I have two adhesives on this list. That's because I do a fair amount of gluing when it comes to craft projects. But different projects require different kinds of glue, and I love to use spray adhesive for instances where I don't want any glue to bubble up and show through, especially when using paper. I used it when I created
the silhouette art
for my bedroom to keep the silhouettes centered on the mats.
3. Aleene's craft glue:
I have been an avid Aleene's fan since I was in elementary school and my mom and I would use it to bejewel my backpack or Trapper Keeper before school started up again. The thing I like most about this glue is that it gives a pretty sturdy hold and dries clear. I used it on my
Billy Ball faux flower craft
and when I made my
corkboard travel map
. (Note that this glue isn't meant for washable wearables. They do have other glues that can hold up to being washed.)
4. Utility knife:
Some people call it a box-cutter, but whatever the term you prefer, this tool always comes in handy, whether I'm using it to cut big pieces of cardboard to prop up posters I want to frame (like
here
) or even to slice through fabric. It has some good safety features (folding up when not in use, for example) and the blade is really easy to switch out, though I only switch mine about once a year.
5. Sewing machine:
This is one of the biggies in my craft closet. I have very limited sewing instruction and am mostly self-taught, so this computerized machine (although I have an older version of the one linked here) is a great help. If you've ever struggled threading the needle or bobbin, this really simplifies the process. And, I recently used its buttonhole feature for the first time and it literally did everything for me. Amazing! I have used this on almost all of my sewing projects, which you can browse in the
Make the Most of Your Wardrobe series
I'm currently posting.
You can view all of the previous editions of A Few of My Favorite Things here, including ones about my favorite gadgets to use in the kitchen, coffee-making supplies, books about love, and more!