Is there really anyone out there who couldn't use more storage? Anyone who doesn't wish they had more places to stash the random odds-and-ends and keep them out-of-sight?
In our new house, that was surely the case for me, when I was trying to figure out where to stow stuff like board games and batteries, light bulbs and extra picture frames. On their own, they're not all that attractive so I didn't really want them out in the open. But then, since we access them fairly often, I didn't want to have to relegate all that stuff to the garage, which is where most of the other "un-pretty" household goods have ended up.
When the previous owners moved out, they offered to leave behind some of their shelving in the garage. We readily accepted, and one of the pieces of shelving they'd been using in the garage was this media cabinet. With it's squat dimensions, I thought we could surely put it and its shelves to good use in the living room.
The only problem? Those see-through glass doors. You can only rearrange board games so much and buy so many "pretty" baskets to corral your batteries and bulbs.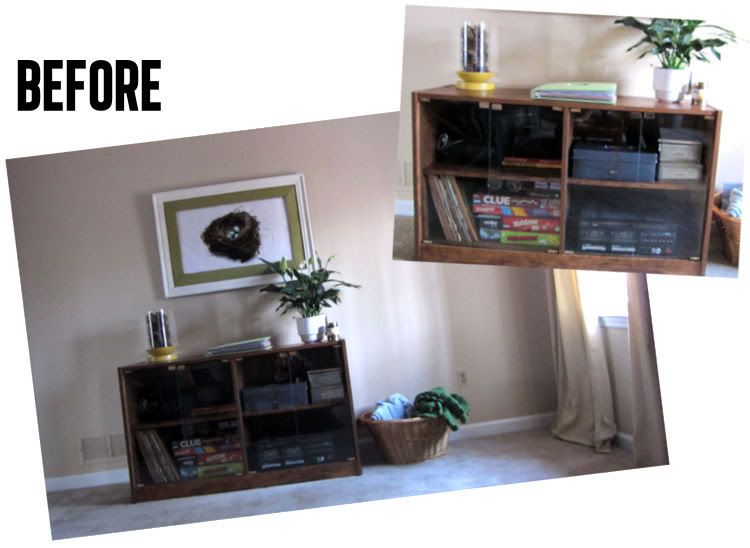 Instead, I wanted to try a product I'd heard of but wasn't all too familiar with:
Krylon's Looking Glass Mirror-Like spray paint
. Basically how it works, is that you spray it on the backside of a piece of glass and when you flip it over, looking at the front side, it will look like a mirror.
They call it a "mirror-like" paint finish because it's not as clear as a regular mirror; it has a darker, more antique-y finish. But, as long as you're not positioning it directly beside a real mirror, you can hardly tell the difference.
I
really
wanted those glass doors covered, so I decided even if the mirror-like finish didn't work out, I could always paint over them with a white finish or something, maybe cover them with a pretty wallpaper or fabric. So, I figured I didn't have anything to lose, gathered a couple of cans of the Looking Glass spray paint and got down to business.
It's important before you use the Looking Glass spray paint that you clean your glass well before painting it (unless you're going for an intentionally distressed look, which a lot of people do when trying to give it a mercury-glass finish). Once they were clean, I sprayed each door with light layers of the paint on the backside of the glass.
Here you can see how the paint when on, layer by layer. On the can, they recommend at least 5 light coats. I ended up doing about 6 or 7 light coats on each door, which took me 3 cans of the Looking Glass spray paint. (It comes in a smaller-sized can than your typical spray paint, so you're apt to go through it a lot faster.)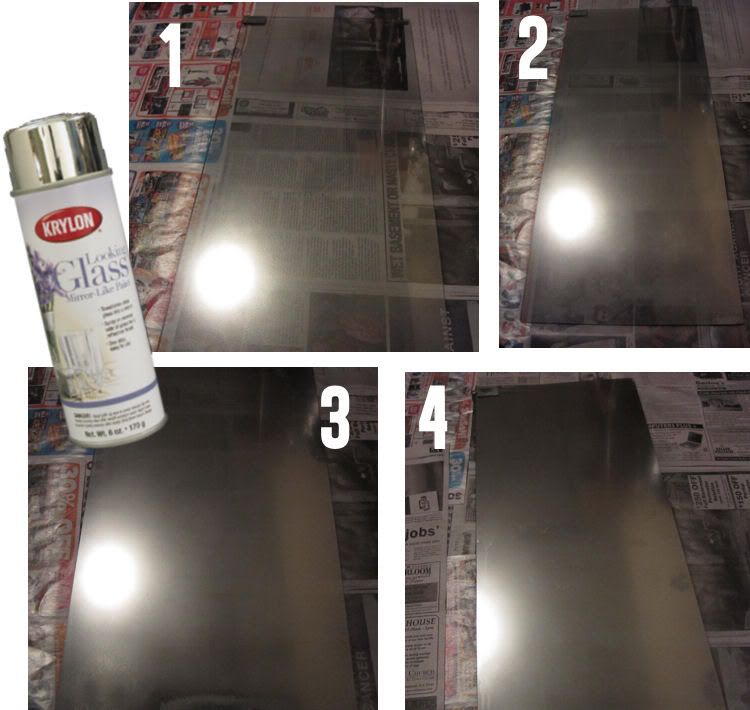 While I was painting the doors, I also decided to spruce up the door's hardware and take it from brass to silver, using my handy-dandy
Krylon Premium Metallic Original Chrome
(which is the same stuff I used to
paint the lamps in my bedroom
).
This time, when I used it, I only sprayed on a single coat and let it dry for about a week and a half before touching it to reassemble the cabinet. I haven't noticed any of the imprints that I noticed with the lamps, so I think using as few coats as possible coupled with ample drying time is the key to working with the chrome paint! (
You can read more about my first project using the chrome paint, repainting some brass lamps, here.
)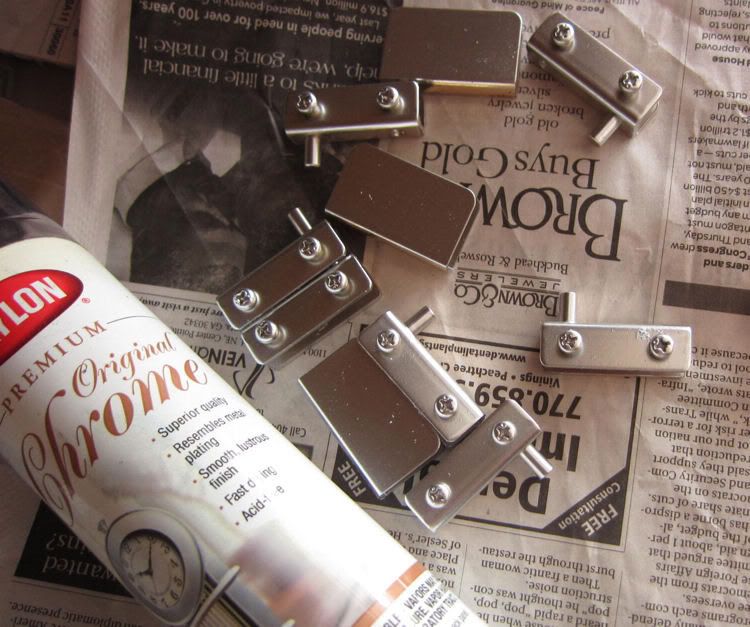 And here's how it looked once everything was dry and reassembled: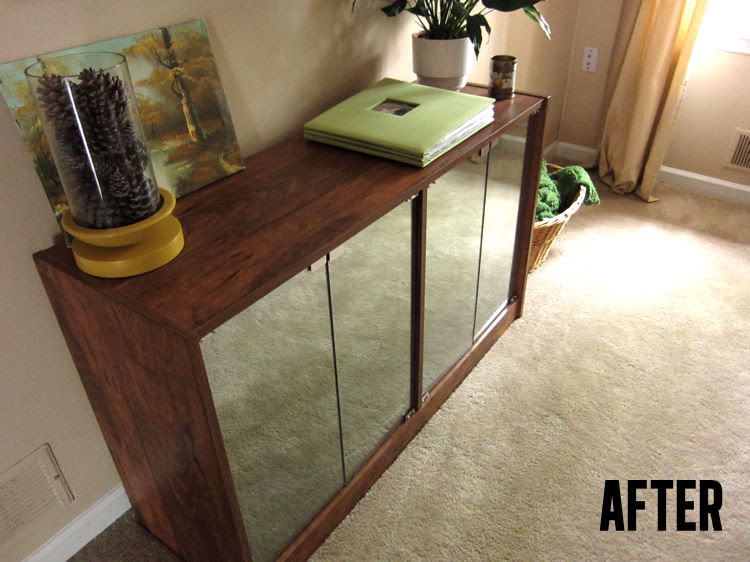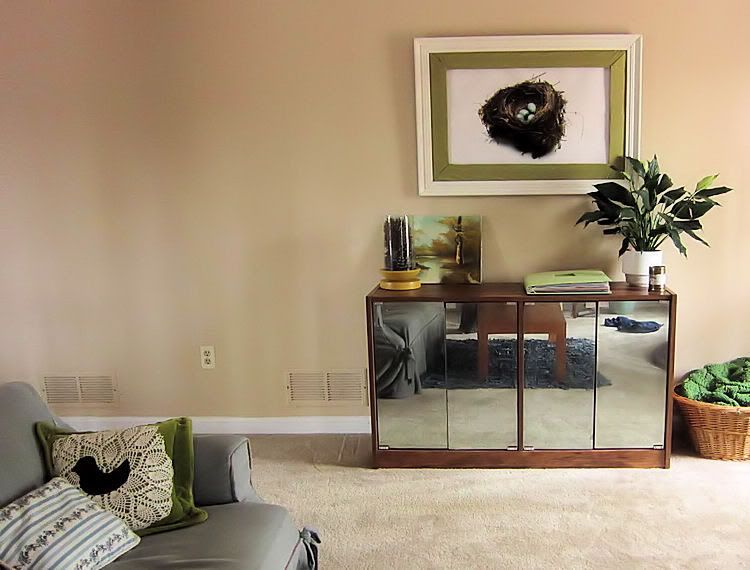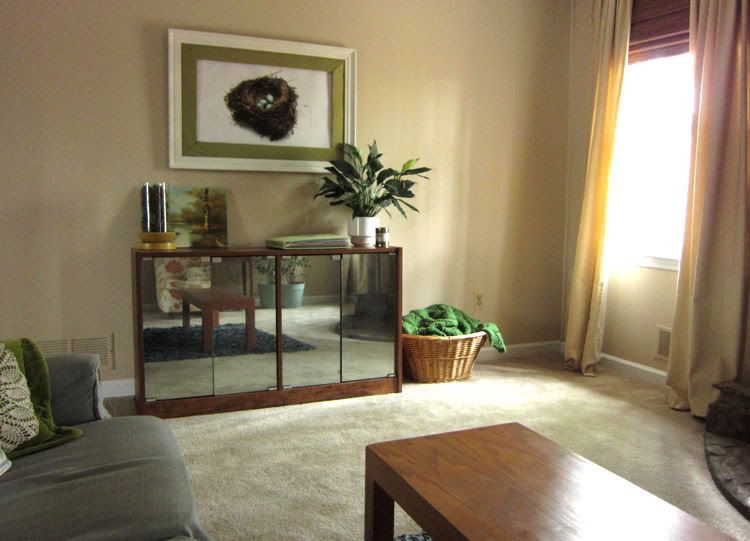 As you can see, from far away, the paint did an incredible job. There's no doubt that it's mirror-like! However, if you get up-close, there are a few noticeable flaws, because the paint can easily crackle or scratch off, which you can see happened in these detail shots:
You have to be very careful with anything you paint with this and plan not to handle the backside much. Because of that, I ended up gluing a backing board to the back of each door to serve as a buffer. So far, I haven't had any more problems with the paint chipping off, so just be intentionally careful with it, and you should be fine.
And, here's a wider shot of the whole living room, coming into place. I still want to paint the walls (maybe a pale blue or cream from
my whole-house palette
) and add some more seating, artwork, etc. But, the nuts and bolts of it are there: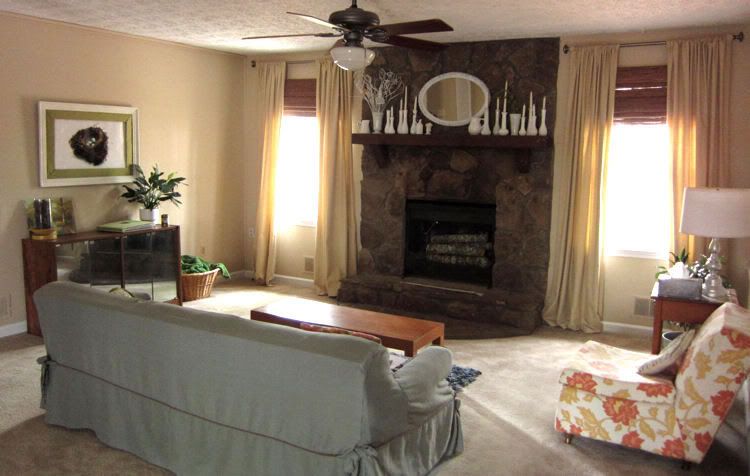 Related Posts
Creating the Artwork for Our Living Room
Playing With Paint Colors: Choosing A Palette for Our Entire House