When it comes to cooking for a crowd, one of the things I've learned over the past year or so that
I've been intentionally collecting recipes good for hospitality
is that the recipes don't need to be fancy or complicated.
In fact, it's better if they're not. Because the easier they are, the more likely it is that I'll actually make them. (And isn't that the whole point of it all?)
I've also learned that you don't need dozens of recipes to choose from. You just need to whittle them down to a couple of trusty standbys that you know you can turn to and whip up without too much fuss.
With those two tenets in mind, I've started adding soft, whole wheat pretzel bites to my recipe repertoire as snacks and appetizers for events and potlucks. They're fancier than storebought pretzels from a bag but with pantry-staple ingredients, they're easy to throw together.
Plus, they're a hit. Every time I've made them, I'm always come home with an empty dish because they've been gobbled up, by kids and adults alike.
I usually take some mustard along as a dipping sauce (feel free to stir in some honey), and you're good to go.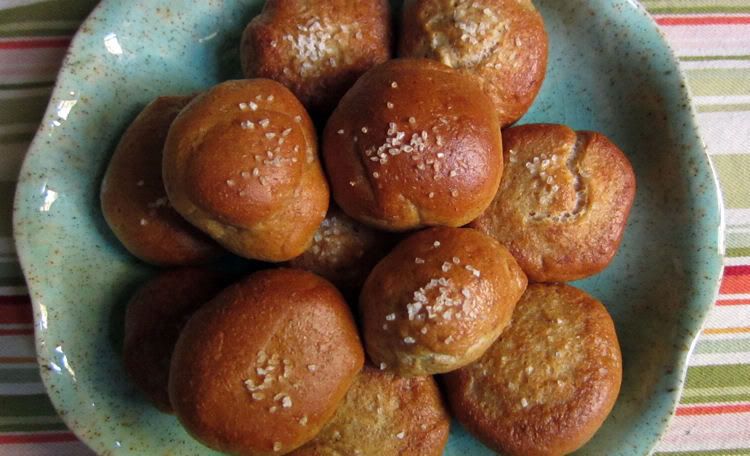 1 cup lukewarm (but not hot) water
1 tablespoon sugar
2 tablespoons canola oil
1/2 teaspoon salt
2 cups all-purpose flour
1 cup wheat flour
2 teaspoons yeast
Combine all ingredients in the bread machine in the order listed (meaning, add the water first and add the yeast last). For the yeast, make a shallow well in the middle of the flour and add the yeast there. Select "Dough" setting on bread machine, and press "Start." (By the way,
here's the newest version of the bread machine I use
.)
When the dough has risen long enough, the machine will beep. Turn off bread machine, remove bread pan, and turn out dough onto a lightly floured surface.
Divide dough into about three dozen balls, one-inch in diameter. Place on baking stone (here's
the baking stone I use
) or cookie sheet spritzed with olive oil (I use my
Misto
!) or another non-stick spray. Leave about an inch between each piece of dough. (You may have to use 2 baking sheets to fit them all.) Cover with tea towel and let rise for 20 minutes.
In a 3-quart sauce pan, fill with water halfway and bring to a boil. Add 2 tablespoons baking soda. Drop dough pieces into water and let simmer for 10 seconds on each side. Remove from water and let dry slightly on a cloth napkin or towel. (You will probably have to do this in batches, a few pieces of dough at a time.)
Place on a greased baking sheet and sprinkle with sea salt. Bake at 425 for about 8 to 10 minutes, depending on how large you made your bites, so that they are golden on top. Transfer to a wire rack to cool. If not eating immediately, store in airtight container for three to four days. Makes about 3 dozen bite-size pretzel pieces.
P.S. If you are new to this blog, thank you so much for stopping by! You can feel free to browse all my other posts about my journey toward a lifestyle of simplicity and DIY, as well as some of the ways my husband and I are learning to save money. I also write about my faith, my marriage and everything in between, which you can explore in the archives.
Plus, if you like this recipe, click here to pin it to Pinterest. You can also follow me on Pinterest here.
Related Posts
Learning the art of hospitality, one step at a time
Homemade Breadmaking Tips & Tricks