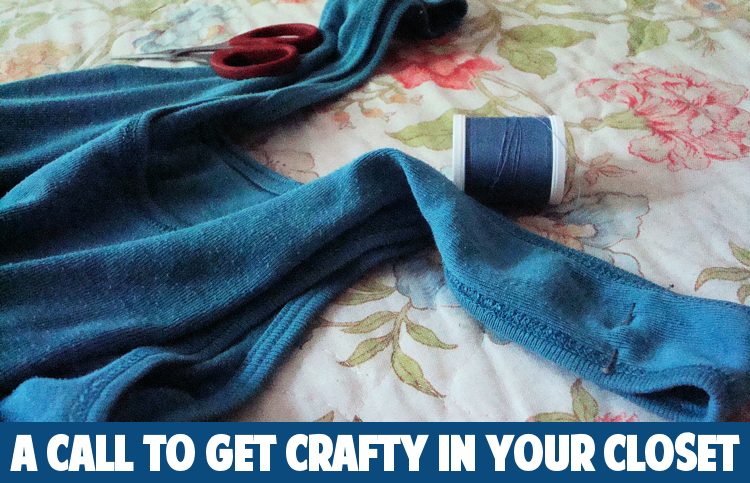 I've been
cutting and stitching clothes
for more than a decade, a hobby that started in high school when you couldn't find those worn-in, vintage-looking t-shirts anywhere but in an actual vintage re-sale shop. With a thin, teenaged frame, the men's tees didn't fit me well, so I decided to take matters into my own hands.
Armed with a $2 t-shirt and nothing to lose, I decided to take a sewing machine (still newfangled to me back then) to give the top my own alteration, taking it on the sides and shortening the sleeves. I remember trying it on the mirror and thinking,
Well, I think it looks good...
And then, holding my breath, taking a pair of shears to lop off the extra fabric on either side of the new hem. Once you make that first cut, there's no going back.
But you know what? I still have that t-shirt. It's actually the top I was wearing
when I first met my husband
: A heathered gray t-shirt of the softest, worn-in-just-right cotton you'll find, with "Ole Miss" printed on the front. I remember it so vividly because it's the first time I really allowed myself to get creative with my crafting and take the risk that if I mess up, the entire shirt can be ruined.
Today, that one intrepid move has multiplied throughout much of my wardrobe, with many pieces hiding nips and tucks that I've sewn by hand or with
my sewing machine
. I'll be in the fitting room, trying on a tank top from the clearance rack and think,
It's a little too low-cut. But what if I pulled up the straps a bit?
Tug them up, and it's clear that with a few simple stitches—like you can see in-process in the image above—the shirt can be transformed into something more modest and wearable. Or when I'm thumbing through my closet and come across a skirt that hits me at the wrong spot because it's a wee bit too long, I begin entertaining ideas of playing with hem length.
And time after time, I've learned is that it's OK to take these risks, especially on clothes you've bought for next to nothing (whether second-hand or from the sale rack) or don't wear anyway.
This is one of my favorite things to do, which is why I'm so excited to kick off my next series here at Life Blessons: "Make the Most of Your Wardrobe."
Through this series, I'll share a bunch of tutorials for ways I've reinvented items in my closet to make them more wearable, from adjustments that are merely decorative to ones that are extremely functional.
In celebration of that, I thought I'd take today to share just a couple of examples (although, notably, sans any "before" pictures, unfortunately) that will hopefully inspire you to thread a needle and give it a go yourself. And I'll be back next week to kick the series off with my first tutorial.
Until then, here are some ideas to get you started: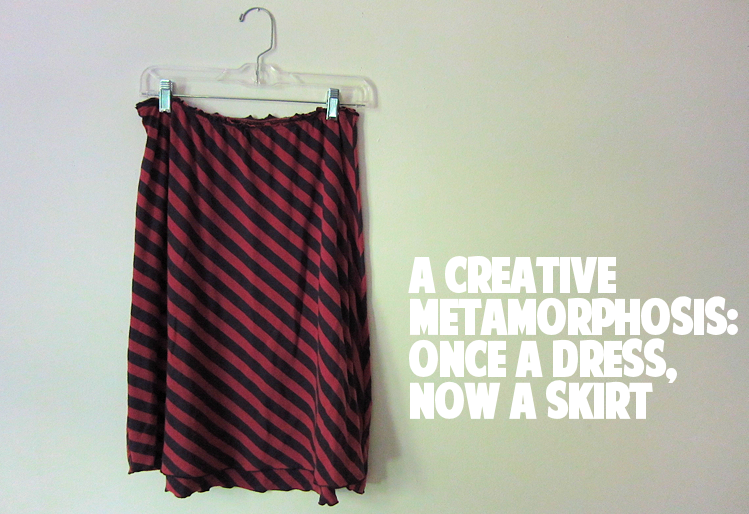 Originally, this was an empire-waisted dress that I picked up at some sidewalk sale. I love the colors and the soft jersey, perfect for summer. But it had a really low-cut neckline that I felt uncomfortable wearing unless it was under a buttoned-up cardigan. Not very practical for a Southern summer, so one morning while getting ready for church, I eyed the dress and wondered whether I could turn it into a skirt.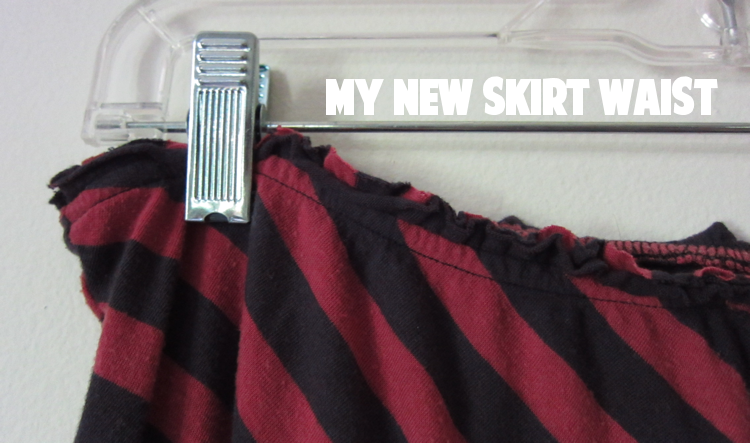 Moments later, I'd pulled the elastic empire waist down to my hips and sure enough, it fit. I took some scissors to it and snipped away the bust, giving way to a perfect-length skirt. Plus, since the fabric's jersey, there was no need to hem it at all!
This is one of my favorite wardrobe crafts, that I completed a couple of years ago. It was also a dress, one from the 80s or 90s that I got from a thrift store. When I got it home, I realized that the skirt portion was too tight and completely unflattering. What's a girl to do?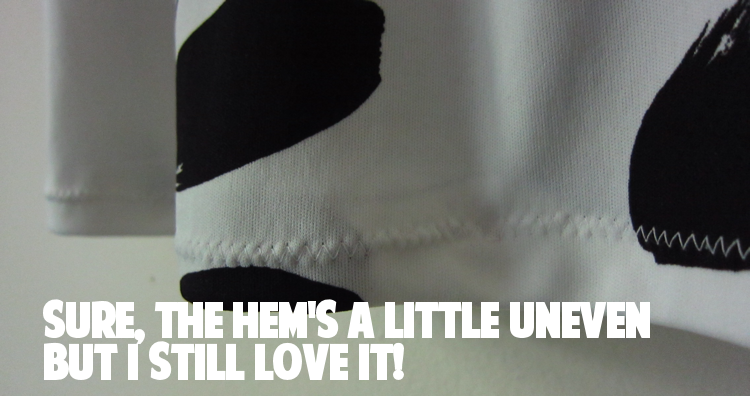 Chop off the bottom, and turn it into a shirt! I tried a zigzag hem, which got a little wavy at points, but that's part of the beauty of these projects: The imperfections remind me that I was the one who made it and evidence that it was a labor of love!
What are your thoughts on crafting your closet? Any memorable wardrobe re-dos that you can share? I'd love to hear your experiences in the comments!
Related Posts
Living with Less: Why I Got Rid of Half My Clothes
Shopping My Closet for Crafts
I've Got a Sewing Itch that Needs Scratching...