I'm so excited to kick off this new series,
Make the Most of Your Wardrobe
, with one of my standby alteration techniques!
There are so many times when I've come across a shirt that fits me in so many ways—the perfect color, a good price and not too tight or too baggy—but is too low-cut for my tastes. That can be such a bummer. But fortunately, it doesn't have to be.
If everything else about the shirt is right but the neckline dips too low, usually fixing it is as simple as a single stitch.
I've used this alteration technique multiple times and, in doing so, taken a shirt that would have otherwise been condemned to the back of my closet or to a life of layering and given it a second chance in my wardrobe.
Let me show you how you can do it, too.
First up, the prerequisite before shot of the shirt I'll be using for this sewing tutorial:

1. Using a top that is lower-cut than you'd like, turn it inside out and lay it on a flat surface. Hold it at the top of the shoulder seams and smooth it out flat. Place a pin along the neckline near each shoulder seam so that they stay lined up.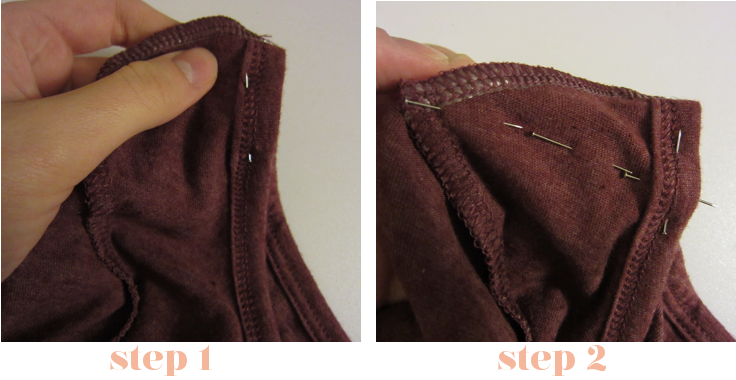 2. Next, you'll want to pin a straight line from the corner of the shoulder seam to the neckline. The farther (or deeper) down the neckline you take this line, the more material you'll be removing and the higher up you'll be pulling the neckline. So if the neckline is only a smidge lower than you want, this line should only go a short ways down the neckline. I wanted to take off about an inch and a half, so mine is deeper.
3. Once you have your pins in place, I'd recommend trying the shirt on (keeping it inside out) and being careful not to prick yourself. Once it's on, make sure that you've placed the pins properly and that the neckline falls where you want. (I put a necklace on to help me judge where I wanted the new neckline to fall.) If necessary, unpin and repeat steps 1 & 2. It's better to take the time and get it looking right now rather than once you've already sewn it in place!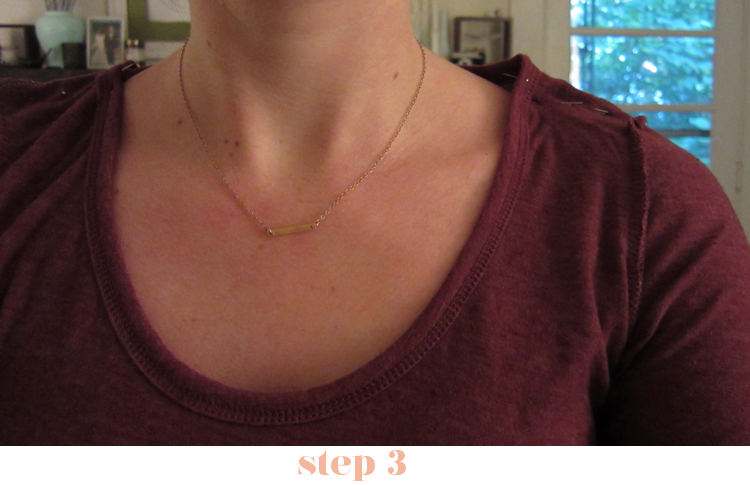 4. Now it's time to sew. You'll be sewing along the line that runs from the neckline to the shoulder seam (keeping the shirt turned inside-out), and I'd recommend starting at the neckline. I just used a standard straight stitch and you can see the settings I used on my sewing machine in this photo: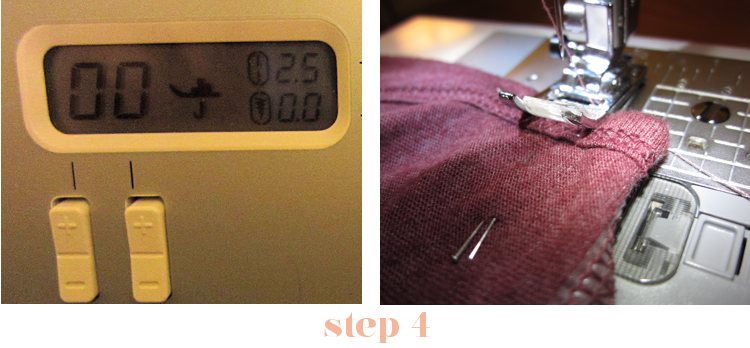 Depending on the type of fabric you're using, you might need to adjust your tension and length settings accordingly.
(By the way, here's
a newer version of the sewing machine I have
. It's computerized so it makes everything so much easier!)
5. Once you've finished stitching the line from seam to seam, you can clip the thread and remove the pins. Your shirt should look like this: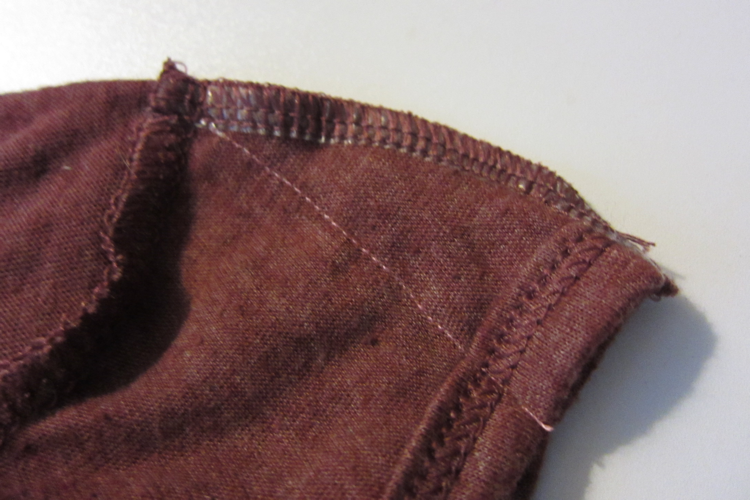 Now, flip the shirt right-side-out and try it on, to make sure you've sewn it correctly and it fits how you want. (If you have made a mistake, you can use a seam-ripper to carefully remove the stitches and start over. It might take a little while, but it's doable!)
6. Once you're happy with the stitches, take a pair of scissors and cut off the excess fabric. Make sure that you cut off the material above the stitch you just made, like this: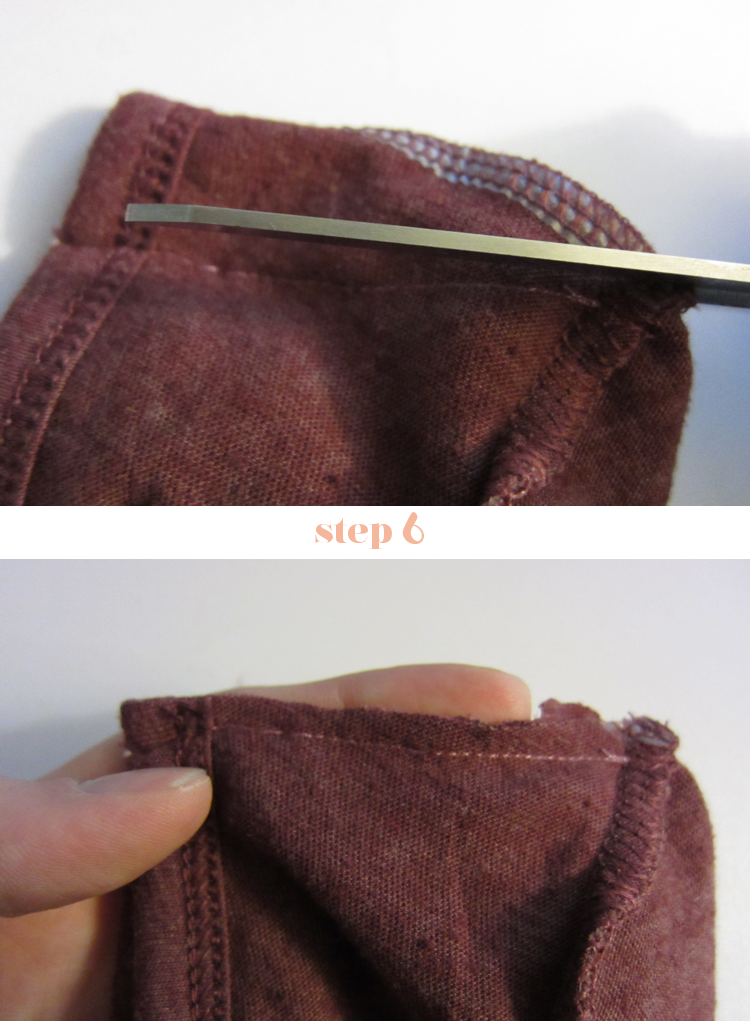 7. Now, try it on again and admire the handiwork of your new top that now fits you more appropriately! Here's how mine looks now:
And really, the only place where the alteration is noticeable is at the shoulder seam where there's a slight tuck, which you can see here:
But that's not really a big deal to me and is worth it to have a top that I don't have to layer over tank tops just to be able to wear out in public!
P.S. If you like this tutorial, please click here to pin it to Pinterest! You can also follow me on Pinterest here.
Related Posts
I've got a sewing itch that needs scratching...
Shopping My Closet for Crafts