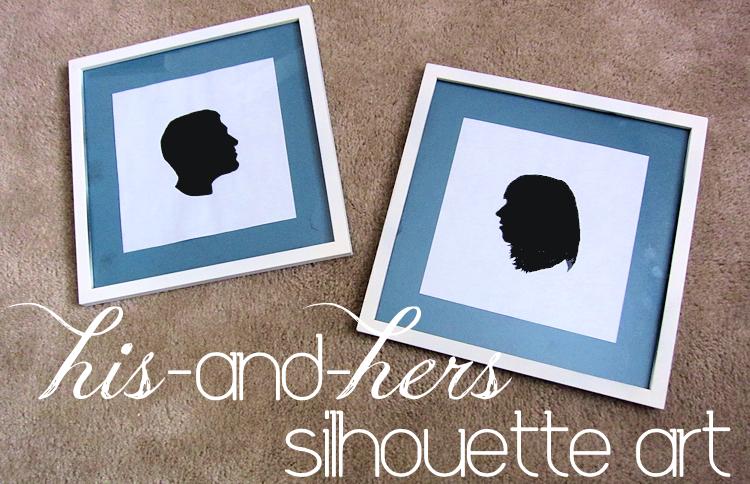 While the boxes have been unpacked for months now, there's one notable element that has yet to find its place in this still rather
new home of ours
: artwork.
Though the shelves and drawers are full, the walls are still pretty bare. That's because artwork is not something I just want to throw up on the walls simply to fill a space. But I want it to be meaningful, to be beautiful, to fill that space well.
So, I've been taking my time to fill those spaces while I waffle between the what and where of it all.
One of the first pieces of art that I was steadfast about, however, was a pair of his-and-hers silhouette images that I wanted to put up in our bedroom.
I'd first created these images for our wedding, which I framed and we hung up on the stone mantel of the fireplace that was in the lodge where we had our reception (and, coincidentally, also the wedding ceremony, thanks to a freak rainstorm!).
Here's a mini step-by-step of how I created the silhouette of my picture: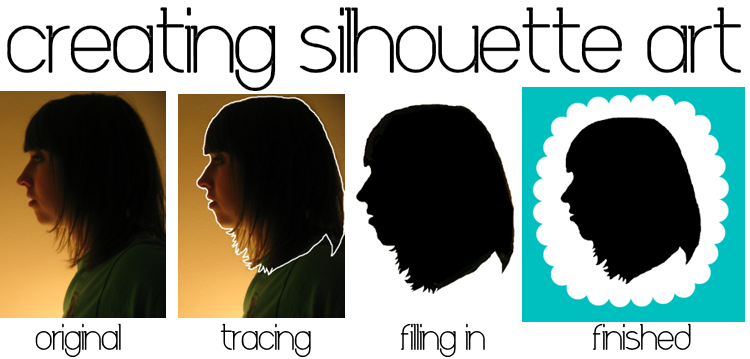 I created it basically by taking a profile photo against a plain-colored wall and tracing (in Microsoft Paint, no less!) around my face and then filling the spaces in. Tedious? Sure. Overwhelming? Not really. I probably spent just a couple hours on each of them, which I think was totally worth the effort!
I originally framed them in some square record-album frames I already had and matted them with a springy green which matched my wedding colors. But after a couple of years, that green was just too bright, and so I decided to give them some new life with a little help of one of my best DIY friends: spray paint.
Krylon was kind enough to send me a couple of shades of their interior/exterior spray paint to try out for some craft projects around the house. This seemed like the perfect time to put some to good use, so I whipped out a can of Bahama Ocean Blue, which matched our shams perfectly, and spraypainted the frame's cardboard backing for a new mat.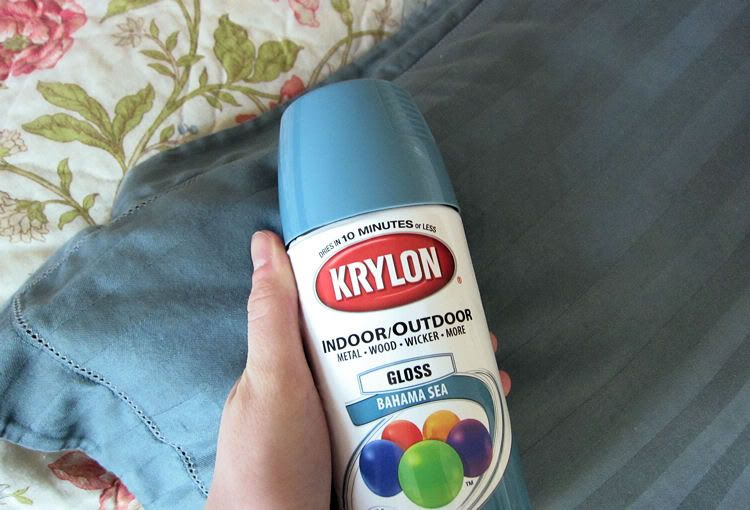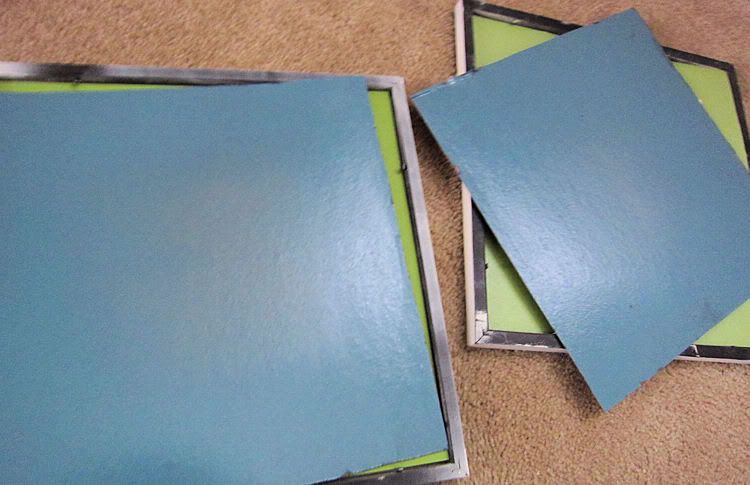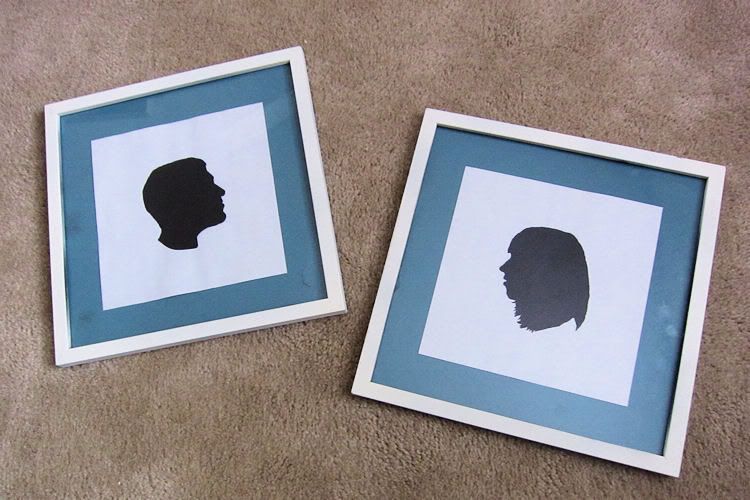 Oh my.
I love this color. I think peacock blue is my new favorite and this confirmed that for me. I especially like how well it complements the gray walls of the bedroom. (If you want to read more about
how we repainted the bedroom
, including
the paint color we chose
, click
here
.)
With my new mats dry, I simply used a tiny piece of double-stick tape to attach each silhouette (which was printed on regular computer paper) to the middle of the board. Then, sandwiched it between the glass and the frame, and they were ready to hang on the wall in our bedroom: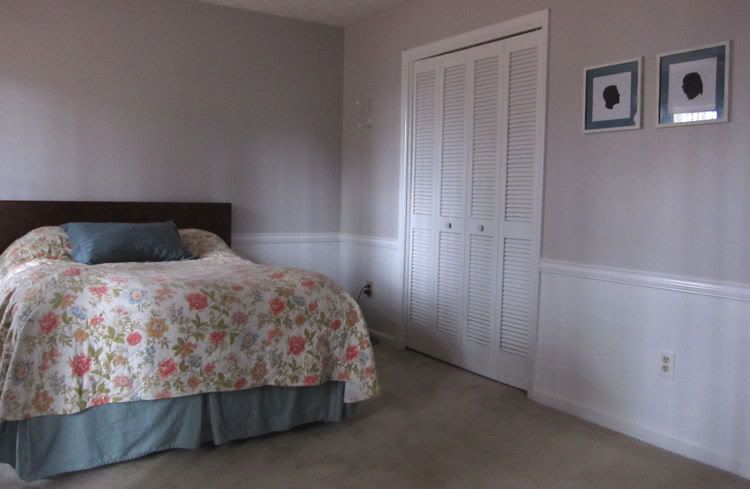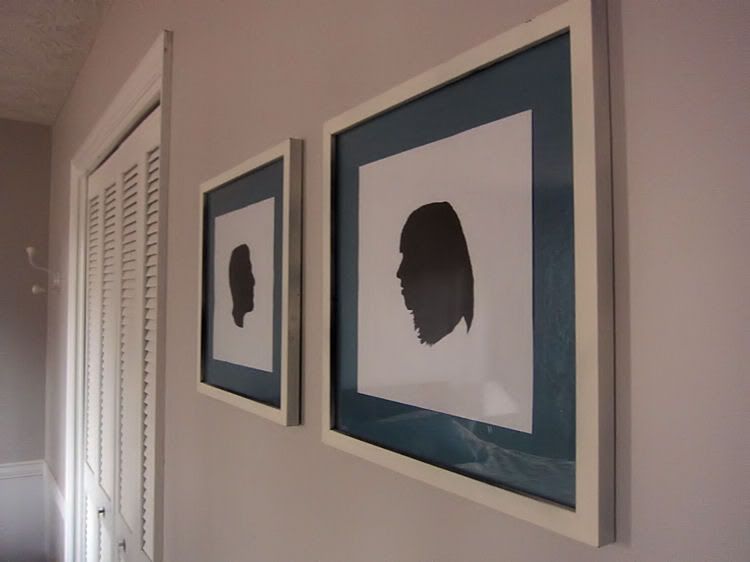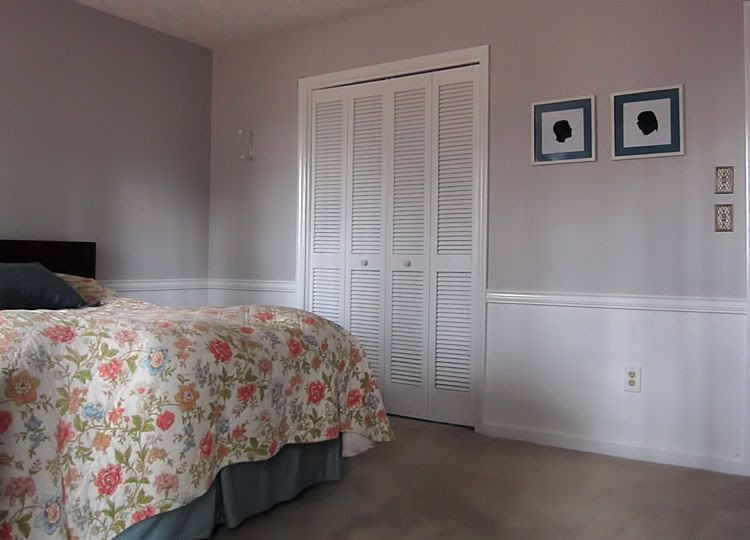 The fun thing about the placement I chose for them is that my husband's face is closest to his closet and my face is closer to my closet (which is actually on the opposite side of the room). So they function kind of like directional images. (Alternatively, if I had put them over the bed, I would have had to flip them because I sleep on the left and of course I'd have to have them line up correctly!)
Up next? I still need to figure out some artwork for over the bed and a couple of other corner nooks in the bedroom. But, of course, there's no rush!
Find out more about Krylon's huge variety of spray paints—there's one for nearly all your craft and DIY needs—by visiting their website. You can also like them on Facebook or follow them on Twitter.
Related Posts
My decorating dilemma: The search for the perfect artwork
Some New Artwork I Created for the Bathroom