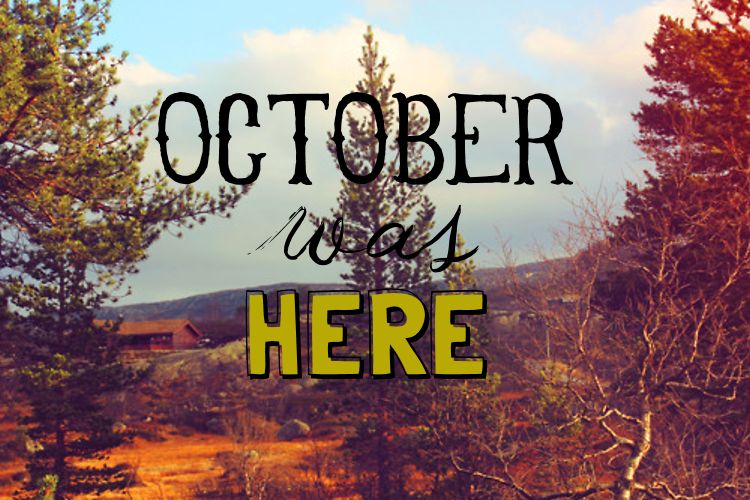 If
September surprised me with all the falling leaves I noticed for the first time
, imagine my disbelief when I found myself pulling my winter coat out of the back of the closet and wearing it day after day. So was my welcome to October.
In spite of the unseasonable chill that came with this latest month, October brought with it plenty of good news and good memories.
For starters, I saw quite a few of my articles for HOW magazine published (in
the September issue
, now on newsstands), as well as another one
about a green design company posted on their website
. I also had two guest posts featured on some blogs:
At
Money Saving Mom
, I wrote about
some realistic ways we've managed to cut back on how much we spend on eating out
. (Consider it a practical follow-up to the post I made about when
we had cut our eating out budget down to a whopping zero
.)
And at
Hannah Explains It All
, I wrote about
all the different ways creativity expresses itself in my life
—from recipes to crafts—and some tips I've learned over the years for embracing this call to experimentation.
Speaking of getting creative, I found myself quite inspired, crafting up
some artwork in the bathroom
and also undertaking a renovation for a mirror I picked up at a thrift store as well as a handful of wardrobe crafts that I can't wait to share with you. And they go beyond just the
Isn't this pretty?
fashion crafts to ones that help you make ill-fitting clothes simply fit better and fixing some of the quirks about clothes that I hate most.
It was enough inspiration that I'm planning to make a new series out of it—ways to revamp the wardrobe you already have. Expect to see that around here at the beginning of the year while I cull up more ideas to round it out. (
Email me
if you're interested in contributing to this new series!)
Although I didn't end up
creating an abstract painting like I'd set out to do
at the end of September in
last month's update
, but I think I did even better.
October, it was nice knowing ya.
What about you? What was October like in your life, at your home? Let me know or share a link or two in the comments!
Related Posts
Getting Crafty: A Look Back at Our First Monthly Craft Night
What I've Been Up to Lately...