If you haven't noticed, we've only painted two rooms in our house:
the kitchen
and
the bedroom
. And for both rooms, we've selected colors that have a touch of gray to them. (If you want to see photos,
click here to see the kitchen re-do
and
click here to see the master bedroom makeover
.)
It's enough to make me wonder if the winter gloom is getting to us or if we're simply afraid of variety.
But, as I hope you'd agree, I don't think it's either of those…
One blog I started reading when we bought our house—and I could finally start indulging those dreams of renovating and redecorating to my heart's (well, really just to my limited budget's) delight—was
Young House Love
. If you're into decorating, you've probably heard of it.
Well, as I was going through their archives, I came across a post
about choosing a whole-house palette
.
They mentioned how, with their first house, they used a bunch of different colors—nearly every color in the rainbow—to paint just a handful of rooms. It's a tendency we can all lean toward, perhaps because we feel like we shouldn't repeat colors or because it will look too boring. But what they found was that they colors were all too different which made the house feel disjointed as you went from one room and one color to another.
Instead, they instituted a color scheme for the entire house, with colors that all complemented one another. Similar in tones or hues, they gave the house the personality it needed.
When I was first thinking about the colors for our house, I kept coming back to a vision of soft blues and grays and creams. But I wondered if it was too bland, too similar. But now, I feel emboldened to trust my gut.
I've been doing a little bit of thinking, of palette dreaming. Here are some ideas of what I'm thinking: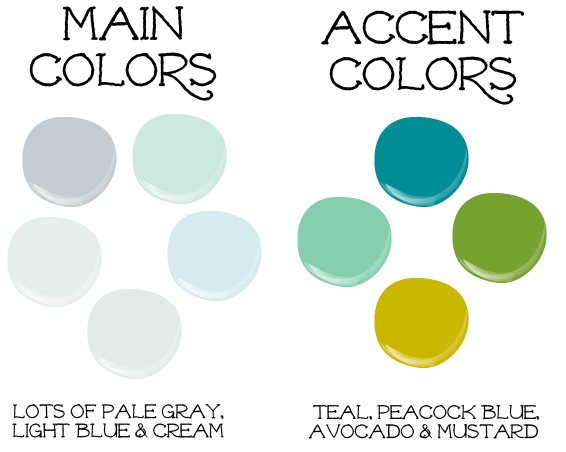 (By the way, I couldn't find a cream color that would show up well against the white background, so just imagine it's included in there in the left-hand collection!)
We've now painted
our kitchen
and
our bedroom
. Next on the list will be the living room and dining room (which we're making into a library!!). For now, though, we're waiting to paint these rooms, because we don't want to jump into slapping just any old paint color on the walls. We want to take the time to wait and weigh our possibilities, to give ourselves time to settle into the space and see what our tastes give way to.
But until then, I've got some ideas in mind…
Related Posts
A Look at How We Painted Our Kitchen: Before & After
A Look at How We Painted Our Bedroom: Before & After