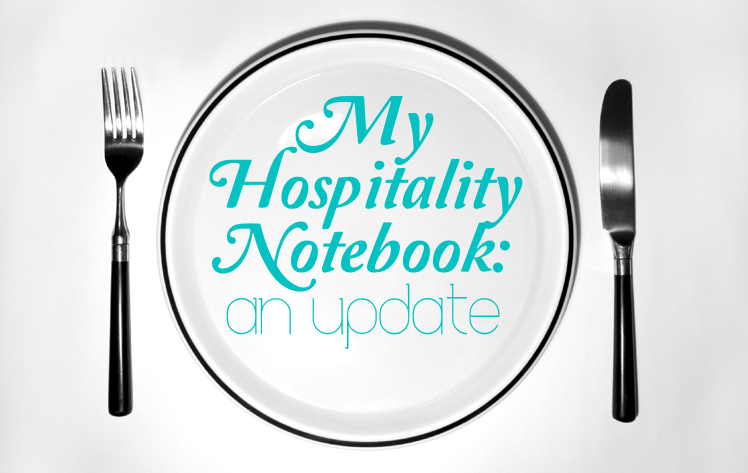 Ever since I shared the post about
how I created a hospitality notebook where I could store all my recipes and ideas for entertaining and reaching out to others
, I've had a few questions from readers asking for an update.
Ask, and ye shall receive!
When I first created that binder more than a year ago, I went in search of meals that were easy to prepare, could be served as a single dish, and, of course, were tasty.
I spent the first few months trying out about a dozen recipes and trying to perfect them. Out of all those efforts is how I came upon my
Easy, Cheesy Spaghetti Casserole
(which you can get the recipe for
here
).
But all the other ones either weren't that great or included ingredients I didn't normally have on hand. Which made me less likely to make them and, consequently, not all that useful.
Then, I had an epiphany. Perhaps I was trying too hard with this whole entertaining thing. Perhaps I was trying to make dishes that were too fancy for my abilities and too complicated for my cooking personality. Perhaps I had unreasonable expectations about how many recipes I needed to have in my repertoire. Perhaps I was looking in all the wrong places for recipes to make, when all I had to do was simply look at the ones I was already making.
What I ended up realizing was that while I had hoped to have about a dozen go-to recipes, all I really needed were two or three. That's all. Because by limiting the number I have in rotation, it makes it so easy to decide what to make.
And I ended up choosing recipes that I was already making, that I was already familiar with, that I could whip up with ease, especially ones that I can make—at least in part—ahead of time. Plus, then I'm using ingredients that I already happen to have on hand or ingredients that I can stock up on and keep in the freezer or pantry just in case.
I realized that the meals don't have to be fancy. I like to serve meals that have something unique about them—such as my chili that includes sweet potatoes—but they don't have to be worthy of fine-dining. In fact, it's probably better if they aren't, because then you don't have to worry about making your guests feel uncomfortable or like they "owe" you a meal in return. When you keep things simple, then that makes it easier for everyone to enjoy themselves. Including you!
So, want to know what's in my rotation of current standbys?
If you come over to my house for dinner, you're like to get served
Sweet Potato Black Bean Chili
(with cornbread on the side) or
Easy, Cheesy Spaghetti Casserole
(with a salad). Sometimes we also like to do a build-your-own pizza-making meal, where I'll have some of my
Whole Wheat Pizza Dough
and
Pizza Sauce
ready, and a variety of toppings spread out to make and bake our own pizza pies.
For appetizers, I like to serve some
Whole Wheat Pretzel Bites
(and mustard for dipping) or some tortilla chips and
Homemade Tomato Salsa
.
I'm not a huge dessert maker, so the only real dessert that I make is my
Homemade Chocolate Pudding
. (Although we've been cutting dairy out of our diet, so I've been making it with almond milk but that doesn't congeal as well so it turns out more like chocolate soup. Any ideas how to fix that without having to use milk?)
We also always have tea and coffee at the ready to cap off the meal or to tide us over while we chat. (Here's
my coffee-making guide
if you're interested.)
Since I'm using recipes already in rotation in my kitchen, my hospitality binder hasn't really gotten much use lately. And I'm glad of that. Because now my efforts at entertaining are becoming more natural, less forced. I don't feel the need to whip up a special meal; instead, I usually just double the amount I would normally make. And that makes it easier to enjoy the process.
The thing I've learned is that I have to trust that people are coming over to see me, not just get a meal. That has taken a lot of the pressure off, and so I'd encourage you, if you're feeling overwhelmed by the task of hosting, to try to view it that way. It's made it so much easier for me to freely open up our home without all the stress that can often accompany entertaining!
Related Posts
Steps Toward Hospitality: Creating a Hospitality Journal
Steps Toward Hospitality: Creating a Card Box