(This is the story of how my husband and I met and fell in love. If you are just now jumping in, you can catch up on last week's post or start back at the beginning.)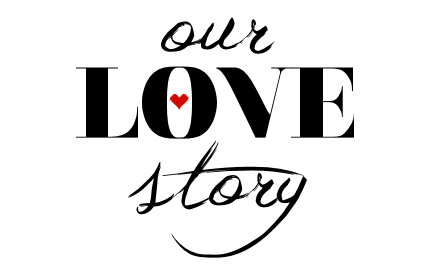 Over the course of this Our Love Story series, I've been looking back at how my husband and I met and fell in love. To give you something of a timeline of everything that's happened so far: We
met in June
,
started dating in August
and
dated long distance
for the next nine months. During that time, we had
our share of ups and downs
, but through it all, we became more convinced—even after less than a year—that we wanted to be together. Like, get married.
To some, it might seem that we had no idea what we were getting ourselves into and that we were letting our emotions rule our heads. I understand the sentiment and the fear, but the truth is that there was more at work in this relationship than just me or him. I truly believe that from the very beginning, God was at work here, too.
So in May, after nine months of dating with a 16-hour car ride between us, my husband asked me to marry him. By this time,
we had gotten to know each other very well through our daily phone chats
, which weren't just limited to how you spent your day but also what you think about this aspect of faith or how to deal with this dilemma or that hope. We also had gotten to know each other through even
the conflict that comes hand-in-hand with relationships
.
Through it all—the ups
and
the downs—we knew that this was the real deal. We saw in each other things that made us both want to be better people, to love God more deeply, to have a more humble and compassionate spirit. In some ways, we were very different (
I talked a little bit about that here
), but we saw in each other complements—that we had so much to learn from one another and be inspired by and be challenged by.
So that night in May, when my husband got down on one knee, I said yes. (After inquiring multiple times, "Are you serious?" because I had convinced myself an engagement wouldn't be happening for a few more months and was actually shocked it was happening! Plus, I'd also gotten upset at him earlier in the evening so the fact that he still proposed even in spite of that added to the shock.)
As I've said all along, this relationship was nothing if not
humbling for me
. How he could keep loving me after the things I said or the way I behaved just was proof to me again and again that this man really practiced what he preached. He loved a compassionate God, so he showed compassion. He loved a forgiving God, so he forgave.
It was truths like that that made it easy for me to say yes to him and be ready to marry him. Ready to marry him, like, tomorrow.
But of course, that's not how weddings work. They take time and planning. And so even if you're ready to get married tomorrow, you usually don't. You print out invitations and buy a dress and make cute little crafts and have everything look picture-perfect.
So since tomorrow wouldn't do, we settled for ten weeks. (If you're doing the math, we got married just a few weeks shy of the one-year anniversary of
our first date
and only a year and a couple weeks after
the first time we met
.)
I think a lot of people probably thought we were crazy for that, too! But for us, we were simply ready. It wasn't a wedding we cared about, but a marriage and a life together that we were after. It's kind of what we'd been after all along; neither one of us were dating for the fun of it. We were doing this thing because we thought it had potential, and for us, that potential all along had always been marriage.
That was just over three years ago. And now we're getting ready to add even more love to the union with
our baby-on-the-way
!
It's thrilling now to look back on all that's happened between us and to see how the Lord wrote and directed this love story of ours from the very beginning, when it seemed like all I could do was put my foot in my mouth and make a fool of myself. But of course, God is bigger than that and he always has a way of working these things out, whether it's overcoming our own mistakes or hundreds of miles of distance.
And here we are today, three years in and it keeps getting better every day. Thanks, one hundred and ten percent, to the grace of God who cares about every detail of our lives, even who we fall in love with.
Thanks for reading along in the Our Love Story series. You can catch up on all the posts in the series here.
Related Posts
A Marriage That Sanctifies
Who's At the Center of Your Marriage?