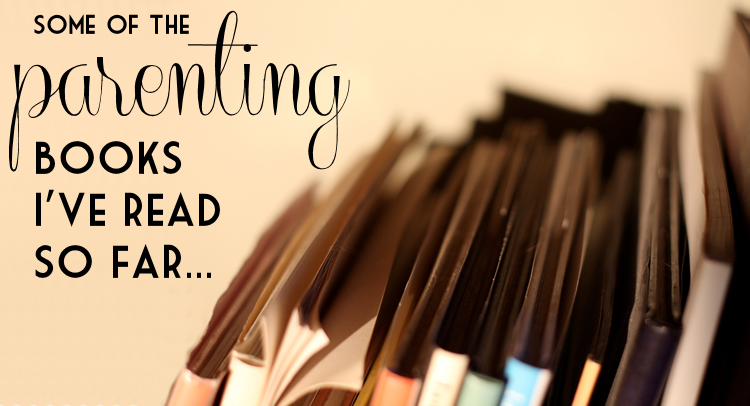 One of the first things I did when
I found out I was pregnant
was start pulling books out of our collection and out of the library that I wanted to read as we start this journey into having a baby and raising a family. There were quite a few of the "What to Expect When You're Expecting"-type books that go into the physical aspects of pregnancy and the birthing process.
But the books I wanted to share here were some of the ones that look more at the day-to-day elements of raising kids, whether they're intended as parenting books or not. They're not for everyone, but I enjoyed them (particularly during
the weeks when I felt like I could do nothing more than lie in bed
!).
Here are my thoughts on some of the first parenting-type books I've read through, so far:
Bringing Up Bebe:
I first read about the book long before I was pregnant and added it to my reading list purely because I'm interested in that sort of thing, looking at the "nurture" part of raising kids and the impact it can have. Turns out, the book came available at my library soon after I learned I was pregnant, so I was eager to read it before my time limit was up. I didn't have a problem reading it quickly, though. In the book, an American woman who has moved to France with her British husband talks about the culture shock of raising a child in France—specifically, how the two backgrounds approach parenting differently. But it's also pretty entertaining. She's a funny writer, talking about her own clumsiness as a parent and the embarrassing antics her kids put her through. Where applicable, she included scientific study that may or may not back up the different approaches, along with plenty of anecdotal experiences. There's plenty in the book that I thought sounded like things I'd like to try with our little one (assuming he's cooperative!), others that are totally not going to happen, and others that, who knows? I really enjoyed the book and whether or not you adopt any of the "French" tactics or not, I still thought the humor of it made it a worthwhile read. I still laugh remembering some of the parts in the book!
A Love that Multiplies:
I know a lot of people think the Duggars are crazy, and I certainly don't agree with everything they believe or do. However, I do think that, from what I've seen watching their show for a couple of seasons, they've done a really good job of raising kids who appear to be respectful and well-behaved, traits that are important to me, which is why I was curious to read this book. It gives background on some of their parenting practices, although a lot of it is like a Dear-Diary version of what happened when their youngest baby was born prematurely and how they weathered that, spiritually and emotionally. I had already seen a lot of that on the show, so that was kind of boring to me. But later in the book is a lot more information on certain parenting practices they employ that I marked as some good ideas to try sometime in the future. Like the others, there's also stuff I wouldn't replicate, but I think that's par for the course when it comes to parenting advice. Pick and choose what works for you and your family, and then move on.
The MoneySmart Family System:
One of the things my husband and I have talked about is that we want to make sure to teach our kids how to handle money wisely and from a young age. But how do you do that? So when I got the chance to review this book from Booksneeze, I figured it could be a helpful resource. Their approach to teaching your child about money rests on having children from an early age earning their own money through a variety of different areas, whether it's completing chores, finishing schoolwork, completing daily tasks, or showing initiative. Basically, they choose to replicate the real-world approach to money (in that it's earned) and by tying the money as a reward to skills or behavior that they wanted to encourage in their children. Depending on what you want to reinforce in your own household, you could mix up the areas covered, such as tying them to spiritual aspects (listening and participating during Bible time, for instance), which was not an area included in their matrix but is something that is important to me. For the areas they do cover, they explain different ways to apply these tactics to children of different ages and what that looks like or what to expect. One of the things I really liked about their approach was that they put an emphasis on having children complete the tasks with a good attitude. For instance, when it came to schoolwork, it wasn't required that they get straight A's, but that they do the work and assignments with a good attitude. I really liked their approach to dealing with allowance vs. chores and I think it's one I'll strongly consider as our children get older.
Pray Big for Your Child:
I am not officially done with this book, but praying through each of the sections on a daily (or near-daily) basis. I really like it because the author's premise is that we shouldn't merely ask that God keep our children "safe" and "healthy.' God can do far, far more than that, and he wants to. So shouldn't we be asking him for that, for all that he wants for our kids? He breaks it down into dozens of Biblical items and goals that we can pray for our children, from having a love for God's Word to developing godly character traits to learning how to use their talents for his glory. It is really helpful in breaking down what can be a huge amount of specific prayers into smaller chunks that you can work through, day after day.
Are there any parenting books you'd recommend or are reading? Share your thoughts in the comments!
Related Posts
Reading and Wrestling and Hope for Us All
Why I Stopped Reading Books....