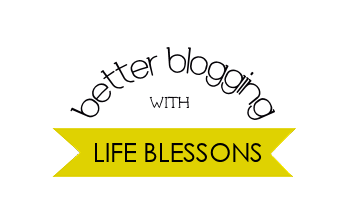 One blogging question that I have received from a few readers is:
"HOW DO YOU FIND READERS FOR YOUR BLOG?"
Now, I am no professional blogging marketer or businesswoman. I am just a regular person who started a blog and am learning as I go and DIY-ing all of it myself. So as far as attracting new readers to my blog, that has been very much a trial-and-error process for me.
There are lots of different ways to approach doing this, whether it's guest posting, joining blog networks, taking advantage of social media, advertising on other like-minded blogs (which I've never done), etc. They're all good ways to get the word out about your blog but I don't think that any one of them, on its own, is going to be a magic bullet.
Instead, I think I've benefitted most from the cumulative effect of implementing a variety of approaches. And I think that's true for most people.
One thing that I would suggest, before you even start trying to get the word out about your blog, is to set up some sort of tracking tool on your blog, such as
Google Analytics
or
StatCounter
, both of which I use to monitor my blog's traffic.
Once you are able to track where readers are coming from, you'll know which of your approaches are generating the most hits. And then you can keep pursuing the most successful ones and scrap the ones that don't work so well. I stopped doing a lot of blog link-ups because I discovered that they just weren't worth it, as far as having new readers come to my blog and stick around. You want to be a good steward of your time!
When I first started out blogging, I sent out an email to my closest friends letting them know that I had started a blog and then I set up
NetworkedBlogs app
on my personal Facebook account to have my posts automatically post to my Facebook feed. When you're starting from scratch, don't be afraid to tap your friends and family to come read along! (By the way, don't forget to
"like" Life Blessons while you're on Facebook
!)
You can also check out blogging networks and cross-post your entries there. One that I like is
20sb.net
, which is a blogging network for twentysomethings. They have lots of different forums and boards that you can post on and share your latest posts.
Another thing that I occasionally do that has garnered a small-but-decent amount of traffic is to periodically comment on blog posts of larger blogs. (Of course it should go without saying that any comment should be adding value to the discussion and not be completely self-seeking. People can see through that and will be less likely to click through.)
However, I've had the most luck attracting visitors by getting other, larger blogs and websites to link to posts previously published on my blog. For instance, I have submitted some of my craft and recipe posts to TotallyTutorials.com and MoneySavingMom.com and received tons of traffic from them. A plus from that has been that a lot of those posts have also ended up getting circulated on Pinterest, generating even more traffic. I've also been invited to submit my blog posts to a couple of larger media sites (most recently to Crosswalk.com), and those have been great boosts to my traffic.
Surprisingly, I haven't had near as much luck attracting visitors by writing guest posts, even for some decent sized blogs. But, I always figure that I might as well give an outlet a try once and see how it does. Sometimes I'm pleasantly surprised and then I know I can try to submit posts there again in the future.
So I think try a little bit of everything and see what works for you—what generates the most traffic, as well as what you enjoy doing.
Because while it's nice to have lots of readers, blogging is not just about the numbers. Compared to a lot of other blogs out there, I don't have a ton of readers. But the ones that I do have (
you!
) are really involved with the blog, commenting and tweeting and emailing me. That is worth far more to me than a million readers any day!
This post is part of my Better Blogging series, where I respond to some of the most common questions that I receive about bloggin
g.
Feel free to read all of the posts in this series here.
Related Posts
Your Questions Answered: Starting a Blog
#101: A look back at my first 100 blog posts