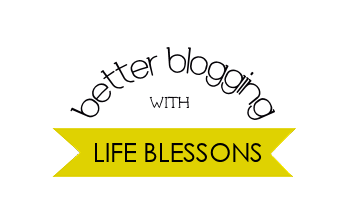 One question I commonly get asked about my blog is:
"HOW DO YOU IMPROVE YOUR WRITING, & WHERE DO YOU GET IDEAS FOR POSTS?"
I should be upfront here and tell you all that I majored in magazine writing in college. I went to school already head-over-heels in love with words and writing and was passionate enough at 18 to want to dedicate my life to learning about ellipses and emdashes and poetic embellishment.
So, I have had some practice when it comes to writing. That gave me an obvious head start when it came to starting my blog, but there's no reason to think that you have to have a degree to be a good writer. Not at all.
When someone asks me about how I cultivate my writing on my blog, I look at blog writing as having two distinct aspects:
First, it's
how
you tell stories (the words you use, the phrases, imagery, etc.). Secondly, it's
what
you tell stories about (more like the plot-line of the posts, what is the big picture of the post?).
Both of those aspects come into play when I'm trying to hone and sharpen my writing.
For the first, I think the key to creating posts that are well-written in a close-up sort of way is simply by reading good writing. I think writing classes are great, but I will tell you that I went to journalism school and I learned much more by reading my classmate's pieces than I ever did by listening to the professors teach.
So find some blogs or books or even magazines that are filled with words that captivate you just as much as the story they're telling. Read them over and over again. What is it that you like about them? Try working some of those aspects or ideas into your own writing.
For the second element, the crafting of post ideas, I think the best thing for me is to always be looking all around me—everywhere—for post ideas. Because the truth is that there's the potential for a story hidden in every moment, every scene, every emotion. It's a matter of plying it out and sharing what's special about it.
You could make a practice of this. Like when you're doing something mundane (for instance, prepping a meal), think about how you could turn that into a blog post. I did that recently with my
Confessions in Homemaking about meal planning
, when I took something ordinary—the fact that I stopped planning meals out in advance—and used it as a launching board to encourage women that we do not have to be perfect when it comes to our homes.
But it's not just the things that I witness—say, what I had for breakfast or where I spent my weekend. No, it's even the thoughts I was thinking as I read a Bible story or the fears that crept up on me as I was washing the dishes or the things I wish I would have said to so-and-so.
When we start tapping into life in its entirety, that's where inspiration knows no bounds.
Finally, write, write, write. Nothing is going to make you a better writer than writing.
Whenever a blog post idea hits me—and as I just mentioned, I've trained myself to always be on the lookout for ideas—I try to start writing it immediately so that I can get it down on paper.
And then, I let it sit and come back to it again and read it with fresh eyes. It's very likely that every post that you've read on my blog has been read and edited by me at least two or three times (sometimes even more). Every. Single. One.
Good writing is not something that just pours out of a pen or tumbles out onto a computer screen. It is a matter of finessing the work, playing with words, rearranging ideas, adding more depth, deleting tangents, being brave enough to bare more of yourself.
The most important thing? Keep writing!
This post is part of my Better Blogging series, where I respond to some of the most common questions that I receive about bloggin
g.
Feel free to read all of the posts in this series here.
Related Posts
Why I Love Keeping Lists
Thoughts on Having Too Many Ideas for My Own Good